Paloma Rose Garcia Hair Curling Tips Interview
Ever had your hair curled by a hair straightener at the salon then tried to replicate at home but massively failed? You're not the only one. There are so many struggle stories of women creating visibly uneven kinks instead of natural waves to them pulling/burning their hair off completely. No matter the fails, it shouldn't be this hard to create Madonna's siren style waves with your flat iron.



Interview with Paloma Rose Garcia, Philips HairCare Ambassador and Celebrity Hair stylist
Question: How can we replicate salon curls at home?

Paloma Rose Garcia: Gorgeous salon-grade curls don't need to be time consuming or complicated"anyone from university students to busy mums can recreate the look. Just remember to use a thermal protector before styling and volumising product to ensure the curls stick.


Question: What are your top tips for styling curls with a straightener?

Paloma Rose Garcia: There are so many techniques out there"find the one that works best for you. I have seen people put braids in their hair then run a flat iron over them and it works wonders, adding a tonne of volume and body. One of my top tips is to ensure that the sections are not too thick because heat will unevenly distribute when you style.

Remember to always use a thermal protector for any source of heat styling (not just straightening) and if you have problems with flyaways and fizziness, use a blowdry balm. And lastly, just have fun!


Q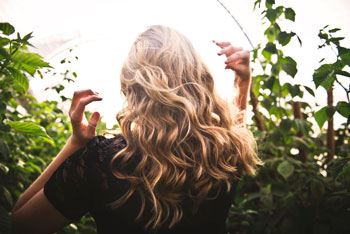 uestion: What are the common mistakes people make when curling their hair?

Paloma Rose Garcia: One of the most common mistakes I see is people keeping a straightener on their hair for too long. You shouldn't have it on your hair for more than 10 seconds or else it will fry! Also, it isn't ideal to be curling or using hair tools on your hair every day. There needs to be time in between for your hair to breath and recover.

Another common mistake is taking sections too thick"meaning the hair will not curl evenly. And, in terms of curling in general never use an old curler. It can have adverse effects on your hair, promoting dryness, colour loss, less shine and split ends.


Question: How can we protect our hair when curling?

Paloma Rose Garcia: Apply a thermal heat protectant throughout your hair, concentrating on the ends. Spoil your hair with masks and treatments"ideally 3-4 times a week depending on how dry and fragile your hair is"to replenish hair hydration.

Also, it is important to ensure you're using the right shampoos and conditioners for your type and texture of hair. If your hair is fragile and thin, you shouldn't be using strong and highly concentrated hair products that will weight it down.


Question: What are your top three current hair products?

Paloma Rose Garcia: Pillow proof primer which is applied to freshly washed hair before you blow dry. Fashion work light hairspray, a holy grail if you want the perfect amount of hold and longevity. Lastly, a texture spray because the casual beachy waves trend is here to stay!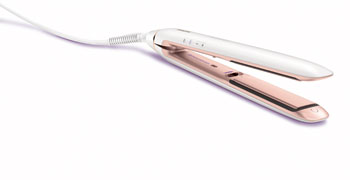 Question: What do you love about the Philips MoistureProtect Straightener?

Paloma Rose Garcia: What I love about this straightener is its MoistureProtect technology that keeps your hair's natural hydration without overheating and drying it out. The floating plates can straighten hair without any snags or breaks, leaving you with healthier hair. It's made for easy use, perfect for the everyday person.


Question: Can you share your step-by-step instructions for recreating Blake Lively's big bouncy curls?

Paloma Rose Garcia: Apply a thermal protector through freshly washed hair and add a volumising product through the root area
Using a good hairdryer, like the Philips MoistureProtect Dryer, blow dry hair with a medium round brush until it shines
Part your hair to the desired side
Take 1.5-inch section of hair from around your face and using a good straightener, clamp the section in at the root vertically to 360 degrees
Start to spin and pull the straightener out to the ends, to create a glamorous wave
To ensure your style lasts, give the wave a quick fix of hairspray, making sure you do not spray too close
Repeat around the head, grabbing random 1.5 inch sections of hair
Brush the look out from roots to ends. Shake look out with your fingers to add messy texture and give it a final fix of hair spray to ensure it stays the way you like it, all day


Interview by Brooke Hunter