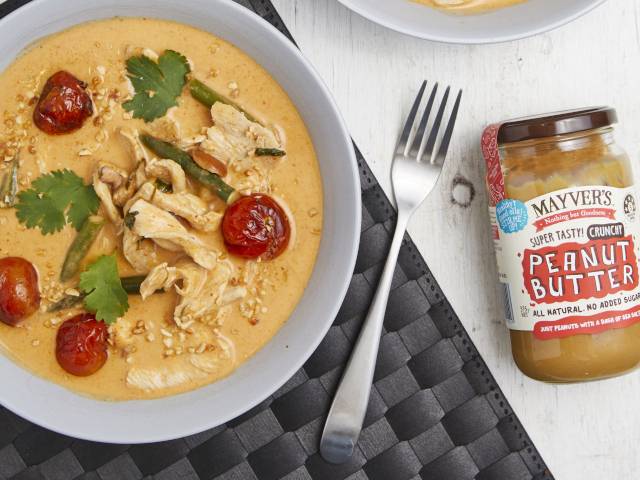 Peanut Butter Chicken Coconut Curry
By Mayver's
Time: 45 minutes | Serves: 3-4
Dairy Free/Gluten Free/Egg Free

Ingredients
1 brown onion
2/3 cup Mayver's Crunchy Peanut Butter
1 fresh red chilli
2 tsp coconut oil
1x 400ml can coconut cream
1 tbsp red curry paste
1 cup chicken or vegetable stock
500g sliced chicken breast
1 pack cherry tomatoes
1/4 cup cashews
100g green beans
Coriander to serve
Crushed peanuts to serve

Method
1. Heat a large, deep frying pan over medium-high heat.
2. Finely dice the onion into 1cm cubes and thinly slice the fresh chilli.
3. Add the coconut oil to the heated pan, followed by the onion, stirring for approximately 2 minutes or until the onion softens. Be careful not to brown the onion.
4. Add coconut cream to the pan followed by the red curry paste and fresh chilli, stirring constantly for at least 1 minute.
5. Stir in the stock and the peanut butter.
6. Add chicken, cashews, tomatoes and green beans to the pan and stir through curry.
7. Reduce heat to medium in order to let curry reach a simmer, ensuring that you stir occasionally for 8-10 minutes or until the chicken is cooked thoroughly.
8. Once curry is ready, serve into bowls and top with crushed peanuts and coriander to serve!