Pitch Perfect
Cast: Anna Kendrick, Brittany Snow, Rebel Wilson
Director: Jason Moore
Genre: Comedy, Music
Rated: M
Running Time: 112 minutes

Synopsis: Beca is that girl who'd rather listen to what's coming out of her headphones than what's coming out of anyone's mouth. Arriving at Barden University, she finds herself not right for any clique but somehow is muscled into one that she would never have picked on her own: alongside mean girls, sweet girls and weird girls whose only thing in common is how good they sound when they sing together, in the new out-loud comedy Pitch Perfect.

When Beca takes this acoustic singing group out of their world of traditional arrangements and perfect harmonies into all-new mash-ups, they fight to climb their way to the top of the cutthroat world of college music competitions. This could wind up either the coolest thing they'll ever do or the most insane, and it will probably be a little of both.

Loaded with new takes on old favourites, to hits of right now that are seamlessly mixed together, mashed-up and arranged like you've never heard before, Pitch Perfect is directed by Jason Moore, who opened our eyes to the very misbehaved life of puppets in the surprise Broadway sensation Avenue Q.

Joining Kendrick as the unconventional members of Barden's all-female a cappella group, The Bellas, are Rebel Wilson (Bridesmaids) as Fat Amy, the super-confident, self-professed best singer in Tasmania; Anna Camp (The Help) as Aubrey, a stubborn traditionalist who masks her anxiety with bitchiness; Brittany Snow (Hairspray) as Chloe, the eager-to-please morale booster of The Bellas; Alexis Knapp (Project X) as Stacie, the oversexed musical dynamo; singer Ester Dean (Ice Age: Continental Drift) as Cynthia Rose, the tomboy who proves herself as a vocal force to be reckoned with; and Hana Mae Lee (television's Mike & Molly) as Lilly, who is as meek as a mouse but eager to break out and freestyle her riffs.

Skylar Astin (television's Girls) joins the cast as Jesse, who competes for Beca's affections just as hard as he does the championship title, and Adam Devine (television's Workaholics) plays the self-obsessed Bumper, lead singer of rival group The Treblemakers. British performer Freddie Stroma (Harry Potter franchise) comes aboard as Luke, Beca's smoking-hot manager at the campus radio station, and newcomer Ben Platt joins the production as Benji, Jesse's magic-loving roommate who is a bit too eager to become a part of The Treblemakers. Utkarsha Ambudkar (television's House of Lies) and newcomer Michael Viruet co-star as Donald and Unicycle, additional members of The Treblemakers.

The wonderfully odd commentators of the International Championship of Collegiate A Cappella (ICCAs) are played by accomplished comedic performer John Michael Higgins (Best in Show, Yes Man) and actress/producer Elizabeth Banks (The Hunger Games, Role Models).

Pitch Perfect
Release Date: December 6th, 2012



About the Production
Aca-scuse Me?: Bringing Pitch Perfect to Life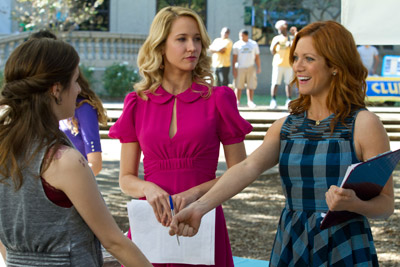 Producing partners and husband-and-wife team Elizabeth Banks and Max Handelman were given Mickey Rapkin's book 'Pitch Perfect: The Quest for Collegiate A Cappella Glory" by a friend who thought the story would be perfect for a movie adaptation. Elizabeth Banks and Max Handelman grew excited at the idea of bringing Mickey Rapkin's story about the funny, eccentric and popular world of college a cappella to the big screen.

Explains Elizabeth Banks: 'The book reminded us of our favourite films like Superbad, Mean Girls and Bring It On, which always include quirky people in a subset of a larger social system. We thought it would be fun to explore people who get really obsessed about something and translate that into a very broad comedy that plays to a wide audience."

'It's rare that we've been able to work on something together," adds Max Handelman. 'Pitch Perfect is a project we've been working on for three years and is the second film our company produced after Disney's Surrogates. Elizabeth Banks and I are a good team and we complement each other. She has a tremendous amount of experience with different directors and actors and is a true asset to the film."

The book follows a season of college music competition and focuses on three groups, including a new all-female group trying to overcome a loss at the previous ICCAs. 'It's the story of these girls' march to the finals," explains Max Handelman, 'and our story starts with our girl group, The Bellas, who meets with an untimely disaster during the ICCAs. The film starts the following year with them needing to recruit a new batch of girls. Their group has been decimated. They've all either graduated or left because they were so embarrassed, and they have to rebuild a new group, which includes this Bad News Bears collection of girls. Once they form The Bellas, they have to compete with the popular guys' group, The Treblemakers, who won the championship the previous year. The focus is The Bellas' pursuit for the chance to get back in the finals and their rivalry with the guys."

Elizabeth Banks and Max Handelman commissioned writer Kay Cannon, an Emmy-nominated writer and producer on NBC's award-winning show 30 Rock and co-executive producer and writer on FOX's New Girl, to pen the treatment and pitched the story to studios. After Universal Pictures acquired Cannon's script, it was sent to producer Paul Brooks, head of Gold Circle Films, who further developed and prepared it for the start of principal photography.

Paul Brooks, who has worked with Universal on films including the cult classic Slither, the comedies Because I Said So and The Wedding Date and the thriller White Noise, was excited to develop another project with the studio. 'I thought the script was a fantastic piece of material," says Paul Brooks. 'It had that rare combination of great heart and great humour. It was funny, and I thought the landscape was original and felt incredibly accessible and relatable. The film is about relationships, kids starting the next big step in their lives at college, and it's got great songs in it. I'd known Elizabeth Banks as an actress because I'd produced Slither. She's got great instincts, as does Max Handelman."

While searching for a director for their comedy, Elizabeth Banks and Max Handelman looked for a filmmaker who could tackle the many elements that the script demanded, including the quirky comedic tone, musical numbers and choreography. They sat down with Jason Moore, whose work on the hit Tony Award-winning Broadway musical Avenue Q exemplified what they wanted for Pitch Perfect.

'When Max Handelman and I first started looking for a director for this film, we knew we had a very tricky situation on our hands because there's a lot of music elements here," says Elizabeth Banks. 'It's a very theatrical picture. It's also a very funny movie, and we wanted to make sure that we sold the comedy first. The writing has a specific tone that we were trying to achieve, and the right person to tackle it was Jason."

'This had to be a film that didn't explicitly make fun of a cappella but also didn't take it too seriously," adds Max Handelman. 'If you've seen Avenue Q, you understand that tone that Jason gets so perfectly, and then you layer on top of that his expertise within musical arrangement, choreography and putting together a massive musical endeavour. If we'd had almost anyone else other than Jason Moore, we would never have gotten the music and the comedy right."

In 2003, the coming-of-age parable Avenue Q opened on Broadway and went on to win three Tony Awards, including Best Musical. The comedy musical, created by Robert Lopez and Jeff Marx"who also wrote the music and lyrics"was written by Jeff Whitty and directed by Jason Moore. Seamlessly weaving together performers, puppets, live stage action, singing and animation, Moore helped launch Avenue Q into one the longest-running shows in Broadway history. Since its debut, the critically acclaimed show has been produced in Las Vegas and on the West End, has had two national tours and has been produced internationally.

Paul Brooks and Jason Moore discussed the director's passion for the comedy and his ability to mix genres. 'I knew of Jason Moore's Broadway work," says the producer. 'I thought he had a complete take on the script, and he clearly knows the world of musical theatre. I was confident that he knew exactly what to do from a pure performance perspective, and he understands the architecture of the musical world in a very specific way."

Jason Moore was a fan of Kay Cannon's from her work on 30 Rock, and he was drawn to the script right away. He reflects: 'Kay Cannon has such a specific voice, and she has a great way with wit and language and creating characters. I had never experienced this part of the music world before, and it's a huge underground world of people who love music and getting on stage and having a good time. She captured this world in such a special and funny way that it caught my attention immediately."

With a script and director in place, the filmmakers looked to cast the perfect band of misfits to sing, dance and perform in the oddly fascinating world of competitive college music competitions.


Marshal the Crazy: Casting the Comedy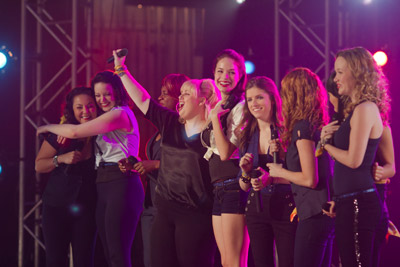 Not only were the filmmakers tasked with looking for talented actors, the performers had to have the ability to sing and learn choreography. Explains Paul Brooks: 'First and foremost, we were looking for actors who had comedic instincts and thought we'd get lucky with terrific actors who happened to be funny and can actually dance and maybe sing. It turns out we did get lucky with our cast!"

Cast as Beca, an incoming freshman and a young woman allergic to joining any student activities group was Academy Award®- and Tony Award-nominated actress Anna Kendrick. Though her character starts off as a bit of a loner, Beca's innovative deejay skills and ability to 'mash" traditional and modern music make The Bellas believe they might have a shot as they pursue a championship title.

'Beca is the eyes and ears of the audience," explains Jason Moore. 'She considers herself a serious musician and doesn't want to be a part of this weird world. Anna Kendrick brings real warmth to a character that might be considered an outsider. She gives the movie a strong center."

'The character Beca required someone who was grounded, who has a strong point of view on the world, who is funny and empathetic and someone who we can all relate to and root for," says Elizabeth Banks. 'Anna Kendrick is all those things, and there was no other choice for the movie."

Paul Brooks echoes Elizabeth Banks' praises of Anna Kendrick: 'I saw Anna Kendrick in Up in the Air and thought it was the most exquisite, elegant, balanced, sublime performance. Anna Kendrick was our first choice for the role of Beca."

Anna Kendrick's background in theatre helped with developing her character, who is discovered singing (really well) by Brittany Snow's character, Chloe, when they shower next to each other. 'I did theatre when I was a little kid, and I've basically been singing in the shower since then," laughs Anna Kendrick. 'I was in choir when I was in high school and would take vocal lessons once a week, but it's not like I have had conservatory training. Taking on the role was a little scary, but lots of fun."

When it came to casting Jesse, a college freshman and naturally talented singer who joins The Treblemakers and chases after Beca, the filmmakers thought they might have a slightly harder time than casting the other characters. Explains Max Handelman: 'We were looking for a young, John Cusack-type guy. We needed to find someone who was kind of awkward but not a geek, but not so cool that you're not rooting for him." The filmmakers discovered their guy in Skylar Astin.

Says Elizabeth Banks of Skylar Astin's audition: 'When Skylar Astin and Anna Kendrick read together before we started shooting, the chemistry was clear and they were able to riff off each other. We wanted their dialogue to go fast, and we wanted them to be two intellectuals and two wits that went head-to-head."

Skylar Astin was ready to tackle a movie filled with musical elements. 'I come from theatre, so in a lot of ways this has been a perfect blend for me. I was up to the challenge. Anna Kendrick adds this intellectual spirit, which is fun because my character has to break down her character's wall."

Of her co-star, Anna Kendrick comments: 'Skylar Astin is so witty and sharp, and he's charming when he sings. In the riff-off scene, when we're in the pool, it was cold and we were all tired. Every time he came into the middle and did his solo, it brightened us up."

For the role of Fat Amy, the irrepressible Aussie who's sure she's a star, the filmmakers went after comedic actress Rebel Wilson, who nearly stole her scenes in 2011's comedic blockbuster Bridesmaids. Not your typical member of The Bellas, Fat Amy coined her own nickname so that 'twig bitches like you don't do it behind my back." While she hates participating in cardio activities, Fat Amy puts on a mean singing performance. Says Max Handelman: 'Rebel Wilson is someone that we knew could be counted on to improv and come up with all sorts of crazy, hilarious lines."

Jason Moore recalls Rebel Wilson's audition: 'Rebel Wilson came in to audition for Fat Amy, and she sang Lady Gaga's -Edge of Glory' while beating on her chest with her fists. I didn't even hear the end of the song because I was laughing so hard. There's this beautiful openness to the way Rebel Wilson approaches everything, and that's what works great for the character. She's fearless.

'She originally auditioned with an American accent," continues the director. 'But Rebel Wilson has such a command of the comedy and her own vernacular that her natural accent made her character feel more like an outsider, which is good for the story."

Of her character, Rebel Wilson jokes: 'Fat Amy really likes The Bellas because they're going to be a vehicle for her to show her talents, to show how good she is at singing, and how good she is at doing the half splits. She's going to use this experience in The Bellas to then go to Broadway…or top-level pageants. I'm talking Miss America, Miss World, Miss Outer Space."

Up-and-coming actor Adam DeVine, star of Comedy Central's Workaholics, was cast as Bumper, the lead soloist of the all-male group The Treblemakers, whose showboating redefines modern a cappella. The ladies can't get enough of him, and Bumper helped lead The Treblemakers to last year's ICCAs. Says Elizabeth Banks: 'My husband and I are big Workaholics fans. We were watching the show one night while we were casting the movie, and we immediately thought Adam DeVine would be great for Bumper. At first, Adam DeVine resisted because he said he wasn't a singer. Sure enough, at his audition, he took himself and all of us by surprise with his vocal skills. He even sings on the track that opens our movie."

Adam DeVine discusses his character: 'Bumper is a stone-cold maniac. He's serious about a cappella to the point that it's weird. The Treblemakers rule the school…minus all the popular kids and the jocks and the cool kids and the kids that like to surf and the kids that smoke. Basically, everyone else is cooler than them, but as far as the 30 people that are into a cappella at the school, they're the best."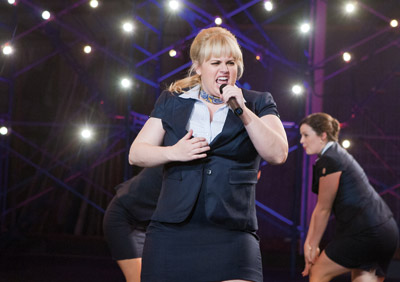 The role of The Bellas' exceptionally focused music director and demonic possessor of the pitch pipe, Aubrey, is played by Anna Camp, recently seen on CBS' The Good Wife and HBO's True Blood. Aubrey is a bundle of nerves, and her stomach issues (and boring choice of music) torpedoed The Bellas' placement in last year's ICCAs. Explains Max Handelman: 'Elizabeth Banks and I were huge fans of Anna Camp's from True Blood. Aubrey is set up as the antagonist for Beca, and Beca's already a bit hard-edged, so it was so important to find an actress who could play Aubrey as someone who could marshal the crazy but also was sympathetic."

Anna Camp describes her character: 'Some would say that Aubrey is a little uptight. She likes to keep things in order, she has her own way of doing things and she wants to uphold tradition. She's steadfast in her opinions and very passionate about vocal music. Aubrey and Beca don't get along right away, and she sees Beca as rebelling against what Aubrey considers is the traditional way of doing things. Our characters butt heads instantly."

Cast in the role of Chloe, a member of The Bellas who is eager to regroup the team with pretty much any woman who can sing, was Brittany Snow, whose past singing-on-film experience includes the hit Hairspray. 'Brittany Snow was on the short list to play Chloe all along and nailed her audition," says Elizabeth Banks. 'We wanted Chloe to have a cheerleader essence but also have a little edge to her."

Brittany Snow recalls that the comedy was an easy one to join: 'I remember putting the script down and saying that I have to be in this movie and will play any character. I didn't care if I had two lines. It was such a unique story about these girls and how their differences unite them. Coming from a singing and dancing background, I thought it would be great to be a part of something where I get to do all three of my favourite things."

The rest of The Bellas include up-and-coming young actresses Alexis Knapp as Stacie, a sexy new member of the group whose hobbies include cuticle care; Hana Mae Lee as Lilly, a shy new member with an almost inaudible speaking voice (it's possible she just whispered something about seeing a dead body) and surprising beat-boxing skills; and singer/songwriter Ester Dean as Cynthia Rose, a tough chick who is accidentally mistaken for a boy during the auditions.

Though she is new to acting, the filmmakers felt Ester Dean's music background lent authenticity to the musical comedy. 'Ester Dean is an incredible songwriter," comments Jason Moore. 'She's written hit songs for Katy Perry and Nicki Minaj, and she's an incredible performer in her own right. I wanted to make sure that we had some authentic musicianship in the movie."

Rounding out the cast as the ICCA commentators are comedic actor John Michael Higgins, known to audiences for his roles in Christopher Guest's films Best in Show and For Your Consideration, and actress/producer Elizabeth Banks, recently seen in the blockbuster The Hunger Games.

As Pitch Perfect was shot in Baton Rouge, Louisiana, with locations including Louisiana State University, the filmmakers helped complete their cast with local students, including many extras from Tulane University.

Building Musical Sets: Sounds of the Film

A number of songs were reimagined by only using vocals during performance sequences, from the vocal version of Universal Pictures' title theme to the ICCA finals, The Bellas, who go from 'traditional" to the 21st century, have a song list that includes 'The Sign" (Ace of Base), 'Turn the Beat Around" (Gloria Estefan), 'S&M" (Rihanna), 'No Diggity" (Blackstreet) and 'Party in the U.S.A." (Miley Cyrus), and mash-ups of 'Just the Way You Are" (Bruno Mars) and 'Just a Dream" (Nelly), among others.

Reigning national champions The Treblemakers' repertoire of songs include 'Don't Stop the Music" (Rihanna), 'Let It Whip" (The Dazz Band), 'Mickey" (Toni Basil), 'Right Round" (Flo Rida), 'Bright Lights Bigger City" (Cee Lo Green) and 'Magic" (B.o.B).

'When we were casting the movie, I knew that I wanted the actors to all do their own singing," explains Jason Moore. 'The story is about everyone bringing their own special voice, the way that they sound and the way they perform into the movie, so I needed genuine performances. What's interesting about this genre is that there are no drums and there's no piano to cover up the mistakes, so everybody has to be able to carry the musical tune and do what it takes to make the overall sound work."

In the early stages of building their crew as the filmmakers searched for music arrangers, they kept coming across two names. With so many musical performances and arrangements weaved throughout Pitch Perfect, the filmmakers chose music arranger and music director Ed Boyer, whose credits include FOX's Glee and NBC's a cappella competition The Sing-Off, and music director Deke Sharon, who also worked on The Sing-Off, to join the team. 'They are the godfathers of a cappella," explains Elizabeth Banks. 'They are also in the book -Pitch Perfect.' Ed and Deke sing on a lot of our tracks, and they're the most authentic people in the business."

Filming and song recording took place in Baton Rouge, Louisiana, and the filmmakers had the added benefit of a recording studio on set. Says Elizabeth Banks: 'The on-site recording studio helped us manage everybody's time and allowed us to coach the actors through everything. We needed to be able to change things on the fly, make edits to songs or make complete song changes."

Ed Boyer and Deke Sharon's expertise in the world of a cappella was a huge asset. Says Ed Boyer, 'Deke Sharon and I were the resident a cappella nerds." Deke Sharon and Ed Boyer's work together dates back to 2001, when Ed Boyer, who was still in college, asked Sharon to come to his alma mater and produce his group's CD.

However, arranging music sequences for a film would prove much more challenging for the music directors. Explains Ed Boyer: 'Usually, the only rule of arranging is to take a piece of music, match it to a group of singers and have it sound good. What's new about this, for us, is that there's a movie plot in the mix. We have to take into account what's occurring and which actors are being highlighted in the scene. Musically, things get moved around to match what's happening with the visuals and what's been happening with the plot."

Continues Deke Sharon: 'We helped cut down the songs to be the right length and then taught that music to the musicians and the singers and then recorded the music. We also went through the process of editing and mixing it to make sure that it all worked for the movie itself."

Says Jason Moore about having Deke Sharon work on this film: 'We were so lucky to have them on the movie because the art of creating this kind of sound is so specific. They helped us choose songs for the movie and made demos of the arrangements so we knew that they would work in a cappella form. Each actor's skill has to come out in creating a sound. One person was really good at sounding like a guitar, another person was really good at beat-boxing, and we started to use those skills and integrated them into the way that the music is made. Having Ed Boyer and Deke Sharon on-site and working with the actors was crucial to getting it to seem organic and real."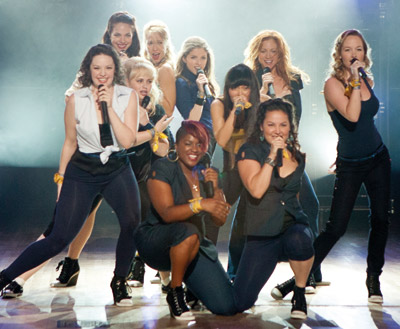 The soundtrack of the comedy includes a mix of contemporary and current music, a few classics and different styles of popular music, a process that the music directors found similar to putting together puzzle pieces. Finding the perfect marriage between the song choice and the group style was an important primary consideration.

Says Deke Sharon about choosing the music: 'It was clear from the outset that we wanted to have a number of songs that were very current, as well as some older classic hits that parents who bring their kids to the movie (or someone who doesn't listen to current pop radio) would enjoy. We have a little hip-hop woven in, some rock and some pop. Some cheesy songs were important because, of course, The Bellas historically haven't done current music; they're stuck in the '80s. Finding the songs that worked from that period, and the guilty pleasures that people like but don't respect, was important."

'Every time I heard a great song on the radio, I'd scribble it down," says Paul Brooks. 'I probably did that for six weeks and drove everybody mad. What I learned was that some songs that are great songs don't necessarily lend themselves to the world of a cappella. At the end of the day, we had great music supervisors, who did all the heavy lifting. I listened to them and said, -That seems really great; let's buy that.'"

For his feature film debut, Jason Moore enlisted Broadway's Tom Kitt to craft some of the vocal arrangements of Pitch Perfect's show-stopping riff-off, as well as the signature sound of The Bellas prior to their performance at the end of the film. Tom Kitt, who was formerly in an a cappella group, is a composer, conductor, orchestrator and musician who received the Pulitzer Prize for Drama for the Tony Award-winning Next to Normal, and also worked on American Idiot and Broadway newcomer Bring It On: The Musical.

When Beca comes onto the scene, she utilises her deejay skills to create mash-ups and to layer songs for The Bellas to sing. Her goal? Take the group out of its usual snoozy tunes and bring the girls into the 21st century. Executive music producers Julianne Jordan and Julia Michels worked with Sharon and Deke on music choices, and they commissioned music producers L.A. Outfit to create the mash-ups. 'The mash-ups were some of the first things we picked songs for and some of the last ones that were finalised," explains Sharon. 'Sometimes we'd have the arrangements exactly how we wanted them creatively, but if a song didn't clear, we would have to adjust the arrangement. There were constant moving parts, and the mash-ups ended up coming together as the last piece of the puzzle. Any time you change one of the songs in the mash-up, then the whole rest of the movie changed as well."

All the music for the on-camera performances had to be cleared before the movie was shot. Jordan and Michels were able to call on their career-long relationships in the music business to help secure current hits and iconic catalog songs.

Practice Makes Pitch Perfect: Music Rehearsals

The cast had a rigorous four-week rehearsal schedule in Baton Rouge, and the music directors and the choreographer, Aakomon Jones, needed to decide how to build the musical numbers around their performers. Each actor had different levels of singing and dancing experience, and it was important for them all to come together in their respective music groups. The filmmakers enrolled the actors in an a cappella 'boot camp," where the actors sang and danced for approximately 10 hours a day. Despite some blisters on their feet and a few tears, everyone bonded and found a harmonious musical sound.

The rehearsal process included spending a few hours in the music room, where The Treblemakers and The Bellas learned one song and practiced their individual singing parts, and then moved on to choreography. After lunch, it was back to the music room to learn a new song. The recording studio and the production offices were housed in the same location, which made it convenient for the actors to go in for vocal coaching to record their individual parts. At the end of a rehearsal week, the entire production crew was brought in so that the cast would feel comfortable performing live in front of an audience.

In addition to singing and dancing, Hana Mae Lee also had to learn how to beat-box, a surprising skill for her character, Lilly, whose speaking voice is as meek as a mouse throughout most of the film. Says Hana Mae Lee: 'The studio set me up with a professional beat-boxer, DJ Spencer. He's amazing. I thought it would be really fierce if Lilly could scratch. I brought the idea to DJ Spencer, and he taught me some cool ways to do it. When it came down to the finale song, I got to scratch and it sounds awesome. It was great to be able to make Lilly as dynamic as she is, and the beat-boxing just made her that much more aca-awesome."

Says Kendrick about performing the riff-off between the college's singing groups at the pool: 'It was a little stressful for everyone since the pressure was on to get it right. The day we shot the battle turned out to be fun because we all knew that this was something we could handle. It was incredible seeing everyone's performance. It was like somebody suddenly did a backflip out of nowhere, and you weren't aware they could do that."

Astin compared rehearsals to theater camp: 'The guys would sit in on the girls' rehearsals and they would sit in on ours, and when they would do well, we'd be excited. We were proud of each other."

Adam DeVine admits: 'I didn't know about a cappella at all. But now I'm a damn whiz kid on the subject! I've never recorded music professionally, and there was a camera in the booth so that Ed and Deke could make sure we expressed emotion through our voices. At one point, after exiting the recording booth, everyone was laughing hysterically because I had lifted my shirt up and was grinding the microphone thinking that no one could see me."

'The film is fun and invigorating and creates a backdrop to a world that most people don't know a lot about," says Jason Moore. 'Though, audiences may be a little familiar with it as a function of what's been on television for the last few years, with the massive re-emergence of talent shows both in America and all over Europe."

To help with vocal production on the film, the filmmakers brought in Grammy nominee Harvey Mason, JR., and his team of producers (called The Underdogs). Harvey Mason, whose credits include arranging and producing music for 2006's Dreamgirls, consulted during production and fine-tuned the sound in postproduction. Says Jason Moore: 'Harvey Mason came in with his incredible list of credits and all of the Grammys he's been nominated for and the incredible artists that he's worked with. He brought an outsider's perspective on how to make a cappella music sound cool, especially since we're doing covers of popular artists. Harvey was able to make the actors relax and sing in a way that let the character come through but also makes the music sound awesome."

Songwriter Ester Dean, who makes her acting debut in the film, was elated to be able to perform one of the hit songs that she'd previously co-written. Says Ester Dean: 'We actually sang a song I wrote in the movie, Rihanna's -S&M.' It was so dope to have my song in Pitch Perfect, and to be able to work with a great cast!"

Recording and producing vocal-only versions of songs proved to be different than producing the full versions. According to Harvey Mason, 'You don't have the musicians to rely on, so you have to figure out how to re-create the sound. The songs that we did for this film were covers of songs that most people know, and people are accustomed to hearing them with a full arrangement. As a producer, I had to figure out how I was going to cover the baseline and the strings and how to emulate those instruments with a voice.

'Jason Moore really knows music," continues Harvey Mason. 'It's not often that you run into a director who not only can direct and get his vision on screen, but he hears everything and knows what he wants it to sound like. He's also familiar with musical terms, so when we spoke, we'd speak in musical terms. He was involved in many of the decisions as far as how actors performed songs, and he was directing in the recording studio."

Jason Moore even had nationally award-winning, all-male group the University of Virginia (UVA) Hullabahoos perform in the a cappella championship scene, as well as Tulane's Green Envy and Florida State's All-Night Yahtzee. Rapkin included the Hullabahoos in his book, and it was by happy coincidence that Moore knew one of the founders of the group. He shares: 'I thought it would be important to have an authentic, well-known group in the movie. I called my friend Halstead and asked how to get these guys to come down to the set. The UVA Hullabahoos raised money, got in a camper and drove all the way out to Baton Rouge. They recorded their version of Europe's -Final Countdown' and perform their incredible arrangement in the movie."

Adding in the Feet: Choreography on the Set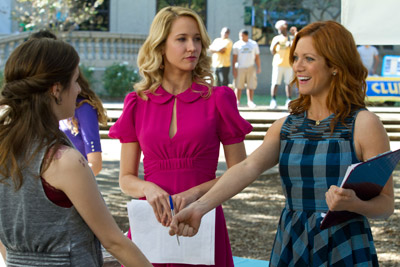 The filmmakers hired Aakomon 'AJ" Jones, famous for choreographing dance moves for Justin Bieber and Usher, to choreograph Pitch Perfect. Though he was new to choreographing for a cappella groups, Jones' hip-hop and mainstream dance background was the style the filmmakers felt would blend perfectly with the group performances. 'Aakomon Jones is an amazing choreographer who came to our project with some mandates," says Elizabeth Banks. 'He had to make a cappella seem cool, but he also had to make it realistic. If you watch the actual ICCA finals on YouTube, the kids do amazing choreography. We wanted to make sure that we took people and brought them to the next level. He created choreography that everyone was able to learn. We had a lot of confidence that AJ would know how to break it down for our actors."

Jason Moore wanted to make sure that the dancing in the movie was not dated. 'The songs the guys are singing in the movie are Flo Rida and Rihanna, so we needed something that matched the music that they were singing and not just a lot of snapping and step touching. AJ and his incredible assistant, Kyndra 'Binkie" Reevey, were able to come in and take the ideas of a cappella, which is old-school, and make it feel new. Sometimes singing and dancing at the same time is hard, and the actors were each singing a different part while they were dancing. It was a Rubik's Cube puzzle for them to make everyone look like they could dance together effortlessly while still making the sound with their mouths."

Jones, Jason Moore, Deke Sharon and Boyer discussed specific points in each scene where dancing would take place and where each character would be staged. Knowing what was happening during the story line and collaborating with the music directors were of the upmost importance. Says Jones: 'What's great about Ed and Deke is that they said that if we felt a certain way about the arrangements, we should give them feedback. On this film, we were able to go directly to the music directors and ask them to make tweaks to some of the sound. They made a first pass of the arrangement and then went back and forth with Jason about the sounds and how it felt. Then they got it to us, and we'd work on it together."

Jokes Rebel Wilson of the choreography: 'I felt like they could have used some of my signature moves because I had a lot of moves. I suggested the sprinkler to AJ and Binkie. -What about the cancan girl? What about the pancake shake?' Which is a move I invented. And then they said, -We've choreographed for Usher so we know what to do.' I said, -Okay, I'm putting my faith in your hands.' One time they gave us a lesson in how to dance like a stripper. It was traumatic."

Jones' background is hip-hop, a genre of dance he felt was perfect for the film's audience. 'That's the reference that I pulled from, as far as material and vocabulary," says the choreographer.

'Whether it's a dance that everyone's doing right now that just hit the streets, or a nod to a cleaner line that would be impressive to the eye on stage, there's a vast array of styles in the film. There's hip-hop, a bit of locking, a bit of jazz and some ballet."

Knapp explains the dance rehearsal process: 'After we warmed up, we'd knock right into it. We learned the choreography step-by-step, and it was amazing to see AJ creating it in his head as we went along. The guy's talented."

Though none of them were trained professional dancers, Knapp's fellow actors echo their praises for their choreographer. 'AJ is incredible," sums Anna Camp. 'He listened to us and worked with each girl individually as to what her level of dance was. He's a very patient man."

Admits Adam DeVine: 'I was kind of worried about doing all the dancing because I'm not a dancer at all. But AJ had a lot of confidence in me. He didn't give me a lot of moves because that would be a lot to remember, but he was encouraging and told me to make some of it up as I went along."

Paul Brooks was blown away the first time he saw the cast's performances. 'They gave me goose bumps. I found myself singing along and tapping my feet. I'm an Englishman and we're acutely shy, so for me to even go halfway there is a big thing."