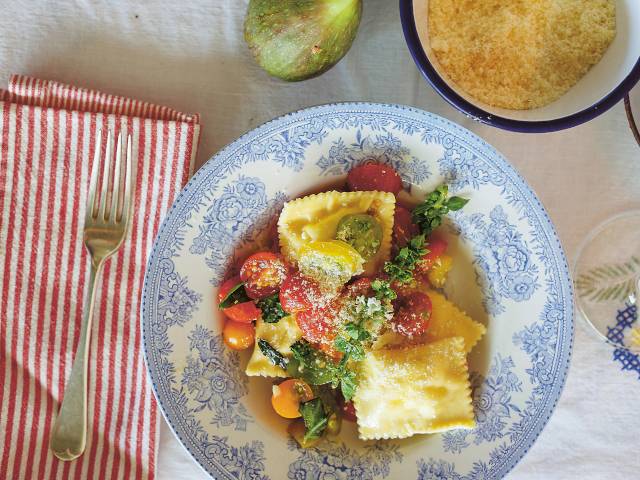 Around the Kitchen Table by Sophie Hansen and Annie Herron
Ravioli with fresh tomato, basil and garlic sauce (p. 120)

Prep time: 1 hour, plus 1 hour resting
Cook time: 10 mins
Serves 2–3

Ravioli is very satisfying to make. And it's much easier to get on the table than most pastas, because you can freeze a few batches without worrying that the pasta will stick together, and cook it straight from frozen. You can change the filling, limited only by what's in your garden/pantry/imagination, but in summer when sweet tomatoes and basil are abundant, this gentle, delicious pasta supper is perfection.

Tomato sauce
500 g (1 lb 2 oz) cherry tomatoes (a mix of varieties is lovely)
3 garlic cloves, finely chopped
2 Tbsp red wine vinegar
2 handfuls basil, leaves picked and roughly torn, plus extra to serve
¼ cup (60 ml) extra virgin olive oil, plus extra to serve
Grated parmesan cheese, to serve

Pasta
2⅔ cups (400 g) plain (all-purpose) or 00 flour, plus extra for dusting
2 tsp salt
4 large eggs

Filling
1 cup (230 g) fresh ricotta cheese
½ cup (50 g) grated parmesan cheese
1 egg
A pinch of freshly grated nutmeg
Grated zest of 1 lemon

Make the tomato sauce first and leave it to sit at room temperature for a couple of hours for the flavours to really get to know each other. Halve the tomatoes and place them in a large bowl with the garlic, red wine vinegar, basil and olive oil. Sprinkle in a good amount of sea salt and black pepper, stir well and set aside.

For the pasta, combine the flour, salt and eggs in a food processor and blitz for 10 seconds or until the mixture just comes together. Turn out onto a work surface and gently knead for about 5 minutes or until you have a smooth, springy dough. Wrap the dough in plastic wrap and let it rest at room temperature for an hour or so.

For the filling, combine all of the ingredients in a bowl and whisk until smooth. Divide the pasta dough into quarters. Flatten one portion into a thick disc between your palms and wrap the remaining portions in plastic. Lightly dust a pasta machine with flour and set it to the first/widest setting. Feed the pasta disc through the machine, then fold it in half and repeat. Next, feed the pasta through the machine on the second setting, fold it in half, then return the machine to the first setting and repeat. The idea is to work the pasta through the first few settings by rolling it through, folding it in half and going back a setting each time. Once you get to about the fourth setting, just go for it, gently feeding the pasta through each setting until you have a lovely thin, silky and smooth rectangle of pasta. Gently fold the rectangle in half lengthways, then unfold it so you can see the halfway mark.

Spoon the filling in little mounds along one half of the pasta, about 4 cm (1½ inches) apart. Run a finger dipped in water along the edge of the pasta, then fold the bottom half of pasta over the top.

Gently press on either side of each mound to remove any air bubbles and then press along the moistened edge to help seal the pasta.

Use a ravioli cutter to cut across the top of the pasta, pressing down firmly to seal and cut at the same time, then cut down the sides to make individual pieces. Place the ravioli on a tray lined with baking paper, cover with a tea towel and pop it in the freezer. Repeat with the remaining pasta and filling.

Bring a large saucepan of salted water to the boil. Drop the fresh or frozen pasta into the pan and cook until al dente (5 minutes if frozen; 3 minutes if fresh). You'll know the ravioli is cooked once it bubbles up to the top of the water. Drain the ravioli and tip it straight into the bowl of fresh tomato sauce. Gently toss to combine, then drizzle with a little extra olive oil (the best you have!), sprinkle the parmesan and extra basil over the top and serve straight away.

Note: If you don't have a pasta machine, use a rolling pin to roll out the pasta until it's as thin as possible. This does take a little time, but you can get there with lots of elbow grease. Alternatively, buy some good-quality fresh ravioli and serve it with the fresh tomato sauce.

Images and text from Around the Kitchen Table by Sophie Hansen and Annie Herron, photography by Sophie Hansen. Murdoch Books RRP $39.99.