Rice Paper Sister
Melbourne's favourite South East Asian hawker style dining bar, Rice Paper Scissors has opened a sister venue called Rice Paper Sister, and it's everything you love about Rice Paper Scissors but different...
Located at 15 Hardware Lane, just off Bourke St in the CBD, Rice Paper Sister offers the same fresh, organically sourced ingredients and inviting atmosphere as it's sibling, with a 'more mature" dining experience.

In a move away from the traditional Rice Paper Scissors street-food dining, the diverse food and cocktail menu allows you to choose your own dining experience. Offering a range of traditional, celebratory South East Asian cuisine, like the Babi Guling - Balinese Roast Suckling Pig with Lawar young jackfruit salad and flaky roti, or the Wok Tossed Port Philip Calamari with Malaysian fiery, smoky red sambal sauce.

Whether you're eating out with friends or flying solo, you're always welcome at Rice Paper Sister.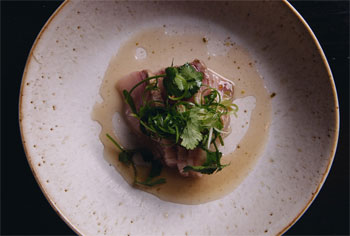 Rice Paper Sister is the next chapter in the story of two life-long best friends from the northern beaches of Sydney.
Rahmie Clowes and Shane Stafford, have had a love affair with South East Asian food and dining culture ever since their experiences backpacking through the region. The dream came to fruition in 2013 when they opened the first Rice Paper Scissors with a South-East Asian style tapas menu where you were encouraged to 'use-you-hands", and share with your mates.
Now they are taking on a creative, new style, and they couldn't be more excited to start the journey.

'Our first restaurant was off the cuff, full of bravado and fun. For us, Rice paper Scissors, was about creating a place where we could eat small street food style dishes amongst friends, have a few nice cocktails and a really good time. Now that we're older, our tastes
have changed and Rice Paper Sister, is a reflection of our, dare I say, wiser selves, where we've created a slightly more mature environment with a deeper understanding of the amazing cuisine of South East Asia. But it's still just as fun."
- Shane Stafford

It's everything you love about Rice Paper Scissors… but different, and a great addition to Hardware Lane's thriving food culture.
'We know where your sister lives…"
Rice Paper Sister
15 Hardware Lane, Melbourne, 3000
03 9600 4949
www.ricepapersister.com.au