At 15, Saree is an accomplished musician who is also a skilled pianist. Having grown up in a musical family, she developed an interest in singing at an early age and has already written several songs produced by Grammy nominated Producer Tommy Marolda that reflect her own life experiences. One of her favorites is the original song Karma Baby. A defining career moment for Saree thus far was having the opportunity to collaborate with her brother Taylor and guitar legend Richie Sambora from the iconic group Bon Jovi on Money on Your Deathbed. In addition, acclaimed Violinist Adrianna Thurber, who has performed with A-list artists such as Celine Dion, Stevie Wonder, Gloria Estefan, and Diana Ross, is featured on her track If You Fall in Love with Me. Saree also recently released Color Outside The Lines and you can listen to her tracks on Spotify. She is set to drop her single Trust Me Baby later this Summer. Saree is a multi-lingual artist with a deep appreciation for K-pop and has recorded several upcoming songs to be released in Korean as she takes her music worldwide.

She is also a talented dancer who is trained in hip-hop, jazz, and lyrical. Saree competes alongside Taylor with the breakdancing crew Break Ninjaz. The team won USA Battle of the Year and went on to place 5th against teams from around the world in Battle of The Year, marking the highest finish for a U.S. team in nearly a decade. They also appeared on NBC's World of Dance. Saree also showcases her talent in B-girl battles around the world as "Saree The Blondie". She has made a name for herself as one of the best B-girl break dancers in America and has some impressive wins, including against WeaponX, one of the top B-boys in the world.

In addition to her musical and dance background, Saree is an up-and-coming actress. She guest-starred opposite Stephen Moyer and Amy Acker in FOX's The Gifted, where she successfully navigated the challenge of playing five characters. Her other credits include the short films Cached, How We Live, and Pappy's Vaudeville.


Interview with Saree McIntosh
Question: How would you describe your music?

Saree McIntosh: Hmm, I would say pop music focused on having meaningful lyrics. In my songs, I have a lot of live instruments. I love old music, and adding real instruments gives me that classic feeling.


Question: Is there a particular message you hope listeners take from your music?

Saree McIntosh: I have so many different types of songs with so many different messages, I just hope that the listeners can relate and connect their personal experiences to my music. I want it to be my songs that they listen to when they're sad, happy, or just wanting to feel something.


Question: Do you prefer performing live or recording?

Saree McIntosh: That's a hard question, I like both for different reasons! But since I must choose one, I would say performing live is my preference. I just love the adrenaline rush of being on stage. Even though I haven't performed a lot, the feeling is unforgettable. I love recording though, being able to see a song grow from just an idea into a full-on song is so fulfilling. The one thing that made me choose performing live over recording is doubling, sometimes it can get really boring!


Question: What motivates you most when writing music?

Saree McIntosh: What motivates me the most when writing music is the listeners. One of the reasons why I care so much about lyrics is because I want the person who is listening to connect the story of the song to their life. Whether my music helps them through a hard day, or is the song they play when they're celebrating, the thought of my music making an impact on someone is inspiring. I know how excited I get when I find a song that I love, and I hope my music can do the same for others.


Question: Which music/artists are you currently listening to?

Saree McIntosh: I've been into K-pop recently, Jung Seung Hwan, LeeHi, HEIZE, TAEMIN, The Rose, BTS, ENHYPEN, and Isaac Hong are my favorite artists at the moment. For American music I've been listening to Joseph Vincent, WILLOW, Mary J. Blige, Van Halen, and specifically Dominic Fike's version of "The Kiss of Venus."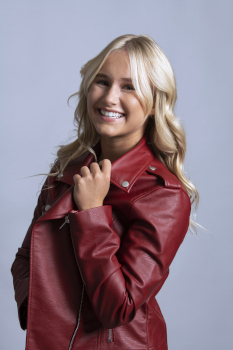 Question: What can you tell us about your role in The Gifted?

Saree McIntosh: I played the role of the Young Frost Sisters in FOX's "The Gifted." This role was absolutely amazing! Skyler Samuels plays the older version of the Frost Sisters, and she taught me a lot on how to portray the young versions of them. Yes, I did say "them". The Frost Sisters are telepathic mutants, and there are five of them! I got to play quintuplets! Esme, Phoebe, and Sophie are the main triplets. My episode shows the backstory of their life, and that's when it is revealed that there were originally five sisters! I won't give away too much so you can go and watch the show, but it was a lot of fun because I got to die twice on the show!


Question: Did you always want to pursue a career in the entertainment industry?

Saree McIntosh: I've always been interested in the entertainment industry and thought it would be cool to pursue a career in it, but when I was younger, I had a lot of other interests too. I wanted to be all sorts of things, I didn't see why I couldn't be an international spy and work at Taco Bell at the same time. My parents put me in a lot of extracurricular activities: I tried basketball, softball, gymnastics, cheerleading, golf, breakdancing, ballet, theater, piano, and modeling. I was simply happy that I got to try everything, I wasn't worried about which one was going to be my career. As I got older, I started figuring out what I liked, and the arts happened to outweigh my other interests. That's when I realized that becoming a musician or actor was my ultimate dream.


Question: If you could collaborate with another artist, who would it be?

Saree McIntosh: I would want to collaborate with Ruel! I'm a huge fan of him and his music, and I think we could write a really cool song together.


Question: What moment in your career stands out the most?

Saree McIntosh: Probably booking the role of the Young Frost sisters on The Gifted. I got it with one video audition, even though I didn't have prior roles as a co-star or guest-star. I felt pretty proud of myself when I saw the final outcome of the TV show. It was the first moment where I got a glimpse at what my life in the entertainment industry could be like.


Question: Did you have any pre-conceived ideas about the entertainment industry?

Saree McIntosh: I thought that it would be based on talent. I didn't realize how much social media and followers controlled the industry. I didn't think that it would matter if I had a large social media following, I thought that focusing on just being a talented musician, and actor was enough. I've learned that there is a lot more that new musicians and actors have to push through to make it into the entertainment industry.


Question: What is the biggest challenge you have faced along the way to your success?

Saree McIntosh: Besides the whole social media thing, I think it would be handling the rejection. It's hard getting told no all the time, if I had a dollar for every time I got a no, I would be rich already! Since I started music and acting at a young age, it was hard to not take the rejection personally. In the end though it has given me tough skin, and I'm not ready to give up anytime soon!


Question: What has been your favourite part of becoming an artist?

Saree McIntosh: My favorite part is all the amazing things I've learned and experienced. It's pretty cool that I've become so comfortable in the recording studio and being around people with so much knowledge about the music industry has taught me a lot. Also getting to spend time doing what I love and sharing it with other people who also have the same interests has been a lot of fun!


Question: What's a typical day like?

Saree McIntosh: First, I wake up to my alarm. It is usually set at around 10 a.m. because I stay up late at night singing, writing, and watching K-dramas. Then when I have the courage to get up, I try to take off the mountain of blankets I have laying on top of me. I get so cold at night that I have like 5 blankets on my bed. My favorite blanket is an Ilbon that my dad bought back in 1983 when he was living in Korea. It's heavy and warm and it's the best blanket ever, I'm surprised it's still in perfect shape! I don't have much of an appetite in the morning, so I usually go workout first and then come back and eat breakfast. For my workouts I either go for a run, lift weights at LVAC, go to breaking practice, or take a class at Orange Theory. Once I come home and have breakfast, I'll either study some Korean, clean up my room, practice piano/guitar, or finish any tasks that I have for the day. I'm on summer break right now, so I try to take time to go outside and enjoy the nice weather! Most evenings I have a dance class to go to, so I'll get ready and go to the class, come home eat dinner, and take a bath. For some reason, all my energy comes out at night, so I get it all out by singing and making music. Once I'm tired, I'll go chill with my parents and my brother, we will either watch TV or a movie together. Then my dad kicks me out because he wants to go to bed, but it's okay I'm usually really tired at the end of the day. I'll put on some chill music and then go to bed!


Question: What's next, for you?

Saree McIntosh: I'm going to be releasing a single called "Trust Me Baby" later this summer, then I'll probably be performing live soon, depending on COVID. I'm hoping to get my learner's permit so I can start driving! I also have a ton of other songs in the can that are ready to be released, just trying to figure out when I'm dropping those so stay tuned!


Question: Can you share your socials? (links please)

Saree McIntosh: Of course!
Instagram
TikTok
YouTube


Interview by Gwen van Montfort


Photographer: Araya Doheny Photography
Hair and Makeup: Allison Noelle