SAYAH returns to the spotlight with her new single 'Fruit'. The unashamedly cheeky track is a slice of SAYAH speaking her mind. The song sees SAYAH delve into a more straight up pop sound, with her emotive voice showcasing why she has been a highly sought after lead vocalist by Peking Duk, Set Mo and Cosmo's Midnight.

On the new single, SAYAH says the inspiration came from "When you've got an insane connection with someone but you know they're not good for you, so you try everything to move on including seeing new people.. But no matter what, they're always on your mind and it's so freaking annoying!!! At the same time, you also kinda love it.. Ughhh the confusion!!"

The last 2 years has seen SAYAH focused on writing and responding to other artists' requests to perform with them. In 2021, SAYAH will be the feature lead vocalist for Cosmo's Midnight shows, and has recently performed with Peking Duk, Set Mo in 2019-20 (including Splendour In The Grass) and has been an in-demand backing vocalist for various artists doing Like A Version at triple j including Safia, Thandi Phoenix, KLP, and Cosmo's Midnight.

'Fruit' was recorded at Taka Perry's home studio in Sydney, and mixed by Simon Cohen at Studios 301. "Keppie Coutts (co-writer of Fruit) and I wrote this song, she seeded the idea and came to me with the concept and it was crazy because I was literally going through that exact scenario at the time. It was like she had read my mind and we wrote the rest of the song within half an hour." SAYAH

SAYAH writes confessional pop tracks that make your mum blush. She is a trained jazz vocalist and has the ability to play the piano backwards due to hyper-mobile joints. SAYAH's heart-expanding vocals have captured the attention of her peers. It makes you understand why SAYAH sits so comfortably in second gear.


Interview with Sayah
Question: How would you describe your music?

Sayah: I'd describe my music as a big blend of pop, old and new R&B but with a dark edge. I'm quite an emotional person and I think that comes out in my sound. I'm pretty honest with my lyrics, so whatever you're hearing is most likely a true story.


Question: Can you tell us about Fruit?

Sayah: Fruit is written about that one person you've been hung up on for so long. You try everything to move on and get them out of your head, but there's an insane connection you still can't seem to break.


Question: Is there a particular message you hope listeners take from your music?

Sayah: I never shy away from writing exactly what I'm feeling because I want people to hear it and connect to it. I know I've felt so alienated with some of my emotions at times and know first hand how helpful it can be having someone or something to relate too.


Question: Do you prefer performing live or recording?

Sayah: Oh god, both!? I love creating so much, it's my outlet. It's pretty cool, walking into a session having no idea what you're about to leave with. Even better when you leave with something you're proud of! At the same time, I live for the feeling of letting loose on stage and having a party up there. That's what it feels like anyway!


Question: Which is your favourite song to perform live and why?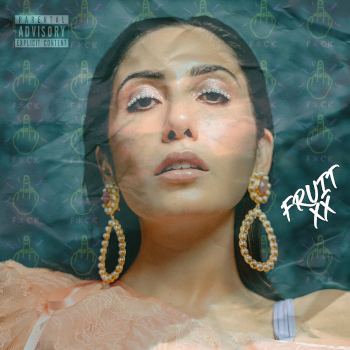 Sayah: Fruit!! More so before it was out and you didn't know what was coming, but watching the reaction of people's faces when I hit the first chorus.. priceless.


Question: What should we expect from your upcoming shows?

Sayah: I'm probably going to take you on a roller coaster of emotions, I apologise in advance. But I promise to also have you dancing a lot!! I've also just added some incredibly lush live bvs to my set, Rissa (who's also opening my show at OAF on the 13th of May!!) & Julie Oguey wait until you hear these girls.. wowsers.


Question: What motivates you most when writing music?

Sayah: The last three years of my life have been pretty emotionally draining but at the same time I've grown and learnt so much. I see it as a gift now that I'm able to use it and create art with it.


Question: Which music/artists are you currently listening to?

Sayah: Way too many to name, but the ones I always circle back to at the moment are - Snoh Allegra, Pip Millet, Jasmine Sullivan and Banks.


Question: What or who was your inspiration to go into the music industry?

Sayah: I've sung since I can remember, but the biggest inspiration to become an artist was Amy Winehouse. My first musical love was old school jazz and soul and her album Frank was the first time I'd heard a 'pop' album so heavily influenced by that sound.


Question: What moment in your musical career stands out the most?

Sayah: Singing at the opera house with Cosmo's Midnight!! Every show with those boys is a blast but it was special being in such an iconic building.


Question: If you could collaborate with another artist, who would it be?

Sayah: I'm listening to Sade as I answer this and imagining a collab with her and Mark Ronson! That would be a dream


Question: What has been your favourite part of becoming a music artist?

Sayah: I've met some of the most beautiful people and formed lifelong friendships through my work as an artist. That's probably the best part


Question: What's a typical day like?

Sayah: It always starts with a strong Lebanese coffee.

I'm usually in the studio either finishing a track or starting a new one. Then the gym and back home to cook dinner and debrief the day with my housemates.


Question: What's next, for you?

Sayah: I've got my show at OAF for Women in Pop on the 13th of May, with Rissa supporting. I'm also about to go on tour singing with Cosmos Midnight, and I've got lots of new music ready to share with you!


Question: Can you share your socials? (links please)

Sayah: Instagram
TikTok
Facebook


Interview by Gwen van Montfort