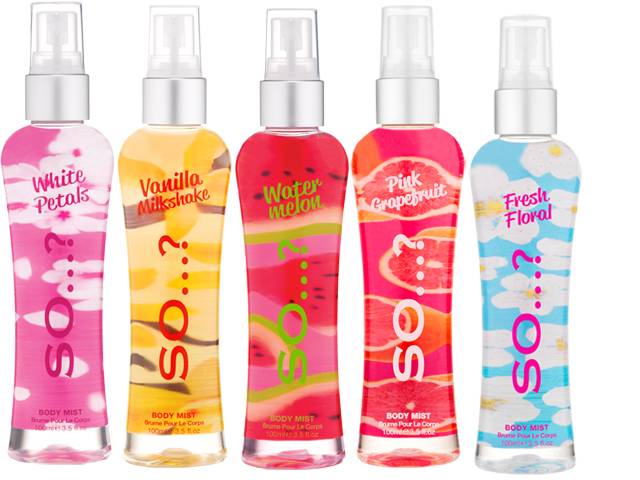 The body mist range is light and fresh, perfect for everyday wear. They are a super affordable way to freshen up during the day, and the perfect handbag essential. Let So…? be your go-to scent to smell like Summer, and keep you feeling feminine.

There are six scents to choose from, and each Body Mist retails for only $6.99 each!

So…? Vanilla Milkshake
Bring all the boys to the yard with this truly classic sweet vanilla scent, complimented by a playful mix of peach and plum.

So…? Iced Melon
Refreshing blend of juicy melon and cooling cucumber, this one will get you singing "Ice, Ice, baby!"

So…? Pink Grapefruit
Will have you daydreaming about sipping cocktails in the tropics, the zesty citrus is complemented by mango and passion. #SummerFeels

So…? Watermelon
A sparkling blend of watermelon, accompanied by fresh notes of red berries and apple blossom. It's one in a melon.

So…? Fresh Floral
Peach blossom is blended with peony to create a delightfully fresh and floral fragrance. The bottle is as fresh as the scent!

So…? White Petals
Gentle notes of bergamot, followed by floral heart of fressia and water lily. It's pink, pretty and oh-so-girly!