Spring/Summer Hair and Colour Trends
The 2017 Spring/Summer season will see women embracing their natural strength and sensuality, choosing a subtly and naturalness in their colour palette to highlight texture, body and an effortless feel in their hairstyles and cuts, according to the award-wining duo of Michael Piastrino (2017 AHFAs Victorian Hairdresser of the Year) and Adrian Rotolo (2016+2017 Hair Expo Colour Technician of the Year) from Melbourne's Ibiza Hair.

'Our reference for our season predictions is our latest collection, Pezzonovante," says Michael. 'Styles are chic and simple, with a raw elegance and sophistication, with colour placed to highlight the simplicity in the cuts."

From short to medium to long styles, colour techniques will emphasize textural accents and beautiful natural movement curls and body.

Shorter styles have been given muses such as Scarlett Johansson and Taraji P Henson, to take their cues from. 'As per our collection, whether it's curls, a pixie or a textured cut, there's a definite strength, femininity and sensuality in these styles, proving each woman is a Pezzonovante in their own right," says Michael.

In keeping with the theme of texture, medium or mid-length styles are embracing a true natural vibe, complete with sexy textures that carry a modern movement and edge.

'We're loving looks from Karlie Kloss, Rose Byrne and Lucy Hale. Beautiful texture in these low maintenance styles which are perfectly enhanced by masterful colour placement," says Michael.

Longer styles embody an effortless approach; there's a natural sultriness and sophistication and this is reflected in the beautiful natural appeal of the hair. Says Michael, 'Long hair will be popular in salon this season, and will be characterized by tousled waves along with natural texture and movement. And once again all enhanced by particular colour palette choices and placement."

Look to Amal Clooney or Blake Lively for the ultimate example of the Pezzonovante woman – long, tousled hair is sexy and highlighted with intricate colour placement.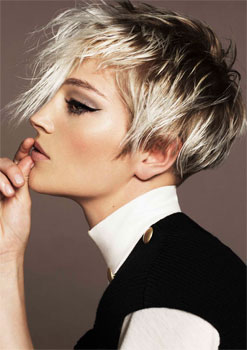 2017 Color Trends

Versatile reds, brighter blondes and warmer brunettes are the colour themes for 2017 Spring/Summer.

According to 2017 Hair Expo Colour Technician of the Year, Adrian Rotolo, colour will range 'from dark bases to flickers of colour at the ends, to hints of caramel or accents of rich chocolate tones to burning out to a sexy Birkin orange; these will deliver a touch of understated luxe and modern movement to styles."

Bright Blondes:
Bombshell blondes that are brighter and shorter are on the horizon for Spring. Sarah Jessica Parker recently debuted a sassy, yet gorgeous vanilla blonde, crafted with only a slight shadow beige root, with bright creamy ends.

Versatile Redheads:
Although not a new hair trend, copper is super versatile and can vary in shade depending on seasons. For spring, look for softer shades of strawberry and rose. We'll see subtle bases with variants of honey throughout, created using freehand balayage techniques. Emma Stone rocks this perfectly.

Warm Brunettes:
Balayage isn't going anywhere, however there's an updated and punchier version of balayage. New forms of metallic hair and specific shades of natural hair colors are in store as we head into the warmer seasons. Selena Gomez wears these colours with her most recent do. A deep, flat base with some painted warm auburn throughout the face line and tips.