By leading Australian dermatologist, Dr Leona Yip
Top three skincare ingredients to help prevent dry skin in winter Ceramides, glycerin and panthenol (vitamin B5)

Common skin issues experienced during winter


Dry and itchy skin is the most common due to dry and cold outdoor air, indoor heaters and long hot showers in colder months. If not looked after, this can lead to or aggravate eczema. An increase of eczema in winter is also partially attributed to shorter days with less sunlight. Rosacea (facial redness) is also common in colder months. A common denominator for these conditions is an underlying disruption of skin barrier function leading to increased water loss through the skin.
An optimum skincare regime during winter

Your winter moisturiser may need to change from the one you use in summer. Using a thicker or richer moisturiser (e.g. one with glycerin) in the colder and drier months helps to lock in moisture more effectively to maintain skin hydration and lustre. Using soap-free and fragrance-free washes in short lukewarm showers instead of long hot showers can also help reduce dryness – and moisturise twice a day to replenish skin oils, especially after a shower when skin pores absorb moisturiser products more readily.
Commonly used products and ingredients to look out for

Moisturisers enriched with ceramides and panthenol (vitamin B5) are excellent to help repair skin barrier function and dryness with their soothing and hydrating properties. Serums with hyaluronic acid and niacinamide are also great for skin hydration and well-tolerated by most skin types, including sensitive skin and rosacea.
The benefits of La Roche-Posay's Cicaplast range for winter dry skin

Its hero ingredient, panthenol (vitamin B5) is an excellent humectant that draws water into and maintains moisture within the skin to improve skin smoothness and suppleness. Panthenol is known to help repair the skin barrier and has anti-inflammatory properties to help reduce skin irritation, redness and itching caused by dry skin.
Recommended by 90,000 dermatologists worldwide*, LA ROCHE-POSAY is leading the way when it comes to designing highly efficacious formulas with ingredients loved and approved by healthcare professionals. Panthenol (vitamin B5) is one of these ingredients and it can be found in the Cicaplast range and Hyalu B5 serum, which when used in a daily regime, helps soothe, hydrate and repair dry skin – the perfect combination for winter. LA ROCHE-POSAY recommends an intense hydration regime that includes:
LA ROCHE-POSAY CICAPLAST B5 MASK
25g | RRP $12.95 | Individual Sheet Mask

LA ROCHE-POSAY's Cicaplast B5 Mask is a hydrating and soothing sheet mask suitable for sensitive, dry, dehydrated and post-aesthetic treatment skin. The facial sheet mask is made from 100% natural and bio-degradable pure cotton fibre to ensure optimal absorption and gentle delivery of panthenol (vitamin B5), madecassoside, shea butter, glycerin and LA ROCHE-POSAY's antioxidant-rich thermal spring water, to hydrate, soothe and help strengthen dry and sensitive skin.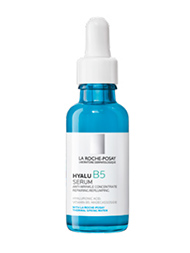 LA ROCHE-POSAY HYALU B5 HYALURONIC ACID SERUM
30ml | RRP $71.95

An anti-wrinkle serum formulated to increase skin hydration and plumpness. It features two pure hyaluronic acids (to hydrate and replump skin), and 5% panthenol (vitamin B5) to help support the skin's barrier, and protect it from external aggressors). This best-selling serum showcases a fresh water-gel texture to promote a dewy, healthy glow suited to all skin types, including sensitive.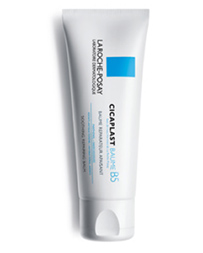 LA ROCHE-POSAY CICAPLAST BAUME B5 BALM
40ml Tube | RRP $17.95


A rich, soothing, multi-purpose balm, Cicaplast Baume B5 Balm is suitable for dry patches, rough areas and redness. Formulated with madecassoside, 5% panthenol (vitamin B5), and anti-bacterial agents, it provides optimal skin recovery and skin protection, and visibly soothes dry areas.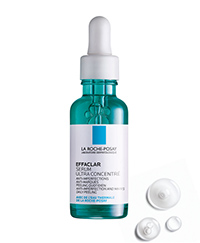 LA ROCHE-POSAY EFFACLAR SERUM
30ml l RRP: $59.95


The new Effaclar Serum is a daily face serum for mild to moderate acne-prone skin and is scientifically proven to help visibly reduce the appearance of breakouts, imperfections, fine lines and wrinkles. Formulated with three complementary peeling acids – LHA (to microexfoliate and help stimulate skin renewal), Salicylic Acid (to deeply unclog pores and reduce excess sebum), and anti-bacterial Glycolic Acid (to renew skin surface and refine visible pores) – supported by the addition of the active ingredient Niacinamide (help to combat moisture loss and dehydration).
The optimal skincare regime for mild to moderate acne-prone, ageing skin includes Effaclar Serum at night, followed by Effaclar Duo (+) Anti-Acne Moisturiser and Anthelios Anti-Shine Dry Touch SPF50+ sunscreen in the morning.
Available now via laroche-posay.com.au
@larocheposayaunz #cicaplast #sensitiveskin #healthyskin #vitaminb5
Review: We all know moisturising your skin soothes cracks and dryness, but did you know that hydrating your skin can reduce breakouts? Keeping your skin hydrated in winter is probably more important than in summer, as the harsh elements (wind, cold air and heating) can really dry out your skin. We tried the La Roche-Posay Mask, Serum and Balm seeing great results; skin was visably smoother and supple, with reduced redness and dry pataches. Having sensitive skin, it's really important that I take extra care with what I put on my face, and I'm happy to report that La Roche-Posay was fantastic, no irriation at all and really hydrated my dried out skin. Love it!