When Claire Carpenter's dad sends her to Australia to coach an elite boys swim team, Claire finds herself face to face with long-time rival Mikayla Michaels, and the news that the camp will close if the team loses the next meet. To save the camp, Claire must overcome a secret fear, put aside her differences with Mikayla and rediscover her passion.
SWIMMING FOR GOLD
In Cinemas 17 September (except VIC).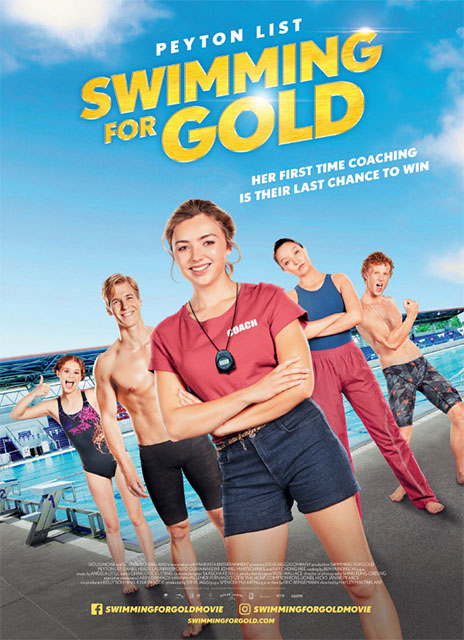 ABOUT THE FILM
Cast: Peyton List, Daniel Needs, Lauren Esposito, Olivia Nardini & Johrel Martschinke.
Swimming for Gold is the third film by The Steve Jaggi Company for the young adult market. The first two features Rip Tide and Back of the Net, screened to huge global audiences (Netflix and US Disney Channel) following their Australian theatrical releases.

Swimming For Gold is the story of an American teenage girl, who finds herself in Australia and out of her comfort zone. It's a story of overcoming your fears, making new friends and being the best you can. It's empowering, and it celebrates girls and sport in all their wonderful glory.

With a largely female team we are privileged to be able to make a film that speaks to what audiences of women and girls want right now
.
Filmed entirely on location in Brisbane and the Gold Coast Hinterland, with post production completed at the new Serve Chilled facility in Brisbane, Swimming For Gold will be the first Australian feature film to release theatrically in Dolby Vision.

Swimming for Gold is supported by Screen Queensland and will release exclusively through Event Cinemas and Village Cinemas in 2020.
https://www.swimmingforgold.com/ Instagram
Interview Olivia Nardini - Swimming for Gold
Why were you drawn to the script 'Swimming for Gold'?

Olivia Nardini: There were so many things about the script that piqued my interest, like the swimming component and the feel good nature of the film, but definitely my character Annabelle jumped off the page and was calling out to me. It was a type of role that I have always wanted to play and I knew I could have a lot of fun playing. I love to make people laugh!
Can you tell us a bit about your character Annabelle Shumpert?

Olivia Nardini: Annabelle is such a firecracker, she's so genuine yet super funny and super kooky! She's the type of girl that makes super clashing fashion choices that somehow work, and she doesn't care what anyone thinks of her. I like that she never chooses a style or a group of friends, she gets along with everybody, thrives in every style and never hesitates to help out her friends. I think she's the role model I needed when I was younger, someone that would show me that I didn't need to filter my personality or my facial expressions and just be your own wonderful self.
How much swim and other training did you have to do to prepare for this role?

Olivia Nardini: I had a stunt double for the swimming race so I didn't spend as much time in the water as some of the cast, but I definitely spent time in the water on screen and in training! I didn't go as hardcore as the boys on set doing 5am morning swims, but I trained in the water learning how to properly dive and touch the wall when finishing a race. We all were very lucky to get professional former Olympic swimmers to teach us proper stroke techniques as well! I also trained with a stunt person on how to properly jump off a waterfall, so we did end up spending a fair amount of time training and swimming to prepare ourselves. We all really wanted to understand what it was like to be a professional swimmer and respect the incredible amount of effort they put in.
What was a typical day like on set?

Olivia Nardini: Our days always started really early, on average I would be up around 5:30-6am to head to set. We'd go set up in our trailers and have some catered healthy breakfast, then get sent to makeup and costume, and then wait until we're needed on set to film. The cast and crew would always hang out in between scenes and sit together at lunch, we all became really close. Typically the days were long but so great, and we were fed so well, we even had ice creams after lunch to keep us full of energy!
What was it like to work with Peyton List and what did you learn?
Olivia Nardini: I didn't actually know she was going to be in the film until I walked in to the production office on my first day, so to say that I was shocked would be a massive understatement. I grew up watching her play Holly Hills in Diary of a Wimpy Kid and my sister used to watch Jessie, so I was sightly starstruck to say the least. The ice was broken pretty fast with Peyton and the Aussie cast so we all became friends pretty immediately on day 1. Peyton has become such a great friend of mine, and I'm so thankful I got to work with her on this project. She was the perfect established actor for me to work with on my first big project, she was so kind and down to Earth, she was the glue that brought us all together and the reason we are all still so close to this day. She's such a gem and sooooo talented and she taught me so much about working in the industry. I would say she is the perfect example of what a celebrity should be like.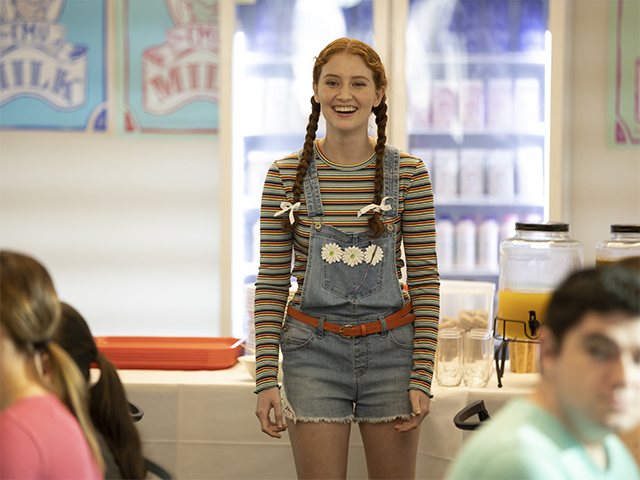 What did you most like about filming Swimming for Gold?

Olivia Nardini: I loved every second of filming Swimming for Gold and had so much fun playing Annabelle and getting to be really goofy, but definitely 100% my favourite part of filming was being able to work closely with such an incredibly talented and funny main cast. It felt so amazing to be living a dream come true and doing it with people that I love and would now call some of my best friends. I plan to visit Lauren (Mikayla) and Peyton as soon as I can after Covid. I feel so incredibly lucky and will be forever grateful to have had this experience.
Who would you most like to work with in the future?
Olivia Nardini: In my perfect scenario there's an eternal list of names I would love to work with, like Tom Hanks, Steve Carrell, Meryl Streep etc, but definitely right at the top of my list would be Jim Carrey because I've been such a fan of him as long as I could remember. I have such an admiration for all the comedic greats like Martin Short, Steve Martin, Eddie Murphy, Jerry Seinfeld etc. It would be an absolute dream of mine to work on Saturday Night Live someday and follow in the footsteps of Kristen Wiig and Melissa McCarthy.
What's next for you?
Olivia Nardini: I don't have anything planned as of yet due to Covid19, but I'm ready for whatever comes at me. Right now I'm just super grateful for all the support I've received from my role in Swimming for Gold and am just living in the moment. Super excited to see where life takes me and what role I'm going to play next!
Can you share your socials?
Olivia Nardini: You can follow me on instagram @olivia.nardini, there are lots of behind the scenes photos and videos on there! You can also follow @swimmingforgoldmovie on instagram too!