There's A Method To The Madness, If It Gets You Famous!
The first three episodes of the award-winning six-part comedy series Method, about two struggling actors doing anything but acting, are now available to watch exclusively online at www.methodseries.com/watch ahead of a Nine Network broadcast early next year.

After a successful Kickstarter campaign to raise production funds, Method has been building significant buzz, including winning the -Spotlight' award at the 2017 Melbourne WebFest. The series has received production funding from Screen Australia and will broadcast on Nine Network's 9Go! and streaming service 9Now in 2018.

Method is co-created, produced and stars real life best-friends Jerome Velinsky (Love Child, Here Come the Habibs) and Tawni Bryant (Winners and Losers, Fat Tony & Co), with a supporting cast including Jaspar Bagg (Thor Ragnarok), and Kaarin Fairfax (Holding the Man). Method follows the trials and tribulations of Ryan (Velinsky) and Emma (Bryant), two down on their luck actors, who will go to extreme and desperate measures to break into Australia's entertainment industry. What ensues is a hilarious collage of misadventures in which no amount of dignity lost can surpass the chance at stardom.

The inspiration for Method stems from both Velinsky and Bryant's own experiences of navigating the treacherous pathway to landing a role as an actor at the bottom of the food chain. 'The idea of Method was born from Tawni and I reflecting about our own horrific audition experiences", says Velinsky. These real-life experiences stream into the narrative of Method, creating a level of authenticity that allows the underlying message of not giving up on your dreams, no matter the obstacle. 'A lot of the material is, believe it or not, real stuff that has happened", says Bryant. 'We'd like to think of Emma and Ryan as extremely heightened versions of ourselves who are way more selfish and self-absorbed than we are in real life."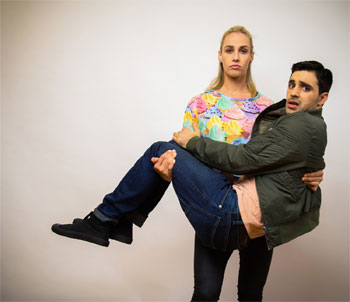 In terms of what audiences can expect from Method, series producer Kirstin Sargent hopes people realise that 'Australian screen creatives can make content that is up there with the very best international comedies, right here in our own backyard."

Sally Caplan, Head of Production at Screen Australia said, "Jerome and Tawni have created a comedy series with real charm and authenticity, which is sure to be as big a hit with online and 9Go! audiences as it was earlier in the year at Melbourne WebFest, where it won the Spotlight on Melbourne Award."

Watch Method Online Now

www.methodseries.com
https://www.instagram.com/methodtheseries1/
www.facebook.com/methodtheseries1
www.twitter.com/methodtheseries
Interview with Tawni Bryant
Question: How would you describe Method?

Tawni Bryant: Method is a fun, fresh comedy, that will leave you in stitches (hopefully) and thanking the lord you are not in the same position as Emma and Ryan.


Question: Can you tell us about the moment you found out Method was going to be on the Nine Network?

Tawni Bryant: The moment I found out about Nine Network, I was home (luckily) because Jerome and I were on the phone literally jumping for joy with excitement. We read the email about 100 times just to make sure we were reading it correctly (that would have been awkward – (laughs)).


Question: How have you also gone to extreme measures in your acting career?

Tawni Bryant: I don't think you can be an actor without taking extreme measures and risks. At the age of 18 I moved solo to Melbourne to study acting, and then at the age of 23 I moved again, solo, to Los Angeles for 12 months, leaving my boyfriend of 5 years at the time, who I am fortunate enough to still be with today and can now call my fiancé. Each time I made that decision to pack up my life, I had the same hopes and dreams in mind; the goal was and still is, to book an acting gig, whatever it takes! I studied my heart out and auditioned for everything and anything! All of the auditions I go for I rehearse and prepare (as you should), just like that dance audition in EP 1. That actually happened!


Question: How much of your inspiration for Method comes from real life and real people?

Tawni Bryant: I would say most of Method is loosely based around real events and real people. The ideas and situation you find these characters in have stemmed from experiences we have had in the industry over the last 10 or so years. As an actor working multiple jobs is definitely a given!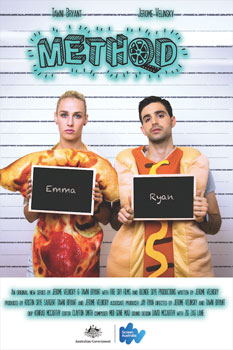 Question: How are you similar to the character of Emma?

Tawni Bryant: Emma and I are similar in that we are both resilient, which is exactly how you need to be in this industry! -Giving up' is never an option.


Question: What did you learn about yourself whilst filming Method?

Tawni Bryant: Whilst filming Method I can now say I truly understated the -bigger picture' of a production. As well as acting, I also co-directed and produce the series so I learnt some invaluable lessons along the way. Taking on all of these roles was the best thing I could have ever done. Especially as an artist! Learning that -it's not all about you'!


Question: What was the best part about being on set for Method?

Tawni Bryant: The freedom of being on your own set was wonderful. When I was in front of the camera, I had so much time to play and throw around different choices and ideas, and behind the camera, I had an incredible crew to work with and bounce ideas off, so good vibes all round!


Question: What was it like working with Jerome Velinsky on Method?

Tawni Bryant: I couldn't think of a better person than Jerome to share this whole experience with. We are so different in so many ways, yet quite similar. We really balance each other out and have total respect for one another. We have been through a lot together over the years, well before shooting Method, so I feel we communicate on another level. As a creative team, it just works


Interview by Brooke Hunter