** GIRL takes a closer look at what is involved in the popular game of TENNIS! **Shots
:
Serve, Backhand, Forehand, Volley, Smash and Overhead Smash.
Types of matches:
Men's and Women's singles, Men's and Women's Doubles and also Mixed doubles.
Grand Slams:
There are four Grand Slam tournaments that are played each year. They include: The Australian Open, Roland Garros (Paris), The US Open, and The Championship Wimbledon.
Some of the stars of the tennis world:Women:
Venus Williams, Jennifer Capriati, Anna Kournikova.
Men:
Andre Agassi, Todd Woodbridge, Lleyton Hewitt and Pat Rafter.
Rules:
Here are some of the basic rules when playing tennis:
You must serve into the opposite box from where you or they are standing.
Must serve into that box if the ball lands either left, right, too far or hits the net and does not make it over. This is called a fault and if you make two faults in a row this is called a double fault. If you do that you must serve again from the other side and the other player gets the score.
Scoring system operates like this: 15-30-40-Game. If you and your opponent are both on 40, you play until someone wins two points in a row. When you both reach 40 it is called Deuce.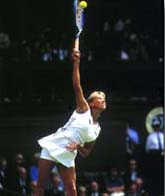 History:
Tennis or "Lawn Tennis" as it used to be called became a more recognized sport in the mid-1800's. The players used to play on garden courts, but as we know, tennis players today play on clay, flexi-pave, grass and some tournaments are played inside.
The sport of Tennis was an Olympic sport from the start, 1896 to 1824. It lost its place before being reintroduced in 1984.
Facts:
In 2000, Hingis proved herself the most consistent performer on the women's circuit, finishing the world No. 1 for the third time in four years. The 20-year-old won titles in Tokyo, Key Biscayne, Hamburg, 's-Hertogenbosch, Canadian Open, Filderstadt, Zurich, Moscow and finished the year on a high note with victory at the Chase Championships in New York. With nine titles and 13 singles final appearances, Hingis' record was better than any other player on the WTA Sanex Tour in 2000. The Swiss player won 77 matches - 20 more than any of her fellow players on the Tour.
The year 2000 saw Australian duo Todd Woodbridge and Mark Woodforde take over as the most successful partnership ever with a total of 61 titles - a fine ending to their ten-year career. Their eight titles during the year included their first at Roland Garros and a sixth Wimbledon crown. In the last ever appearance together, the Woodies won a silver medal at the Sydney Olympics to add to the gold they captured at the Atlanta Games
Equipment:
The main equipment that you will need to start up a game of tennis is a racquet, balls and a court.
- Anthony Pearce
(anthonyp@girl.com.au)