From award-winning novelist Barbara Hannay comes a timely and uplifting story about the importance of community and connection.
Can love and friendship blossom on a rooftop?

The residents in Brisbane's Riverview apartment block barely know each other. They have no idea of the loneliness, the lost hopes and dreams, being experienced behind their neighbours' closed doors.

Vera, now widowed, is trying her hardest to create a new life for herself in an unfamiliar city environment. Unlucky-in-love Maddie has been hurt too many times by untrustworthy men, yet refuses to give up on romance. Ned, a reclusive scientist, has an unusual interest in bees and worm farms. Meanwhile, the building's caretaker, Jock, is quietly nursing a secret dream.

When a couple of gardening enthusiasts from one of the apartments suggest they all create a communal garden on their rooftop, no one is interested. Not at first, anyway. But as the residents come together over their budding plants and produce, their lives become interconnected in ways they could never have imagined.

From award-winning novelist Barbara Hannay, The Garden of Hopes and Dreams is a timely and uplifting story about the importance of community and the healing power of connection.

About the author
Barbara Hannay writes women's fiction, with over twelve million books sold worldwide. Her novels set in Australia have been translated into twenty-six languages, and she has won the Romance Writers of America's RITA award and been shortlisted five times. Two of Barbara's novels have also won the Romance Writers of Australia's Romantic Book of the Year award.Barbara lives in Townsville with her writer husband and enjoys being close to the Coral Sea, the stunning tropical scenery and colourful characters, all of which find their way into her popular stories.

The Garden Of Hopes and Dreams
Barbara Hannay
Penguin Books Australia
ISBN: 9781760899417
RRP: $32.99


Interview with Barbara Hannay
Question: What originally inspired the idea of The Garden of Hopes and Dreams?

Barbara Hannay: I wanted to write about people who were lost in some way (emotionally hurt or lonely) and I loved the idea of them coming together in a community garden and finding a sense of connection and belonging. At first, I thought I would set this in a country town, perhaps my fictional Burralea. The garden might be developed along a creek bank. But during this "dreaming," pre-writing phase, I was also remembering a time when we'd lived in an apartment block and how I used to long to turn the tennis courts on the roof into productive gardens. From there, the idea of a rooftop garden really grew and took hold.


Question: How much of your inspiration comes from real life and real people?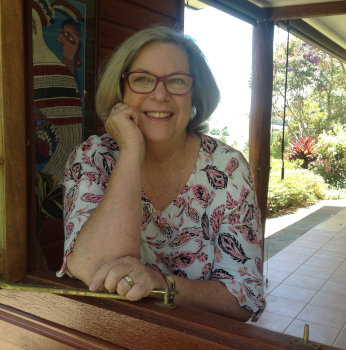 Barbara Hannay: Usually, very little in my stories comes from real life, but on this occasion, my personal love of gardens (inherited from several green thumb generations in my family) has been a definite influence. I've recently moved back to Townsville after spending almost fifteen years enjoying a hillside acreage on the Atherton Tablelands, so I knew exactly how much my character Vera missed her country garden. Apart from that, the characters and their particular problems bear no resemblance to my life, for which I'm grateful.


Question: Who is your favourite character in the book?

Barbara Hannay: I'm afraid I can't pick a favourite. I write from both Vera's and Maddie's points of view and I spent so much time with these women, living in their heads, I feel a close connection to both of them. And I love Henry, Vera's grandson, as well. I don't usually give children such a focus, but I really enjoyed writing about him and the way he hero-worshipped Ned, the scientist who knows all about bees and worm farms.


Question: Did you learn anything about yourself, whilst writing The Garden of Hopes and Dreams?

Barbara Hannay: I guess the main thing I learned was that I still love this writing gig, even though I've been doing it now for twenty-three years. And I've once again learned to trust my process, although I'm still hit by huge doubts at times. I'm not really a plotter, so I don't have the safety net of knowing exactly where I'm going. I do have a general idea of where I'm heading with a story, but I still hope to surprise myself along the way and this happened a couple of times in this book, which is always exciting for me.


Question: What research did you do, prior to writing The Garden of Hopes and Dreams?

Barbara Hannay: I read Johann Hari's book Lost Connections and this really cemented my desire to write about people who are lonely or troubled and who find healing and happiness by coming together. I also spent quite a bit of time googling rooftop gardens all over the world and that was fun, and I needed to research about experiences with Tinder. But mostly, I just dived into this imaginary world and let my characters gently lead the way.


Question: What advice do you have for aspiring writers or artists?

Barbara Hannay: Create what's important to you. Write the kinds of stories that you love to read, the particular story you really want to share. Write from your heart and don't be too influenced by what you think might be selling in the marketplace right now. If you submit your work to a traditional publisher, don't be put off if you receive a rejection. Most professionals in the arts have had to serve an apprenticeship, sometimes for many years. Be prepared to work hard, don't give up, and the prize can be yours.


Question: What or who inspired your love of reading/writing?

Barbara Hannay: My desire to read and tell stories has been with me for so long, I'm sure I was just wired that way. However, I'm very grateful to my aunts who bought me so many wonderful books for birthdays and at Christmas when I was young – all the classics like Seven Little Australians, Little Women, Anne of Green Gables, Daddy Long Legs. I devoured these wonderful stories. And I'll never forget one particular primary school teacher, Miss Isobel Mathams, who read to us so expressively that I can still hear her voice many decades later. Until then, I hadn't known anyone who loved books as much as I did and she helped me to realise I might not be so "weird" after all


Question: What's next, for you?

Barbara Hannay: I'm working on another book, but I'm always a bit superstitious about talking about my work when it's still in the fledgling stage. I'm loving it, though, which is reassuring.


Interview by Gwen van Montfort