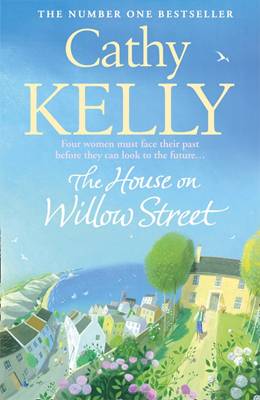 The House on Willow Street
Tess used to be happy with her lot: she lives in the idyllic Irish coastal village, Avalon, with her teenage son, Zach, and nine-year-old Kitty, and works in the local antiques shop. Her only regret in life is that everything went so horribly wrong with her first love. Then her marriage falls apart and her first love returns to Avalon.

Suki, Tess's sister, fled Ireland years ago to marry politician Kyle Richardon, but when Suki discovers that a biographer is planning to tell all, there is only one place she can go to ensure that her secrets stay hidden.

Danae is the village postmistress in Avalon and she's worked very hard to make sure nobody knows where she came from or who she is ... Her past is her business and that's the way she would like to keep it.

In Galway, Mara sits with a smile glued to her face at a wedding; she only wants to ask the groom one thing: why did he tell her he loved her? Needing to put her past behind her, Mara packs up her life and gets ready for a fresh start.

Can these four women lay their pasts to rest? Or do they need to look back before they can begin to live for the future?

Cathy Kelly is the author of nine other novels, all of which were number 1 bestsellers. In 2005 Cathy became an Ambassador for UNICEF in Ireland, helping to raise awareness of the plight of 12 million children orphaned across Africa through AIDS. Cathy Kelly now lives in Wicklow with her partner and young sons.

The House on Willow Street
Harper Collins Australia
Author: Cathy Kelly
ISBN: 9780007373611
Price: $39.99



Interview with Cathy Kelly
Question: How did you come up with the idea for The House on Willow Street?

Cathy Kelly: Danae and the town of Avalon came to me first. I had this idea to write about a lovely, kind, gentle woman who lives in this gloriously pretty community and yet, isn't a part of it. She works within Avalon and yet is distant and keeps herself distant from everyone. The reader knows she has this big secret but nobody knows what it is. I also like the idea that we can know people a little bit and yet, really have no clue what goes on in their lives.


Question: Are the characters based on anyone you know?

Cathy Kelly: Absolutely not! People do think writers use real people - with my first three books, I was working full time in journalism and set my first novel in a newspaper office. Oh dear Lord, they all thought they were in it! I kept explaining that I'd written about journalism because I knew about journalism, but had made all the people up. Nobody listened to me. If there was a sleazy sports editor in one book, everyone teased the hell out of the real sports editor. I had to keep going over to him to apologise and explain that it wasn't him, it was fiction. Oh the embarrassment. I thought, you see, that everyone understood imagination but sadly, most people don't.


Question: Which of the characters in The House on Willow Street, are you most like?

Cathy Kelly: I'm not like any of them, although I share Danae's love of hens - my grandmother had hens and during the summer, I was in charge of the pullets (baby hens) who lived in an old Volkswagen Beetle and had to be followed as soon as they were let out in the morning because pullets lay their eggs all over the place, in hedges and bushes. I was the egg hunter and used to run frantically in different directions until I had a fix on where they all were, sitting happily and about to lay. When they all started appearing out, looking thrilled with themselves, I'd run and collect these darling little still-warm eggs. I would love hens but my dogs (three Jack Russells) would probably think they were dinner on two legs.


Question: Can you tell us a little about your research and writing process?

Cathy Kelly: I spend (unfortunately) about six months honing the first quarter of a book and getting the characters just right. Without that, I simply can't progress. I rewrite and rewrite endlessly, swearing at myself for being an idiot and finally one day, I think it might be working and I move onto the next three quarters.


Question: Are you working on another novel? What can we expect to see from you next?

Cathy Kelly: I've already started another novel but it's in the early, woolly state so I don't really know what it's about myself!