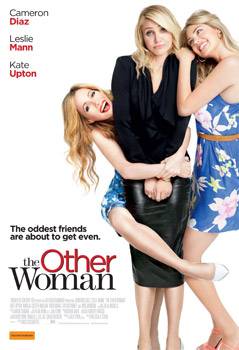 The Other Woman
Cast: Cameron Diaz, Leslie Mann, Kate Upton, Nikolaj Coster-Waldau, Nicki Minaj
Director: Nick Cassavetes
Genre: Comedy
Rated: MA

Synopsis: Carly (played by Diaz) is a hot shot New York lawyer who has it all, including a hot new boyfriend. She accidentally discovers however that her boyfriend is married to Kate (played by Mann). Carly and Kate decide to unite together to get even. They soon realise that he is also cheating on both of them with another woman, Amber (played by Upton). The three women all come together to get even and become best friends in the process.

The Other Woman
Release Date: April 17th, 2014

Review: What a fantastic, funny and completely fabulous film. For anyone who has ever suspected their partner cheating, or likes the idea of revenge, this film will have you in stitches.

Leslie Mann plays the hysterical clueless and needy wife that can't accept that her husband is cheating. Cameron Diaz the unsuspecting other woman who doesn't want to become a homewrecker. But when Kate (Leslie Mann) won't leave her alone they soon find a common interest - revenge. Unravelling the web of lies the women soon discover Amber (Kate Upton) who also wants in on friendship & revenge. Plus a bootalicious preformance by Nicki Minaj.

A light hearted film with some real comic moments, making a laugh-out-loud film that's refreshing.

Assemble the girls for a great night out!