The bestselling author of The Party explores what happens when a seemingly perfect family is pushed to the edge by cruel, vindictive and increasingly dangerous attacks.

Thomas and Viv Adler have a picture-perfect family. Affluent and attractive, with two well-mannered kids almost out of the nest, they live in a beautiful house in a well-to-do neighbourhood. Their jobs are fulfilling; their children are thriving; the world is their oyster.

Until one morning, when they wake up to find that their house and car have been pelted with eggs. Thomas dismisses it as the work of a few out-of-control kids, but when a smoke bomb is tossed on their front lawn, and the tires on their BMW are punctured, he begins to worry. Unable to identify the perpetrators, they are helpless as the assaults escalate. The police assure them that this is just the work of bored teenagers, but no one in the Adler family believes it. After all, each of them has a secret – kept not only from the outside world but from each other.

As the Adlers grapple with their guilt, fear and shame, the assaults grow deadly. Their 'perfect' façade is crumbling, and it may be too late for any of them to do anything about it.

About the author
Robyn Harding is the author of numerous books, including the international bestseller, The Party, and The Swap, which was an instant #1 Globe and Mail (Toronto) and #1 Toronto Star bestseller. She has also written and executive produced an independent film. She lives in Vancouver, BC, with her family. Visit her at RobynHarding.com or follow her on Twitter and Instagram @RHardingWriter or Facebook @AuthorRobynHarding.

The Perfect Family
Robyn Harding
Simon & Schuster
ISBN: 9781760858889
RRP: $ 32.99


Interview with Robyn Harding
Question: What originally inspired the idea of The Perfect Family?

Robyn Harding: Unfortunately, the inspiration for this novel came from real life. A few years ago, a group of kids was targeting homes in my neighbourhood, including mine. It never escalated to anything serious, but it was very confusing and unnerving. And we never found out why. That made me think about the secrets that a family might keep that could cause such attacks. And then I turned the experience into something much more sinister.


Question: Are the characters based on anyone you know, in real life?

Robyn Harding: If they were, I'd never admit it! They're not, but there is always a tiny kernel of myself, a friend, or a family member in every character I write. I find it helps to attach to something genuine in each character, even though they are completely fictionalized.


Question: How much of your inspiration comes from real life and real people?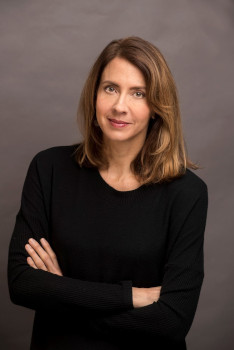 Robyn Harding: In this case, the premise was inspired by my own experience, but that's rarely the case. I will often take a story I read in the news, an anecdote I overhear in a restaurant, or a tale from a friend and think… Could I turn that idea into a full novel? How could I twist it and play with it and build it into something dramatic enough to fill 300 pages?


Question: Is there a message you hope readers take from The Perfect Family?

Robyn Harding: I really write to entertain and offer an escape. I don't think much about a message. But in this case, I think the message to readers is that nothing is ever as perfect as it seems, and no one knows what goes on behind closed doors. Every family has secrets and struggles, and often, the ones most focused on their outward appearance have the most to hide.


Question: Did you do any research, prior to writing The Perfect Family?

Robyn Harding: This book is set in Portland, Oregon. I live in Vancouver, BC. I've visited Portland four or five times, but I was planning a weekend trip down to do some research. But when the pandemic hit the border closed, so I had to rely on memory and Google for the setting. I also had to research the camming world which was quite an eye-opener! And I read up on the psychology of kleptomania.


Question: Who is your favourite character in the book?

Robyn Harding: Tarryn was probably the most fun to write. She has a lot of attitude and sass, which made me laugh. And Thomas's ever escalating fears and frustrations were also entertaining to me. I felt very sorry for Eli and all he had been through. And Viv was relatable to me as a mom worrying about her family. (I realize that was a non-answer but each character appeals to me in a different way.)


Question: What advice do you have for aspiring writers or artists?

Robyn Harding: For many years, I'd start a novel, and then lose steam after a few chapters. It wasn't until I pushed through and finished a manuscript, that I gained a deeper understanding of story and structure and what it actually takes to write 300 pages. So, I encourage writers to finish their projects. And when a writer is ready to submit their work to an agent, I suggest finding books in your genre and reading the acknowledgments. Authors always thank their agents. It's a great way to know that an agent is interested in your type of material.


Question: What or who inspired your love of reading/writing?

Robyn Harding: When I was little, my parents always read to me. I remember asking for just one more story, and then just one more after that. I lived in a small town in northern British Columbia, and I think that environment fostered my creativity. I didn't watch a lot of TV (I do now!) so I had a lot of time to read, play outside, and imagine. I think that's why I became a writer.


Question: What's next, for you?

Robyn Harding: I'm working on another thriller but I'm taking it slowly. I've been publishing a book a year for the last five years, which has been a pretty relentless pace. I adopted two rescue chihuahuas from Mexico a few months ago and they are taking up A LOT of my time. And we are finally allowed to move around our province, so I plan to visit with family and friends.


Interview by Gwen van Montfort