Rising star Yonas Kibreab, a talented young actor and voice actor who has already made an impact in Hollywood with his impressive list of credits. Best known for his roles in the Disney+ original "Star Wars" series "Obi-Wan Kenobi" his leading role as Luna in the Blumhouse Production BLOOD MOON on Hulu, and other projects like "Silicon Valley," and "Raven's home," Yonas can be seen starring in season 2 of "Sweet Tooth" currently trending worldwide on Netflix! He will also star in the new Disney Channel series "Pretty Freekin Scary' this summer and will voice the title character Elio in the upcoming Disney Pixar film ELIO slated for release in spring 2024.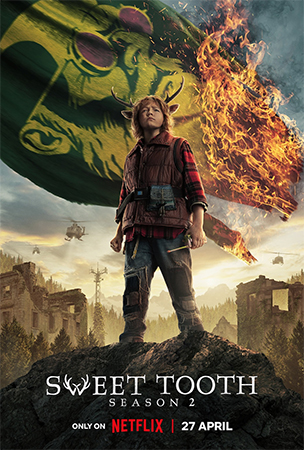 Netflix's "Sweet Tooth" is an American post-apocalyptic fairy tale series created by Jim Mickle following the adventures of Gus – part deer, part boy – who some humans in its post-apocalyptic world believe is linked to a pandemic that wiped out much of humanity. He leaves his home in the forest to find the outside world ravaged by a cataclysmic event. He joins a ragtag family of humans and animal-children hybrids like himself in search of answers about this new world and the mystery behind his hybrid origins. Yonas plays new character 'Finn Fox' in season 2, a smart and suspicious boy with fox ears who is one of the hybrid captives held by the Last Men at the Preserve. New to the family, he has a painful past but isn't afraid to speak up. Sweet Tooth S2 Trailer
This summer, Yonas will also star in Disney's "Pretty Freakin Scary" playing 'Remy Ripp,' the annoying little brother of 14-year-old Frankie Ripp, a young girl who has a seemingly perfect life until she passes away. In the Underworld, she has a heated debate with the Grim Reaper who lets her return home, as long as her Underworld guardians, Pretty and Scary accompany her. Frankie will now have to adapt to her 'once-dead' status in the most challenging setting of it all…Middle School. The show will premiere summer 2023 on the Disney Channel and Disney+.
On the big screen, we are excited for Yonas to voice the lead role of 'Elio' in Pixar's next big animated film ELIO directed by Adrian Molina (COCO), produced by Mary Alice Drumm (COCO, BRAVE) and also featuring America Ferrera as Elio's mom. The film follows Elio (Yonas Kibreab), a boy who doesn't fit in accidentally touring across the universe and evolving ambassador for Earth while among strangers. The film is slated for release in theaters in March 2024.
At only 12 years old, Yonas has already appeared in multiple TV and film projects including his roles in Obi-Wan Kenobi, Silicon Valley, Into the Dark, Immoral Compass, The Big Show Show, Raven's Home, and Better Things. In addition to his live-action work, he has lent his voice to several animated series including Slumberkins and Pupstruction. What sets Yonas apart is not only his acting talent but also his dedication to his craft. Despite his busy acting schedule, Yonas still finds time for his other passions, such as playing the piano, singing, playing soccer, running, and skateboarding. Yonas is also an accomplished tennis player, having started playing at the young age of six, and was even invited to be a KidCaster at the US Open in New York City in 2018. Yonas is known for his strong work ethic and positive energy on set. He brings his unique energy and dedication to every project he undertakes, whether on the big screen or small screen. With his impressive resume and dynamic personality, Yonas is quickly becoming a rising star to watch.