Project Futures Collaborates With Leading Australian Designer
Project Futures, an Australian not-for-profit whose purpose is to educate the public about human trafficking and slavery issues, has collaborated with fashion designer Steven Khalil to launch its very first charity t-shirt. The aim is to raise awareness of crimes that deprive women and children of their freedom and dignity in Australia and abroad. With over 45.8 million people enslaved, modern slavery is the fastest-growing crime industry in the world today.

Renowned red carpet and bridal gown Australian designer Steven Khalil has dressed the likes of Beyoncé, Jennifer Lopez and Nicole Kidman. Casual lifestyle brand Citizen Wolf, who believe in producing ethical, local and sustainable clothes, has also teamed up to create the organic charity t-shirts. In partnership, both Steven Khalil and Citizen Wolf represent the Australian fashion industry as the faces of a better future.

'We were thrilled to collaborate with Steven for this project," says Clare Pearson, CEO of Project Futures. 'For $99.00 you get an exclusive piece of Steven's work. The tees are not only beautiful but helping to create a better life for women and children. 100% of the profit goes directly to helping end modern slavery and cover a range of services from medical treatment to psychological service. One t-shirt equates to one bicycle for a child to independently attend school each day which means opportunities for future independence and employment. Five t-shirts cover all resources for the outreach program for one month, providing soap, education and food to women and children living in circumstances of homelessness and sexual exploitation."

'Partnering up with Project Futures to design a tee that would raise awareness for such an important issue was an opportunity I couldn't turn down," says Steven Khalil. 'This issue affects not only Australians but women and children all over the world and it's great to be part of something that's dedicated to helping them."

Zoe Marshall, Australian media personality and soon-to-be mother, is one of the celebrity ambassadors as issues relating to women and children in need have always been close to her heart. She is delighted to give her full support for this project.

As an organisation committed to strong ethos and the fair treatment of workers, the shirt was made from organically grown-cotton from India and knitted in Melbourne. The shirt was then designed, cut, sewn and screen printed in Sydney using organically certified water-based inks. Consumers can be confident in their purchase as it not only transforms the lives of those affected by slavery and exploitation in Australia and Cambodia, but promotes environmental sustainability and better working conditions for the people involved in its creation.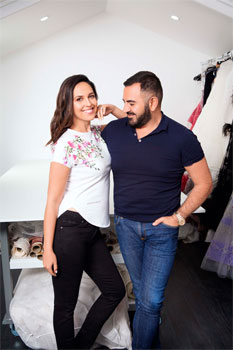 Project Futures was founded in 2009 by Stephanie Lorenzo to educate and empower people to take action against human trafficking and slavery. Project Futures strongly believes that no human being should ever belong to another, nor should they be exploited for profit or pleasure. Through the implementation of initiatives such as AFESIP Cambodia and The Freedom Partnership, Project Futures has been successful in improving the quality of life for women and children who were previously at the hands of their oppressors. Some of their many achievements include providing over 70 English Language training sessions, 438 clinical counselling sessions in and over 3,000 nights of safe refuge in 2016.

The exclusive Steven Khalil charity tee is available for pre-order from the Project Futures website. Each shirt is retailing for $99.00 and will be ready for delivery from the 13th of November.

Project Futures will host a High Tea Fundraising Event on the 12th of November to support victims of forced and early marriage in Australia. The event will be held at Doltone House in Sydney and tickets are retailing at $95.00 per person and $720 for a table of eight.

The Steven Khalil charity tee is available for pre-order at projectfutures.com/shop/steven-khalil-tee. For more information, visit www.projectfutures.com.



Interview with Zoe Marshall
Question: What inspired you to partner with Project Futures seven years ago?

Zoe Marshall: Stephanie Lorenzo, the previous CEO of Project Futures definitely inspired me. After my initial meeting with her, I felt really naïve that this was actually happening, and shocked that there wasn't more being done about it – so she was my inspiration to partner with the organisation.


Question: Why is the cause so close to your heart?

Zoe Marshall: I think we're very privileged in our country and a lot of things go unseen. I want to bring awareness to the dark side – even within Australia where these things are happening and won't stop. I think that it's our responsibility. Ignorance isn't bliss. We have to let everybody know what's going on because it's happening under our noses.


Question: What message do you hope to spread with this campaign?

Zoe Marshall: I want to, first of all, bring awareness to the fact that this is happening and it actually exists. It's not a pleasant topic for a charity; it's not something that you can just have a high tea over – it's gritty and dark and it engages children. So I think making people aware and saying 'This is current, what are you going to do about it?" makes it kind of a challenge. Especially because it's part of a campaign of challenges, it encourages people to have a conversation. Even though it comes through something quite beautiful like a t-shirt, I think the issue behind it sparks a conversation.


Question: Can you tell us about Steven Khalil's charity t-shirt?

Zoe Marshall: Steven is Australia's greatest couture designer. It's quite special to have Australia's premier couture designer collaborating to make something beautiful. Lots of women can't afford his dresses and they are exquisite pieces of work. However, now everyone has the opportunity to own one of his designs, in addition to the bonus of the profits going to a charity that needs your help. This is what makes it an amazing collaboration and I'm really proud of him. The fit of the t-shirt is beautiful and the design is gorgeous. Not to mention, Christmas is around the corner as well, and I like to get prepared really early, so now's the time to get yourself a t-shirt!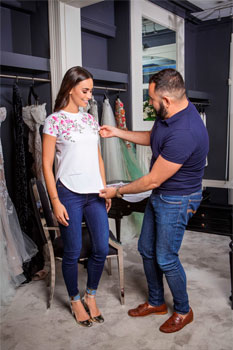 Question: How can Australia support Project Futures?

Zoe Marshall: The easiest way right now would be to purchase the t-shirt. While you can always donate on the website – why not have a little gift come back to you at the same time that represents your support? There are so many ways you can get involved with Project Futures. If you go online, you can participate in their events such as -Toss The Boss', take part in corporate partnerships or even sign up to for their fundraising hikes or cycling challenges. However, I think purchasing the t-shirts to show your support are so easy, and lots of different women -- whether girls aged 10 or those who are 80, can wear a t-shirt. I feel like it appeals to a broad demographic.


Question: How are you preparing for the upcoming birth of your baby?

Zoe Marshall: It's actually really overwhelming and I don't know even where to start and not having a mum has made that challenge even bigger. Once Benji and I have moved, I really want to start enjoying this pregnancy since it's been so chaotic. I think once I do that, I can start reading and researching things – it's been pretty full on.


Question: What are you doing to keep fit whilst being pregnant?

Zoe Marshall: When I'm not busy, I'm doing my reformer Pilates – pre-natal reformer, in addition to walking. The neighbourhood we were living in in Brisbane was the hilliest, so it gave me a run for my money. I'm even thinking about joining a gym and keeping it up because I'm eating a lot and I want to be strong enough to be able to do the marathon that is childbirth.


Question: What's a typical day like for you currently?

Zoe Marshall: Last week I was flying to Melbourne for The Project. This week I was in Sydney for The House of Wellness. Today I'm moving house. On Sunday I'll be in a beautiful resort. There's never a normal day and I really like that. As much I am busy, I do thrive in chaos.


Interview by Brooke Hunter