Hola- So you think you can Dance Dora?

Dress 'N Dance Dora Doll NEW from Fisher-Price®

Set To Take Centre Stage!
The new 'Dress 'N Dance Dora' doll from Fisher-Price® does it all; from ballet to the spectacular national Spanish Dance - the Meringue. Push her necklace and Dora dances, sings and teaches phrases in English and Spanish. Change her dress and Dora knows which dance to perform, with a special outfit and accessories for each dance.
When Dora wears her fiesta dress she shakes her hips, arms and head to the special Spanish song. Change her costume to a tutu and the 'Dress 'N Dance Dora' doll magically knows which dance to perform and will raise her arms and twirl to a beautiful classic song, whilst encouraging children to join in - a true performer!
This talented Dora doll with her range of accessories and outfits, really allows children to play and explore the world of dance and learn Spanish. When Dora is set to take to the stage at Fiesta time, her purple and pink satin two piece dress with flowing sleeves and jewellery will wow her audience with her catch cry, "iVamos a bailar!" meaning in English " Let's dance!". Come Ballet time, Dora grabs the spotlight, with an elegant tulle skirt, just like a real ballerina.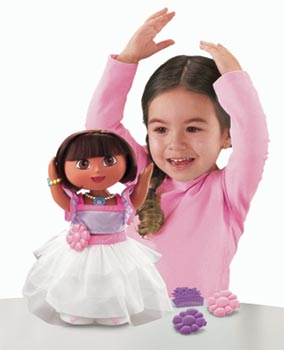 Professional Dance teacher, Kylie Adam, a top 100 female performer from 'So You Think You Can Dance' 2008 season, raves about her 'Dress 'N Dance Dora' doll, she said, "From the moment 'Dress N' Dance Dora' doll took the stage I was amazed. She is so cute with her two different outfits for her different performances plus I've learnt a new Spanish phrase!
"I give her a perfect ten on routine, costume design, elegant arms and grace. She sparkles and twirls like the best of them- go Dora!" said Kylie.
The 'Dress 'N Dance Dora' doll performs her magic best on a flat surface for a perfect ten score. Given the continual success of the Dora the Explorer show, this gorgeous new doll from Fisher-Price® will be in hot demand for girls around Australia!
Designed for children aged 3-7, the 'Dress 'N Dance Dora' doll is based on the immensely popular Nickelodeon show 'Dora the Explorer', and is available at all major toy stores nationwide.
RRP: $79.99
The 'Dress 'N Dance Dora' doll includes 4 x AA batteries.
Thanks to Fisher-Price® here is your chance to win your very own
Dress 'N Dance Dora Doll.
---
(c) 2008 Viacom International Inc., All Rights Reserved., Nickelodeon, Nick Jr., Dora the Explorer and all related titles, logos and characters are trademarks of Viacom International Inc.