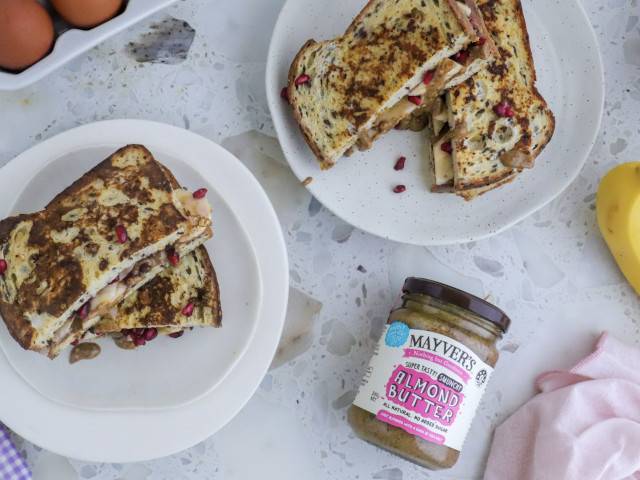 Almond Butter French Toast Stacks
By Susie Burrell
Time: 15 minutes | Serves: 2

Ingredients
2 tbsp Mayver's Almond Butter
2 eggs, whisked
1/3 cup skim milk
1 tsp ground cinnamon
Cooking oil spray
4 slices high protein bread
2 small bananas, thickly sliced, lengthways
1/2 fresh pomegranate, arils removed

Method
1. Place the eggs, skim milk and cinnamon in a shallow bowl. Whisk well.
2. Lightly spray a large fry pan with cooking oil. Dip one slice of bread into the egg mixture. Turn to coat well and then place in the frypan. Repeat for a second slice. Cook the slices for 1-2 minutes each side or until golden brown. Remove and cover. Repeat with the remaining two slices.
3. To assemble the sandwich stacks, divide the almond butter between two slices of french toast. Spread to cover, then divide the sliced banana and pomegranate arils between the two slices. Top with another slice of french toast.
4. Return the French toast sandwiches to the pan and cook for 1 minute each side. Serve.

"The suggested daily serving of nuts is 30 grams which equates to about 20 to 30 almonds per day. They can be enjoyed whole, flaked, slivered, ground or as a natural spread, and are very easy to incorporate into meals and snacks," says Susie Burrell.

"If you're a skin care enthusiast, you'll be happy to know that almonds are rich in Vitamin E, which is a strong antioxidant that protects cells from damage throughout your body and in turn, nourishes your skin and reduces signs of aging."