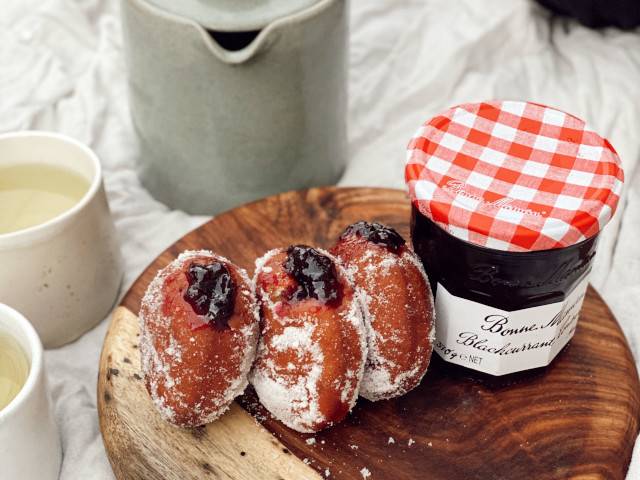 Blackcurrant Jam Donuts
Prep Time: 2.5 hours
Cook Time: a couple of minutes!
Serves: 4

Ingredients
- 1 jar of Bonne Maman Blackcurrant Conserve
- 350g (+extra to flour surface) of plain flour
- 75g (+enough to cover outside of donuts) of caster sugar
- 2 eggs
- 7g dried yeast
- 1 vanilla bean pod
- 200mL milk
- Oil to fry (vegetable or canola preferred)
- Olive oil

Method
1. Heat up son milk on the stove top until it's luke warm, in a bowl add to your yeast. Stir and leave to the side for approximately 10 minutes
2. Into a mixing bowl, add 350g plain ¬our, 75g caster sugar and 2 egg yolks
3. Start mixing together, intermittently adding your milk and yeast mixture
4. Once combined, leave to rest for 10 minutes
5. After it have rested, give it another mix for approximately 3 minutes until it becomes a dough like consistency
6. Spray or drizzle a bowl with olive oil
7. Shape dough into a ball, coat in the olive oil in the bowl. Cover bowl in cling film and leave to rise (preferably in a warm spot) for 2 hours
8. After 2 hours, tip your dough out onto a ¬floured surface
9. Stretch your dough out into a rectangle (don't use a rolling pin as you don't want to knock too much air out)
10. Use a circular cutter or a gladd to cut circles into your dough
11. Set your dough circles aside on an oven rack with a teatowel over the top for 30 minutes to rise again
12. Cover the bottom of a plate or shallow bowl with caster sugar
13. Scrape the vanilla seeds out of the pods and put through the caster sugar. Then set aside
14. Pour Bonne Maman Blackcurrant Conserve into piping back or make a DIY piping bag by pouring into the corner of a sandwich bag
15. Get oil in a pot up to 180C, add in donuts in small batches, continuously fl¬ip with 2 forks or a slotted spoon for they puff up and brown nicely on each side. This process should take approximately 2 minutes per donut
16. Once cooled a little bit, roll donuts in the vanilla sugar
17. With a knife make a hole in the side of the donut
18. Cut a small hole in the corner of the piping bag, put corner into the hole in the donut and fill with jam - enjoy!