Ana Ferreira Enjoy the Olympics Brazilian Style Interview
As the Rio Olympics takes over television screens this August, it's time to party Brazil-style with an authentic taste of sunny South America to brighten the Australian winter.

'The Brazilian community in Australia has grown rapidly over the last 15 to 20 years with at least 60,000 Brazilians in Australia at any one time," says Ana Lucia Ferreira, co-founder of Brazilian Style Imports. 'And the Rio Olympics is set to put the spotlight even more on Brazilian culture and its food."

Brazilian Style Imports was established in 2007 by Jason Hill and Ana Ferreira and is the major supplier of authentic Brazilian food, beverages and barbeque equipment to supermarkets, greengrocers and restaurants around Australia.

Whether you're hosting a Rio Olympics party for family or friends, or want to add some Brazilian flare to your café or restaurant menu, Ferreira shares her top Brazilian dishes for a memorable South American feast:

Starters
'Tapioca cheese bread, or Pão de queijo, is served throughout Brazil in restaurants, cafes and corner stores," says Ferreira. 'And it's easy to make with our gluten-free Yoki premix."

Ferreira also suggests kicking off your party with a cheese board featuring guava and quince paste, and manioc chips – or Biscoito de Polvilho – that are a traditional gluten-free snack with a mild cheesy flavour.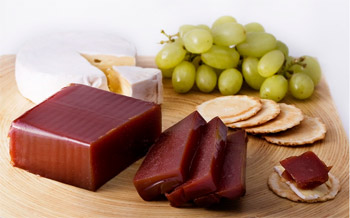 Mains
'You can't go past a traditional Moqueca seafood stew, prepared with our special Azeite de Dendê oil which comes from the seed fruit of a special type of plant grown in the northern regions of Brazil," says Ferreira.

Jason Hill also recommends impressing guests with charcoal grilled -Picanha' beef cuts prepared on a traditional churrasco barbeque and served with a Feijoada black bean and pork casserole and palm heart salad with Biquinho peppers. Fold-up churrasco barbeque kits are available through Brazilian Style Imports for $99.95 along with a huge range of commercial and residential rotisseries and grills for restaurants or outdoor barbeque areas.

Desserts
'Our delicious guava paste makes an incredible cheese cake, and sweet peanut rolls with Pilao Brazilian Dark Roast coffee is the perfect way to finish an authentic Brazilian meal," says Ferreira.

She also suggests serving Miolo Winery Tannat, which is a full-flavoured Brazilian wine similar to Shiraz, along with authentic Caipirinha cocktails made with Famosinha de Minas Cachaça (pronounced Kashasa) spirits from the state of Minas Gerais, traditionally famous for artisanal Cachaça production.

All ingredients and more are available for order from www.brazilianstyleimports.com.au.



Cuscuz With Yellow Corn Flour
Ingredients
3 Sp Vegetable Oil
1 chopped onion
1 cup tomato paste
1 tomato for decoration
500mls vegetable stock
1 red capsicum chopped
1 green capsicum chopped
2 cups Yellow corn Flour
1 boiled egg
½ cup Spring onion
½ can Corn
½ can green peas
½ cup black olives chopped
1 tuna can

Method
Fry onion, add tomato paste. Add capsicums green and red and spring onion. Cook for 2 minutes, add vegetable stock. Spread oil on a oven bake dish and decorate the base with tomatoes, boil eggs, capsicum or any way you like. Add to the mix the tuna, corn and peas. Add theyellow corn flour, salt and pepper. If need you can add more vegetable stock or water. Cook the cuscus for 4 minutes and place the mixture in the oven proof dish. Cook on oven 180C for 15 minutes.



Guava Cheese Cake
Ingredients
250g Milk arrowroot biscuits
¼ cup brown sugar
½ cup butter
3 eggs
150g sugar
600g cream cheese
½ lime
½ tea spoon vanilla essence
300 gm Predilecta Guava Paste
½ cup white wine

Method
Crush the biscuits and mix with butter until it's a smooth dough. Spread it in a cake tray and rest it in the fridge. Beat the eggs with an electric whisk. Mix the sugar, cream cheese, ¼ lime juice & vanilla essence with the eggs. Beat on a medium speed for around 20 minutes. Spread this filling over the biscuit and butter base. Preheat the oven to 180°C. Cook the Cheese cake for 40 min. Chop the guava in small cubes. Add wine, ¼ lime juice and ½ cup of water, then cook on a low heat in a small saucepan until it is all melted and in a thick consistency. Spread it over the cheesecake. Decorate with mint leaves & serve cold.



Interview with Ana Ferreira
Question: What types of food will our athletes be able to consume in post-Olympics celebrations?

Ana Ferreira: I think most athletes will enjoy the Brazilian Churrasco, which is a wide range of meats cooked on natural wood charcoal served with many delicious side dishes like farofa (sasoned and toasted cassava flour), cheese bread (gluten free tapioca bread) palmito (heart of palms) salad etc. They will probably celebrate drinking some authentic caipirinhas made with cachaca, the traditional Brazilian spirit made from sugar cane.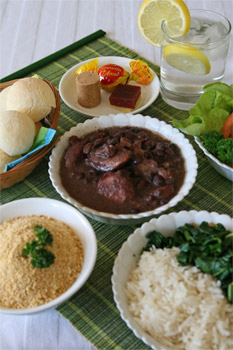 Question: Can you talk us through Brazilian traditions?

Ana Ferreira: Brazilians are very family orientated and spend a lot of time around the table on their family homes, what is really nice. As a Catholic country Brazilians follow the same traditions as Australia in relation to Christmas, Easter etc. New Years Eve is pretty big over there as well. I believe most Brazilians love the beach, music, dancing and food of course. Across the country you will find many variations of traditions related to music, clothing and dancing as Brazil is a really large and interesting country.


Question: What types of methods of cooking is traditional in Rio?

Ana Ferreira: The Feijoada (beans stew with chorizo and other meats) is originated from Rio and is normally done using a Pressure cooker, very common item in Brazilian homes. On the south side of Brazil, the churrasco cooking (BBQ style using natural wood charcoal) is probably the most traditional. How can we create a Brazilian feast, at home, to celebrate the Rio Olympics? Probably don't need to go too far, on our online shop www.brazilianstyleimports.com.au there is many ready to eat traditional Brazilian snacks like Manioc Chips, sweet Peanut rolls, Feijoada, Beans, Guava paste, Biquinho peppers etc. Of course if you enjoy cooking there is a lot more options and good recipes ideas as well. The Brazilian wines are really nice too. To keep the energy levels up I would suggest the Amazoo Acai and some Brazilian Coffee. Can't forget of course the Caipirinhas with the Brazilian cachaca.


Question: Can you talk us through a three-course Brazilian dinner?

Ana Ferreira: Would probably start with some freshly baked Cheese Bread, a gluten free bread made from Brazilian Tapioca Starch. Some caipirinha with the traditional Brazilian spirit, Cachaca, can be enjoyed as well to start. As main dish I suggest either a Churrasco (Brazilian Style BBQ) or a Feijoada served with Farofa and rice. This recipes are available on our website www.brazilianstyleimports.com.au in case you like to check. The desert could be the delicious Guava Paste (Goiabada) and cheese. The Amazoo Acai is a good option for a healthy desert too.


Interview by Brooke Hunter