Ursula McGeown Dress for Success Interview
In July, over 350 women and men from business, the arts and media joined Dress for Success Sydney (DfSS) for its annual 100 Years of Power Dressing event raising over $70,000 for women in need, while celebrating women's empowerment and exploring the meaning behind the outfits from the last 100 years of fashion.

Held at David Jones Castlereagh Street, the event provided a rare insight into Charlotte Smith's esteemed Darnell Collection, showcasing beauties from the early 20th century to 2016, while exploring the role of innovation and technology.

Modelled by some of Australia's most loved celebrities and personalities, the star studded line-up included author and human rights advocate Tara Moss, former world surfing champion Layne Beachley OAM, fashion stylist Donny Galella, Getaway's Catriona Rowntree and many more. Models were dressed in a selection of garments including pieces from fashion's game-changers Chanel, Pucci, Dior, Valentino, Versace, Vivienne Westwood and Mary Katrantzou.

Speaking on the night, Dress for Success Sydney's CEO Ursula McGeown said the money raised from the 100 Years of Power Dressing event would help support women in need to achieve economic independence.

'More than 100,000 women are seeking employment in NSW, with countless more underutilised or underemployed. So many of these women struggle to support themselves and their families and often the only thing standing between them and an improvement in their circumstances is a chance," Ursula said.

'It's thanks to events like 100 Years of Power Dressing and the ongoing support of our volunteers, sponsors and partners that we are able to give women a chance. Over the past 12 months alone we have assisted over 1,100 women through career support programs, have dressed more than 2,200 women and conducted more than 115 career support workshops."

Ursula added, 'Innovation and fashion really came to life with the support of Charlotte Smith owner of the Darnell Collection and curator of the event, the team at Rimmel London who created individual makeup looks for each decade and Wildlife Studio who styled the hair to perfection."

Earlier this year, DfSS helped its 10,000th client; clients come via referral from more than 500 community partner organisations. This includes domestic violence agencies, homeless shelters, job training programs and employment agencies, among many others.

DfSS has also recently been named a finalist in the prestigious Telstra Business Awards. The winners of the NSW Telstra Business Awards will be announced on Friday 29 July, and will join 2016 Telstra Australian Business Awards in Sydney on Friday, 26 August 2016.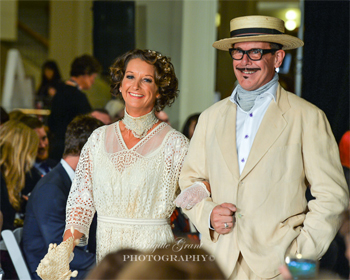 Special mention: 100 Years of Power Dressing would not be possible without the support of our event partners Quay Appointments, Williams Lea, Pacific Finance Australia, Peter Rowland, Sodexo, Rimmel London, Lion Nathan, The Darnell Collection, Justin Ferguson, Fuji Xerox, Xplore, Josophan's, Dermalogica, Jurlique, Sheraton, Wildlife Hair & Beauty, Blue Illusion, Breath of Life, Bondi Water, Dianne Yerbury, AO, Grace Removals, Franck Provost, Good Day Girl, The Fashion Consultant, Lady Tre, TAFE NSW, Brigitte Grant Photography, David Jones Flowers. Team leaders At Rimmel London - Hayley Dutton and Wildlife Studio Craig Chapla and Franck Provost.

To donate to a woman in need visit www.dfss.org.au



Interview with Ursula McGeown
Question: What is Dress for Success Sydney (DfSS)?

Ursula McGeown: Dress for Success Sydney (DfSS) is an affiliate of Dress for Success, an international not-for-profit organization across 21 countries that empowers women to achieve economic independence by providing a network of support, professional attire and development tools to help women thrive in work and life. We work to improve the employability of women in need through our Dressing, Career Support and Outreach services, which are provided free of charge to our clients. We exist to remove barriers to overcome discrimination, empowering women to take charge of their lives and create a brighter future for themselves, their families and their communities.


Question: Can you talk us through the annual 100 Years of Power Dressing event?

Ursula McGeown: 100 Years of Power Dressing is our signature fundraising event to celebrate 100 years of innovation in fashion. Just like last year's sell out evening, this was no ordinary fashion show. Charlotte Smith, our charity ambassador, best-selling author and owner of the famed Darnell Collection, took our guests on a journey of the fashion game-changers of last century, sharing stories of their pivotal roles in both reflecting and inspiring magical moments in history. Once again, well-loved Australian celebrities and personalities helped us showcase rare and beautiful pieces from fashion's game-changers like Chanel, Pucci, Dior, Valentino, Versace, Vivienne Westwood and Mary Katrantzou. This event was created to help bring together lovers of fashion with impactful and life changing philanthropy and we are very proud with what we've been able to achieve.


Question: How does it feel to have Tara Moss, Layne Beachley OAM, Donny Galella and many more iconic women support the cause?

Ursula McGeown: It is amazing to have the support of so many high profile and iconic people. IT provides another level of awareness of our charity and the work that we do to empower so many women across NSW. Tara, Layne and Donny support our cause because it is a cause worth supporting. Dress for Success Sydney makes a lasting impact to women who need us and we love having iconic Australians help us to promote this to the wider community.


Question: Where does the money raised, from the evening, go?

Ursula McGeown: With the over $70,000 raised on the night, we are able to support 200 more women through our career support and dressing program. We believe all women deserve a fair go. If you do not know what is suitable or you cannot afford to dress appropriately for an interview, you stand a high chance of being discriminated against. These funds will help our clients who have been out of work for a long time and some may never have had a job. We will continue to empower such women to achieve self-sufficiency by providing, free of charge, professional clothing, a network of support and comprehensive career development tools. We instill confidence, restore dignity and build resilience that enables these women to take charge of their lives.


Question: What inspired the creation of Dress for Success Sydney (DfSS)?

Ursula McGeown: In 2008, with at least 80,000 women in NSW searching for work, the need to assist women in need was overwhelming. In that year, a dedicated team of women led by Megan Etheridge OAM founded DfSS to assist women to overcome societal biases including the discrimination of "lookism", a strong barrier to employment. Put simply, lookism is a form of discrimination based on a person's appearance and is legal. Our unique service has been working with women in need since May 2009 to raise their awareness and understand the potential impact of lookism, and to remove related barriers to employment.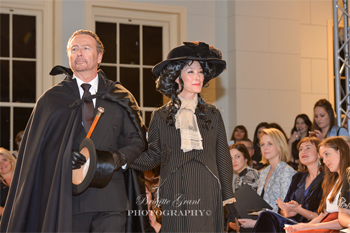 Question: How can Australians support Dress for Success Sydney (DfSS)?

Ursula McGeown: There are many ways Australian can support Dress for Success Sydney. We are an organisation that is proud to be powered by volunteers. With over 350 active volunteers, we offer a range of programs to get involved in. From sorting and styling, to coaching and mentoring to running workshops in our career development centre we have many ways to help power what we do. In addition to this, we've recently launched our Success Sponsorship program, where we are campaigning to get regular donations from our community to help empower a woman for life through our full suite of programs. You can start sponsoring a woman by visiting dfss.org.au today.

We encourage anyone interested in getting involved to please check out our website: https://sydney.dressforsuccess.org/get-involved/volunteer/


Question: What is your goal for Dress for Success Sydney (DfSS), for the next 12 months?

Ursula McGeown: In the next 12 months we want to increase the number of women we help to be over 2,200, and we aim to raise of $700k in revenue so that we can improve the employability of women across NSW, not just Sydney. We want to be the organisation of choice for volunteers.


Question: What's a typical day like, in your role?

Ursula McGeown: No day is the same, however everyday is busy and fun! Some days I am working meeting clients, hearing about their amazing journeys and the visions for their future while also working with and building relationships with our fabulous volunteers, corporate volunteers, corporate partners, referral agency partners. As well as, presenting at networking events, crunching numbers and data, working with my BDM to identify new or enhance revenue streams to keep our service operating, working with the volunteer team to create and execute volunteer management and development objectives so that we are organisation of choice for volunteers, helping coordinate and plan our fundraising events, work with our career support Manager to enhance our Career program to enhance it is best practice and what our clients need.


Interview by Brooke Hunter
Photos: Brigitte Grant Photography