Fall In Love With Langdon
Langdon has captured the principles of colour, vibrancy and design with a colourful carousel of cushions, rugs, throws and bags. Designed in Australia, each of the pieces in the Langdon collection are made by hand by talented weavers in Rajasthan, India who use ancient wisdom and traditional techniques, the finest materials and metallic threads to create an earthy, homespun vibe. Worth applauding is the way Langdon merges modern methods with India's age old craft traditions. The brand captures an innovative confluence of cultures and works with artisanal communities in Indian to create pieces with an adventurous spirit using the ancient wisdom of weaving.

A business born from an appreciation of colour, craftsmanship, community and above all, social responsibility, cofounders Delia and Phoebe Langdon regularly travel to India to shake the hands of their creators. By purchasing Langdon's collection, décor enthusiasts will be helping artisans develop a sustainable income for themselves and their families -We spend a lot of time in India and wonder off the beaten path to immerse ourselves in the local communities to spend time with the artisans behind our brand,' says Delia.

Enjoy a voyage of vibrant colour, craftsmanship and detailed embellishments in delicate shades of lavender, mint, rose, lemon, foam blues and dusty metallic that effortlessly contrast against wheat tones. Langdon's Luna Cushion (RRP $149), Chevron Cushion (RRP $179) or the Diamond Cushion (RRP $149) feature a soft palette of muted hues and dramatic geometric silhouettes in dusty pinks and gold. For a limited time only, enjoy double decadence with the diamond and triangle cushions (RRP $200); or a little Ziggy Zest where candied pink and mint stripes smash against stunning black.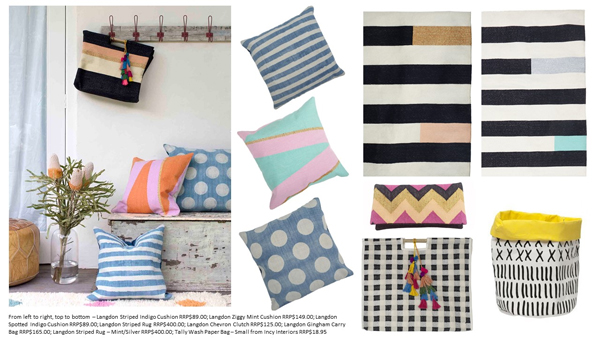 Langdon is a brand with integrity, rich in exotic- influence that capture a colourful essence. Check into checkers this season with Langdon's Checkers cushion (RRP $149) - blue, pink floss and dove-grey tiles theatrically dance against delicate silver thread. Alternatively, step back and enjoy a little retro- renaissance with Langdon's Striped Shag cushion (RRP $119) and Diamond Shag cushion (RRP $199).

Each of Langdon's rugs help create a signature statement with expressive patterns designed to empower rather than overwhelm the space. Celebrate shaggy chic with the Shaggy collection, or get raw and jive with jute. Featuring pom poms, tassels and handsome fringes, each of the finishes capture old-world vintage charm that work to frame your space. Langdon gets serious with stripes. Dramatic black and white ribbons melt beautifully against silver, mint and cheeky peach and help decorate a space with wild abandon.

Create your own couture with Langdon's custom-designed rugs. Mix a little bit of this, with a little of that to produce a piece that's perfect for you. What's more, customers are invited to make an appointment to visit Landon's new showroom where you can discuss your design needs, view materials, shades and design your own rug.

Wear a little piece of Langdon every day. Made from 100% Cotton, metallic thread and bamboo handles, each of Langdon's carry bags come with sugary-coloured tassels. Alternatively, flounce around in a Langdon clutch which feature patterns full of exotic flavour.

Each of Langdon's collection continue to re-invent the lives of artisans in India with hope and purpose. Discover the magic of Langdon and celebrates the true art of weaving which is not merely a profession, it is the vein of Indian culture.