Anna Heinrich Caring For Our Greats Interview
Despite often being characterised as Generation -ME', new research released this month shows that Gen Y are more likely to put aside time to regularly connect with their loved ones - their -Greats'- than any other generation.

A Bupa survey revealed Gen Ys are more likely to connect daily with their -Great' in comparison to Gen X and Baby Boomers, with 6 in 10 Gen Ys indicating they had been in contact with their -Great' in the past 24 hours.

Almost all Aussies surveyed (87%) indicated they had a -Great' in their life, be it a parent, grandparent or mentor, and 98% indicated spending time with their -Great' was of high importance. And despite being more connected online than ever before, the main ways Australians connected with their -Great' was face-to-face (49%) and talking over the phone (25%).

Bupa commissioned the research as part of its Caring For Our Greats initiative, calling on Australians to connect with loved ones in their lives to highlight the benefits of social connectedness.

'We are investing in the quality and regularity of our connections with our Greats, which can have positive impacts on wellbeing. Active participation in our relationships is linked to positive mental and physical health outcomes across all ages," said Bupa Australia and New Zealand National Medical Director Rob Grenfell.

The benefits of connecting were reflected in the survey findings, with Aussies indicating connecting with their Great provided emotional support and made them feel loved, encouraged and supported.

'There is shared value in connecting and learning from our Greats. It's good for wellbeing but it's also an opportunity to ensure our loved ones feel empowered and supported in their own health and care, and this is particularly important as we get older."

The survey also revealed a gap between individual and community perspectives on the importance of keeping connected as we get older. Almost all Australians (98%) surveyed said it's important to connect with loved ones as they age, however, around half of respondents (54%) indicated they felt the broader community values people less as they age.

'We need to address this disconnect and redefine community perceptions of ageing, particularly with an increasingly ageing population. The approach we are taking in our personal relationships with our Greats needs to extend out to our communities. Connecting may seem a small step; however it's important our loved ones feel purposeful and valued," said Dr. Grenfell.

#CaringForOurGreats advocates, Matt Moran and Anna Heinrich, have got behind the campaign, sharing stories of their personal Greats to inspire other Australians to do the same.

For award-winning Australian chef Matt Moran, his Great is his father, Jim.

He runs the Moran family farm – the primary supplier of beef and lamb to Matt's restaurants – Jim has spent the better part of his life instilling the values of provenance and seasonality to his son.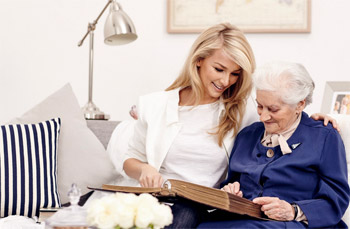 'When he was 15 years old, Matt came to me and said he wanted to be a chef. I spent the next few years driving him to interviews, picking him up from work and getting him to tend to our dairy on the weekend," said Mr Moran.

'I like to think I'm responsible for his tireless work ethic – but most importantly, I feel very lucky we can share our love of food, local produce and family across the business and in our everyday lives."

Anna's Great is her Grandmother, Gizella, who she affectionately calls Nagyi (Hungarian for Grandmother and pronounced Nodgy).

'Nagyi has had a huge impact in shaping who I am today. She is so resilient and so strong, even though she is small in stature. The stories she tells and the life she has created for her family is astonishing, escaping from Hungary to begin a better life in Australia. She started with nothing and now has everything.

'When I am feeling low over trivial things I think about how much hardship my Nagyi has had to endure. Nothing could compare to that, and it makes me realise how truly lucky I am, so I pick myself up and move on. I wouldn't be where I am now, personally and professionally, if it wasn't for my Nagyi, she is an amazing lady" said Heinrich.

To view these stories, or for more information about Bupa's #CaringForOurGreats campaign, go to: www.theblueroom.bupa.com.au/greats.

Watch Anna's video here and Matt's here.



Interview with Anna Heinrich
Question: What is the #Caringforourgreats campaign?

Anna Heinrich: #Caringforourgreats is a fantastic new initiative from Bupa that I am very proud to put my name to. It's all about celebrating and supporting the -Greats' in our lives who have helped shape who we are today. Most of us have a Great – be it a parent, grandparent, teacher, mentor etc. – and the initiative is calling on all Australians to connect with these special people to highlight the benefit of social connectedness and ensure they feel valued. After all, we all feel better when we feel loved and supported by the people who matter most.


Question: Why did you choose to be an ambassador for the #Caringforourgreats campaign?

Anna Heinrich: I believe there is a shared benefit in connecting and learning from our Greats. Not only does it make them feel valued, it's also good for our wellbeing. For me, my grandmother Gizella – who I call Nagyi – embodies everything I believe a Great to be. I can't imagine a life without her and know how much we both gain from staying close and connected. I hope the #Caringforourgreats initiative inspires all Aussies to consider their own Greats and, if they're not doing so already, take the time to tell them why they're so special.


Question: Can you talk about the importance of communicating with our -greats'?

Anna Heinrich: Family has always been extremely important to me. It was instilled in me from a young age and my Nagyi had a lot to do with this, her priority was always getting us together and keeping close to one another. It's still just as important to us all today. When we communicate with our Greats and remind them how and why they are important to us, it not only makes us feel good, but it can have a really big impact on their wellbeing, too.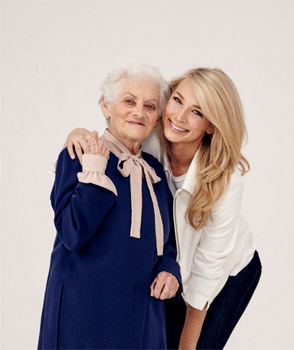 Question: How do you ensure you connect with your Nagyi regularly?

Anna Heinrich: We live two streets away from one another so keeping in touch and catching up regularly is easy! My Nagyi is also one of my fitness inspirations! She is 91 but still practices yoga twice a week which I think is so incredible and impressive. We both love to keep active so we'll go for walks together and catch up on the news of the week – and then we'll come home and relax with a family feast. It doesn't really matter what we're doing, being together is the important part.


Question: How has your relationship with Nagyi shaped you, as a person?

Anna Heinrich: My grandmother has taught me so much about life and the kind of person I want to be. She is so resilient and despite being small in stature, is one of the strongest people I know! I carry her strength with me when I'm feeling down over trivial things – as we all feel from time to time – and I think about how much she has overcome and endured. It reminds me how truly lucky I am and helps me to pick myself up and get on with it. I am so grateful to have this influence in my life and I know it's had a huge impact on where I am now both personally and professionally.


Question: Does your Nagyi use social media or communicate via text message?

Anna Heinrich: No she doesn't and it's great. It makes you appreciate and value the importance of seeing someone in person, and the connected moments you get to share. I so value that. Every moment we get to be together is an opportunity for me to learn something new, or hear another story.


Question: How important are your weekly family dinners (#Judesfood)?

Anna Heinrich: Family is important no matter where you are. The more I get to see my family the better, and our family dinners (#Judesfoods) are a must! Any time we get to all be together and share a lovely of family, food, and laughter – that's what we're about. My loved ones are the most important people in my life and I love spending time with each and every one of them.


Interview by Brooke Hunter