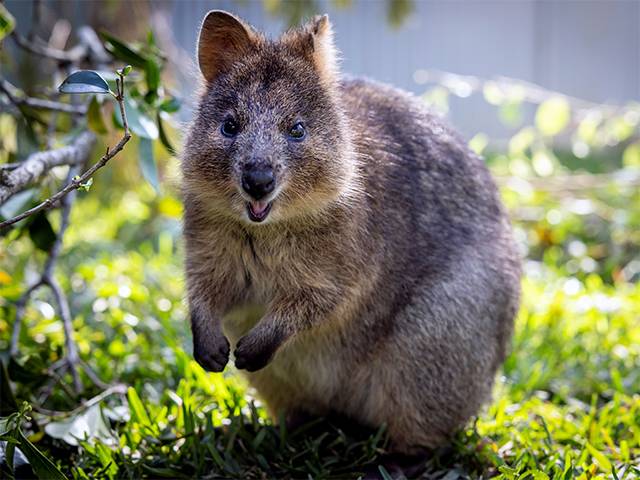 Australia Zoo, home of the Crocodile Hunter, is thrilled to announce the arrival of an adorable new addition to our wildlife family - the quokka!

These charismatic marsupials, known for their friendly demeanour and heart-warming smiles, are endemic to Australia and reside in shrub-lands or dense vegetations located streamside. Quokkas are one of the smallest wallabies and closely related to another iconic native species, the kangaroo.

Australia Zoo is delighted to welcome three quokkas and has launched an innovative online auction to name these endearing animals. The three highest bidders will have the special privilege of naming one of our quokkas and will also receive some fun prizes. Every dollar raised from this exciting initiative will support Australia Zoo's vital conservation efforts.
Renowned wildlife conservationist Bindi Irwin said, "We couldn't be happier to welcome quokkas into our loving Australia Zoo family, and are looking forward to having guests admire and experience these special animals during their next visit."

These curious and friendly animals can climb heights of up to two metres to snack on native blossoms and leaves. Quokkas have the ability to survive extended periods without food and water by tapping into the fat reserves in their tail.

Like kangaroos and koalas, quokkas use their pouch to carry their joey, and some females are known to have up to 17 joeys in their lifetime!

Australia Zoo's dedicated team has worked tirelessly to provide a wonderful and comfortable habitat for our quokkas, ensuring their well-being and promoting their natural behaviours. Quokkas naturally prefer the warmer climates and are able to withstand high temperatures, making Australia the perfect home for them.

Quokkas are listed as a vulnerable species according to the IUCN Red List of Threatened Species, with an estimated population between 7,500 and 15,000 remaining in the wild. Some of the primary threats they face in the wild are habitat loss from human destruction and bushfires, along with climate change. These animals are an important part of the ecosystem and contribute to the health and regeneration of native landscapes by consuming plant biomass.

Australia Zoo is now home to three quokkas and these ambassador animals will help educate visitors about the decline in their population, and how the species can be protected for future generations.

"Here at Australia Zoo, we are proud to provide a beautiful home to over 1200 animals in lush habitats that are designed to replicate their natural environment. Through our conservation programs and non profit Wildlife Warriors, we continue our important conservation work to ensure Dad's legacy lives on forever, bringing positive change in the world," said Bindi Irwin.

Our goal at Australia Zoo has always been to connect people with wildlife and encourage them to love wildlife. With our ongoing conservation efforts, we are continuing Steve Irwin's dream - his vision was a world where people and wildlife live harmoniously alongside each other.

To find out more about how you can name one of our quokkas, please click here.