Ever wanted to have straight silky hair, but can't seem to get rid of that frizz. Control that summer frizz and fly away air with Bio Ionic products that help control and eliminate the frizz.
Whilst the Bio Ionic Natural Ion Complex (NIC) System is revolutionising hair on a permanent basis, the Bio Ionic range of patented Haircare Products is perfect for using on 'regular' hair. And in fact anyone who has bleached or colored hair will find that the Bio Ionic products are by far better than anything else they are currently using. Celebrities and models often have dry, damaged and stressed hair due to the amount of work that is done to it and it is this type of hair that responds brilliantly to Bio Ionic products. Kerry Warn, Australia's own hairdresser to the stars, including Nicole Kidman, uses and recommends the Bio Ionic products to his clients.
All the Bio Ionic products contain the patented Natural Ion Complex (NIC) Technology which incorporates negative ionic, infrared and electromagnetic wave charges and without all three Bio Ionic products would no work in the slightest. Bio Ionic's was the first in the World and cannot be copied so other products cannot stand up to Bio Ionic's claims just imitate them. The Natural Ion Complex (NIC) Charge helps to restore the moisture balance of the hair, leaving it soft, smooth, shiny and straight.
All of the below products are available through Kabuki Hair Studio and can be delivered to your door, call 03 9349 1727.
---

Bio Ionic - Super Hydrator Trio Pack
Brings fried and dried hair back to life!
Today's colouring, perming, chemical straightening and the use of hot tools have left the hair dry and damaged.
Bio Ionic has harnessed the power of Natural Ion Complex (NIC) to re-hydrate hair. Our latest breakthrough in advanced hydration technology is the Super Hydrator System.
Super charged Natural Ion Complex (NIC) accelerates water molecules deep into the hair for extreme hydration.
---

Bio Ionic - Ion Therapy
A concentrated, super-smoothing formula rich in essential proteins and nutrients. Helps smooth cuticle and repair physical and structural damage to the hair shaft.
Bion Ionic has created the world's first Micro Hydration Therapy system for the hair. This breakthrough formula is infused with Natural Ion Complex to micronize water molecule clusters for inter-cellular penetration of essential proteins, amino acids and hydrating botanicals deep into the cortex. Bio Ionic products restore moisture and elasticity to create silky, shiny, healthy hair.
Contains essential nutrients and proteins to hydrate, restore and revitalise the hair. Concentrated formula replenishes vital moisture as it helps to repair structural and physical damage to the hair shaft, without weighting hair down. Excellent for dull, frizzy, dehydrated hair.
Review:
Super hydrating for damaged hair, added weight to flyaway hair to help straighten and silken.
---
Bio Ionic Shampoo & Conditioner
Bio Ionic Natural Ion Complex (NIC) Retexturising System is a permanent straightener formulated with Natural Natural Ion Complex (NIC) Complex to effectively retexturise and straighten all hair types without damage of conventional straighteners. The break through formula restores and revitilises the hair to a healthier condition, leaving the hair smooth and silky with incredible shine. This system is only designed to be used with the Bionic Natural Ion Complex (NIC) Retexturising Irons. Best results on natural hair.
The Natural Ion Complex (NIC) Charge breaks water molecule clusters into micro fine particles, allowing the formula to easily penetrate the hair shaft and effectively straighten the hair without breaking the hair's internal structure. With micro-fine particles being absorbed better, this means the chemical content of the cream is very low making it softer on the hair. All of this leaves the hair soft, smooth, shiny, silky and pin straight even when left to dry naturally after being wet. No this does not mean you will never use a hair dryer again, when you do now its to dry your hair not straighten it!
---
Bio Ionic - Ion Gel Wax
The Ion Gel Wax
Texturize & Define 6 oz
Shapes, texturizes and defines with the control of a wax and the flexibility of a gel. Adds shine and conditions, too.
---

Bio Ionic - Ion Putty
Eliminates frizzes and flyaways as it seals, smoothes and controls, enhancing shine & hydration.
---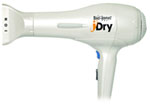 Hair Dryer
The Bio Ionic Dryer's are the world's first patented dryers, they not only dry the hair but also conditions it. How? When the water molecules clusters are broken down and kept apart so more moisture can penetrate the hair shaft while the rest evaporates more easily. The dyer dries hair 35 per cent faster than other blow dryers, while the dryer itself is 50 per cent lighter and less noisy than traditional models. The Bio Ionic Hair Dryer is particularly effective for blow-drying curly hair straight. Through photo evidence the dryer can be proven to seal the hair cuticle, not damage it like a normal dryer.
---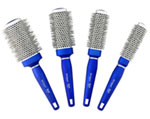 Brushes
The Bio Ionic brushes are the world's first patented Static Free brush system. They are infused with the Natural Ion Complex (NIC) mineral complex, making them static free not anti-static and smoothing the hair like no other brush can. They also minimise breakage and tearing, promote luster and sheen and remove odor. The brushes are incredibly lightweight, with heat resistant bristles and the round brushes have thermal barrels. There are 3 sizes of round brush, a paddle brush and a flat brush.
---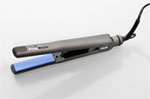 Bio Ionic - Iron
The New Bio Ionic Iron is a great way to manage and keep yout hair straight.
---
All of the above products are available through Kabuki Hair Studio and can be delivered to your door, call 03 9349 1727.