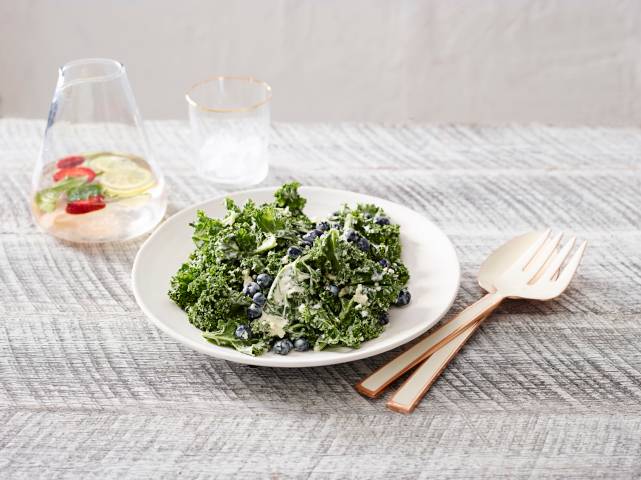 Blueberry & Kale Salad
Ingredients
4 tablespoons apple cider vinegar
1/2 small onion, grated
1 tablespoon Worcestershire sauce
1 teaspoon Tabasco sauce
1 garlic clove, minced
1/2 Granny Smith apple, grated
1 cup (250ml) buttermilk
6 tablespoons mayonnaise
6 tablespoons sour cream
3 tablespoons micro chervil
1/2 to 1 teaspoon salt
1/4 to 1/2 teaspoon freshly ground black pepper
1/4 to 1/2 teaspoon sugar
1 bunch kale, around 8 stalks
1 cup (155g) fresh blueberries

Method
1 Stir together apple cider vinegar, grated onion, Worcestershire sauce, Tabasco sauce, garlic clove and granny smith apple in a jar with a tight-fitting lid. Stand for 5 minutes.
2 Add buttermilk, mayonnaise, sour cream and micro chervil. Cover jar with lid and shake until mixture is smooth. Add salt, pepper, and sugar to taste.
3 Tear the leaves from the kale stalks, and into pieces. Place into a medium sized bowl and massage with your hands until the leaves soften and turn a brighter green.
4 Toss together kale, blueberries and 1/2 cup dressing in a large bowl. Add a little more dressing to your taste and serve.