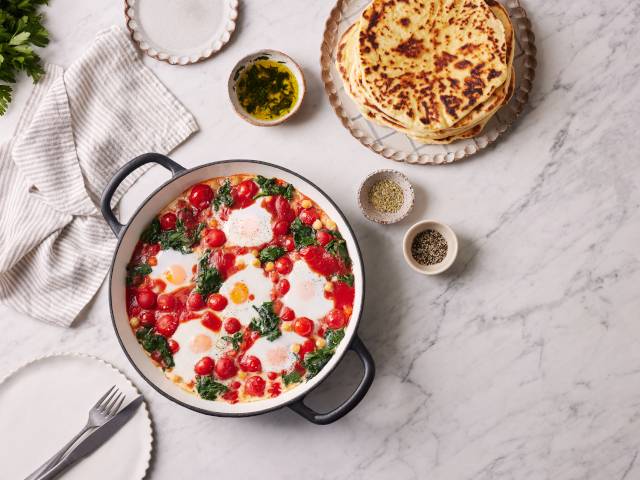 Baked Eggs with Spelt Flatbreads
Growing up, my mum would often make baked eggs with leftover pasta sauce. It was a quick and nutritious way to feed the whole family. Now that I have my own kids, I find myself doing the same thing. Here it's with spinach and chickpeas which together with the beautifully cooked eggs, make for such a satisfying and comforting meal. They are perfect for breakfast, brunch or anytime really. I make my baked eggs in a large oval copper pan which can go from the stove to the oven, but any oven proof pan or dish works well. Just be sure the sauce forms a decent layer on the base for your eggs to be nestled into. If you want your baked eggs to have a little kick, add in a pinch of dried chilli flakes when you add the fennel seeds too.

While some grilled bread is a perfect accompaniment, I love making some quick flatbreads to dip into the yolks and the vibrant tomato sauce. My kids love helping me make the dough, which comes together in minutes. If you can't find spelt flour, simply use all plain flour instead. - Julia Busuttil Nishimura

Serves: 4-6
Cook and prep time: 20 minutes

Ingredients:
• 6 eggs
• 1 bunch English spinach, stems removed
• 3 tbsp extra virgin olive oil
• 4 cloves garlic, finely chopped
• ½ tsp fennel seeds
• 500g cherry tomatoes
• 2 sprigs oregano
• 250g passata
• 1 x 400g tinned chickpeas, rinsed and drained
• Sea salt, to taste

Spelt Flatbread:
• 250g spelt flour
• 250g plain flour, plus extra to dust
• 1 tbsp baking powder
• 1 tsp fine sea salt
• 450g plain natural yoghurt
• 1 tbsp extra virgin olive oil

Garlic parsley oil:
• 2 cloves garlic, crushed with the side of a knife
• 3 tbsp extra virgin olive oil
• 1 tbsp finely chopped parsley, plus extra to serve

Method:
1. Preheat the oven to 200 C / 180 C fan-forced.
2. For the garlic parsley oil, combine all the ingredients in a small bowl and set aside.
3. Blanch the spinach in a pot of salted boiling water for 2-3 minutes or until wilted. Drain and when cool enough to handle, squeeze out excess water and set aside.
4. In a large ovenproof frypan, warm the olive oil over a low-medium heat and add the garlic and fennel seeds. Cook for 30 seconds then add the cherry tomatoes, a good pinch of sea salt and the oregano. Increase the heat to medium and cook for 8-10 minutes, or until the cherry tomatoes are just bursting, stirring often. Pour in the passata and a splash of water, stir to combine and reduce the heat to low. Cook for 15-20 minutes or until the sauce has thickened.
5. While the sauce is cooking, prepare the flatbreads. Combine the flours, baking powder and sea salt in a large bowl. Mix to combine then make a well in the centre. Add the yoghurt and olive oil and mix until a shaggy dough forms. If too dry, add a little water. Turn onto a floured work bench and knead until it comes together into a smooth dough. Roll into a log and divide into 8 pieces. Roll into 18cm rounds, using more flour if they begin to stick.
6. Heat a heavy based frying pan over a medium-high heat and cook the flatbreads in the pan for around 1-2 minutes, or until the underside is golden and the tops are puffing up. Flip and cook for another minute, or until cooked through. While hot, brush the flatbread with the garlic parsley oil then place on a clean tea towel and wrap to keep warm and soft while you continue with the remaining rounds.
7. Add the blanched spinach and chickpeas into the pan with the sauce and warm through. Make a small pocket in the sauce and crack an egg in so it is nestled into the sauce, covering the whites with some of the sauce. Repeat with the remaining eggs then transfer to the oven and cook for 8-10 minutes or until set to your liking. Top with more parsley and serve with the warm flat breads.