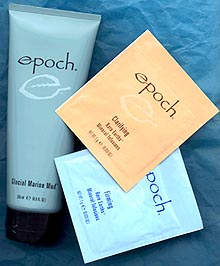 The Beautiful Bride

Your Wedding Day is fast approaching and you want to look as beautiful on the outside as you feel on the inside. Clear, soft and flawless skin is the ultimate aim. This Spring/Summer Nu Skin has the top tips on how to get there.

Nu Skin have worked out an easy, yet effective Beauty Care Program, aiming to have you at your peak on the big day.

Flawless skin takes time and preparation so start regular skin conditioning as far in advance as possible.

Morning - Cleanse with Nu Skin Facial Cleansing Bar.
Exfoliate with a Nu Skin Exfoliate Extra Gentle Facial Scrub 2-3 times a week.
Tone with PH Balance Facial Toner.
Treat your skin with a product based on your specific needs ie Epoch Blemish Treatment, Tru Face Line Corrector etc.
Apply Moisture Restore with Sunscreen.

Evening - Repeat same as morning, but do not exfoliate.
2-3 times a week apply a Mask ie Epoch Glacial Marine Mud Pack.

Drinks lots of water - preferably 8 glasses a day.
Get plenty of sleep.
Wear Foundation with a sunscreen.
Moisturise your hands regularly.

The Big Day has arrived and your skin is clear and radiant. You want your make-up to be just as perfect and last all day.

Touch up any imperfection with Dual Active Colour Correctors.
Apply a foundation that promotes healthy looking skin - Skin Beneficial Tinted Moisturiser.
Set with Finishing Powder - Invisibly Matte.
Apply Nu Skin blush after foundation, dust with a powder and repeat lightly (not too much).
Smudge and blend your eyeshadow to give eyes a softer, richer look.
Use two coats of a Water-Resistant Mascara - Don't let a few tears ruin your look.
For longer lasting eyeliner colour try brushing eye shadow of the same shade on top.
Prime lips with a lip liner, blending to soften.
Apply Nu Skin's Undeviating Lipstick, dust with powder so it lasts the distance and re-apply.

Last but not least, Nu Skin have created the Wedding Day Survival Kit. You are a vision of perfection until the tears start to flow. The mascara runs and your lipstick smudges. You are now in the middle of a cosmetic emergency. Everything will be alright if you have these times on hand.

Skin Beneficial Concealer - touch up after kisses and crying.
Lip Colour - Keep your brilliant smile perfect all day long.
Pressed Powder - Maintain your flawless look.
Tissues - To blot your skin. It should glow, not shine.
Make-up remover with Cotton Buds.
Water-Resistant mascara for touch ups.

For information on Nu Skin products, visit www.nuskin.com.au.