The Weather Is Warming Up – So Can Your Hairstyles
As the weather warms up, social gatherings swing back into action, and hair salon appointments fill up faster than we can fathom. This often means we're left to our own devices (and untrained hands) to create salon-like styles for special occasions or nights out. Sharing her industry secrets and tricks of the trade is Heading Out Hair and Beauty director, Schwarzkopf Professional International Ambassador and 2017 Educator of the Year; Caterina Di Biase. Creating runway ready looks in the comfort of your own home has now never been easier - and woman across Australia will have the opportunity to style like a pro with the help of Schwarzkopf Professionals incredible range of products.

Caterina Di Biase runs through the techniques to create Victoria Secret type voluminous hair, Kardashian looking sleek and sexy styles and Queen Bey bouncy curls. These looks are all achieved using Schwarzkopf Professional's OSiS+ range, specifically designed to create truly individual signature styles. Whether you have an hour or 10 minutes to transform your 'bed head' to professional looking hair, these tips and products will pave the way to ensure you can think, act and style like a true professional.



Interview with Caterina Di Biase
Question: What hair will be in style, this summer?

Caterina Di Biase: Short hair
A very strong, emerging style this summer, taking inspiration from cuts fashioned by bold and outstanding celebrity styles from fashionistas Cara Delavigne and Katy Perry. Seeing how these styles can be transformed into glamorous hairdos for the red carpet or styled for casual attire provides a great scope for those wanting to try a shorter look with confidence.

Off the collar
As we all know and love the acclaimed 'lob' (long bob), the Off The Collar look is a little longer than a lob. The idea is to provide a fresh and clean cut for summer that is both fashionable and maintainable.

Long hair (with lots of texture!) Long hair has long been deemed as ordinary – but I believe long luscious locks are absolutely classic and can be jazzed up with lots of texture, which will add shape and SO much body.

For textured hair with a 'beachy' feel (that is a quintessential summer hair trend!), the Schwarzkopf Professional OSiS+ Session Label Salt Spray perfectly provides long hair with extra body and a textured lived-in movement.

For textured hair without the salty fresh feeling, The Schwarzkopf Professional OSiS+ Wind Touch will give long locks a light remoldable texture with a natural look and feel.


Question: Can you share your advice on how we can achieve these, at home?

Caterina Di Biase: Well it's time to put down and step away from our beloved straightening iron! As these summer trends crave a more natural look, it's best to use a wand and round brush. Say goodbye to highly styled hair and yearn for fresh and natural hair with a slight 'wiggle' instead!

The products mentioned earlier provide a quick, easy way to style your hair to suit the weather and this seasons hottest trends – so that you can spend more time at the beach and less time in front of the mirror!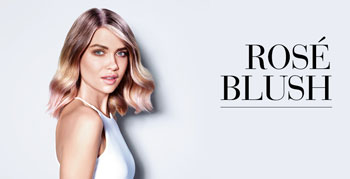 Question: How can we change up our boring hair without being too drastic?

Caterina Di Biase: A pop of colour is always a great way to add some drama to hair, without going too far. This can mean natural hair colours such as brunette, blonde or copper – but can also mean all the wonderful colours of the rainbow! If you want to try a colour before committing, Schwarzkopf Professional BLONDME Instant Blushes allow you to try before you buy (theoretically!). Suited for hair with a blonde base, colours you can fashion include Steel Blue and Strawberry, which spray on and can last up to 3 weeks. It can satisfy your surge for spontaneity this summer!

Highlights and lowlights to slightly lift your colour is a brilliant way to make a 'small time' change. One way to strategically use highlights and lowlights is to create a subtle balayage, which is becoming increasingly popular over the traditional, obvious type of balayage.

Changing your hair colour doesn't have to be scary or dramatic, so it's best to go one or two shades lighter (or darker!) to make a stylish change. It's best to consult with your hairdresser to determine the right colour to suit your complexion, skin undertone and most importantly - your personality! Don't forget to have fun with the process of changing your hair colour!


Question: How can we take formal office hair to something more fun, during the Christmas season?

Caterina Di Biase: For a style such as the classic ponytail, it can be transformed into something more fun and festive in an instance by adding texture! It's always handy to pack a comb or brush in your handbag, along with products such as the Schwarzkopf Professional OSiS+ Dust It or Schwarzkopf Professional OSiS+ Powder Cloud to add texture and a little oomf!. You can also add a little va va voom to your ponytail by adding volume or a side braid – for summer, pull the braid apart and make sure it is loose and textured!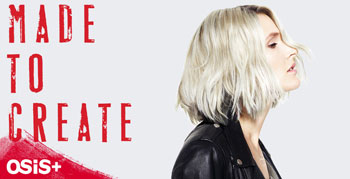 Question: Why do you love using Schwarzkopf Professional products?

Caterina Di Biase: Schwarzkopf Professional have such a large and versatile range that can provide products for absolutely any style or colour that I'm after, which really facilitates my creativity when working with clients hair, for photo shoots or for the runway. It also provides a professional range of products for my customers to use in the comfort of their own home – allowing their hair to feel salon fresh if their busy lifestyles don't always allow time for a hairdressers appointment. Products in all their ranges help pave the way for men and women across Australia to look and feel their best all year round.


Question: Which five Schwarzkopf Professional products do you use, most often?

Caterina Di Biase: Schwarzkopf Professional OSiS+ Sessions label – Miracle 15
Schwarzkopf Professional OSiS+ – Dust It
Schwarzkopf Professional OSiS+ Sessions label – Powder Cloud
Schwarzkopf Professional OSiS+ Sessions label - Volumizing Mousse
Schwarzkopf Professional OSiS+ + Soft Glam – Prime Prep Spray


Interview by Brooke Hunter