Cook Like The Australian Women's Rugby 7s With Their Favourite Beef Recipes
Try these delicious and easy recipes made with the Greatest Meat on Earth that can help athletes and everyday Aussies perform at their best.

Have you ever wondered what it takes to be one of the greatest gold-medal winning athletes? From tough training, to eating right, there's more to it than just what happens on the field.

Dietitian to the Australian Women's Rugby 7s team, Peta Carige, has shared four of the ultimate beef recipes that she recommends and prepares for the players as part of their nutritious weekly meal plans. The recipes include a favourite of players Charlotte Caslick, Demi Hayes, Shannon Parry, and Emilee Cherry – -Spiced Beef and Hummus', that you can now try at home.

Australian Beef is an excellent protein source of iron, with dietitians recommending 130g of cooked lean red meat to be enjoyed every other day as a practical way for busy athletes and any busy woman to get the nutrients they need to perform at their best.

With a variety of cuts available, beef offers multiple ways to create diverse, healthy and balanced meals for everyone – from elite athletes to everyday Aussies. Nothing beats Australian Beef when it comes to taste, quality, and nutrition!


Interview with Charlotte Caslick
Question: What does a normal day on a plate look like for you?

Charlotte Caslick: I eat very normally, even though that might surprise some people. In the mornings I usually have something quick (to maximise sleep time) like Weet-bix with honey. Lunch is provided for us at training, which can range from pasta dishes, meat and veg, stir fries and plenty of other dishes. We're pretty lucky to have food provided so we don't have to worry! For dinner, again, I eat a variety of foods, I like to mix it up, but I always get the recommended amount of protein and veg or salad.


Question: Does your diet change in the run up to a big game or competition?

Charlotte Caslick: My diet doesn't really change throughout the year. Although if we travel overseas it has to mix up a bit as we don't have the same access to our usual food or cuisine, but it stays as consistent as possible.


Question: What is your normal training regime?

Charlotte Caslick: Normal training regime is heading in around 7am and we finish at about 3 or 4pm. It consists of a field session, gym session, skill session and sometimes an extra running session. So plenty to get through!


Question: What role does beef play in your diet (e.g. frequency you eat beef and what)? I eat beef at least 3 to 4 times a week. I eat beef stir-fries, use beef mince in pasta dishes, or even san chow boy or Mexican dishes, like tacos and burritos.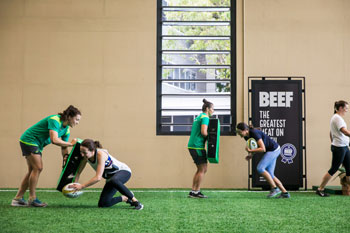 Question: How important is meal prep for you? How often do you do it and what are your tips to ensure you get the right amount of protein throughout your full week?

Charlotte Caslick: We usually do a weekly shop and then use all the ingredients we buy that week. I don't run the tightest ship when it comes to meal prep, but I think I do a pretty good job in getting the right amounts of protein in to help me perform at my best every day.


Question: What is your earliest and/or favourite beef memory? (e.g. A beef recipe you were cooked as a child, or did you grow up on a farm with cattle, etc.)

Charlotte Caslick: Mum's claim to fame is probably spaghetti bolognaise. When Dad worked overseas she would cook it very regularly. Easy, but delicious, it always tastes like home.


Question: What is your favourite beef recipe?

Charlotte Caslick: I love beef lasagne, it's so indulgent and delicious. My partner Lewis also makes awesome Chinese stir fries with beef as well.


Question: What are your plans for 2018?

Charlotte Caslick: My partner Lewis and I just bought a little property up in Queensland so we are excited to start that journey. In terms of rugby I obviously would love to compete at the Commonwealth Games this year. We are on the right track to win another World Series and I would love to go to my second World Cup. It's a big year for Women's Rugby!



Pho Style Beef And Herb Rice Paper Rolls
This fusion of two Vietnamese classics is a fresh, tasty and nutritious meal to impress your guests.

Preparation time: 25 minutes
Cook Time: 2 minutes
Serves: 4

Ingredients
4 minute steaks (flank steak tenderised and flattened by pounding with meat tenderiser until thin)
¼ cup tamari
2 tbsp Chinese rice wine (shaoxing)
1 tsp brown sugar
1 tsp garam masala
1 star anise
¼ tsp chilli flakes
1 baby cos lettuce, chopped
1 avocado, sliced
1 punnet grape tomatoes, halved
1 bunch coriander, washed and chopped
½ bunch mint, washed and sliced
12 large rice paper rounds
⅓ cup hoisin sauce
1 tbsp lemon juice
Lemon wedges, and sriracha (hot chilli) sauce, to serve, if desired

Method
Place minute steaks in a glass container or large bowl. Add tamari, Chinese rice wine, sugar, garam masala, star anise and chilli and allow marinating while you prepare the salad.
Prepare salad ingredients and a large bowl of water for the rice paper rounds.
Remove minute steaks from marinade and place onto a plate. Preheat a chargrill pan or BBQ to very hot. Grill for 1 minute each side until just cooked. Rest, slice across the grain. Mix hoisin and lemon juice in a small bowl.
Lay a clean tea towel on a bench or chopping board and dip one round in the water for 10-20 seconds until just pliable, not soft. Place on a towel and place salad, sliced beef and a little hoisin dressing in the centre, fold in the sides, wrap firmly to enclose and stack on a platter.
Serve with remaining dressing, lemon wedges, and sriracha, if desired.
Tips: There are plenty of cut options that are quick and easy to grill on the barbecue or pan for this recipe. Try using rump, flat iron, skirt or sirloin as alternatives.
Don't try and stack your rice paper roll with too many ingredients as it will break when you try to roll it.