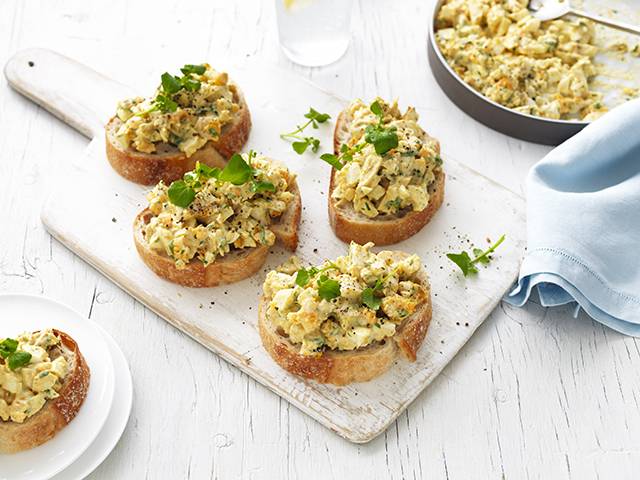 'Cheap Eats' Recipes Courtesy of Australian Eggs
With the cost-of-living crisis continuing to squeeze household budgets and no end in sight, being able to feed the family well, but for less, has never been more important.
With a mix of meal time recipes to choose from, Australian Eggs has suggestions to feed the whole family on a budget.
Classic Curried Egg Salad Sandwiches
COST PER SERVE: $3.50
Serves: 4
Prep time: 10 minutes
Cook time: 10 minutes
Ingredients:
6 extra-large eggs (approx. 59g each)
¼ cup (60g) whole egg mayonnaise
2 teaspoons mild curry powder
2 teaspoons lemon juice
2 tablespoons chopped parsley
Salt and pepper to taste
Thickly sliced white bread and watercress to serve
Method:
Grease a shallow baking dish (4-cup capacity) that fits inside a large deep pan with a lid. Crack eggs into baking dish so that eggs are in a single layer. Place inside pan. Fill pan with enough water to come 1cm up the sides.
Cover with lid and cook over medium-high heat for 6-7 minutes. Turn off heat and let stand for 2-3 minutes with the lid on.
Transfer eggs to a chopping board. Coarsely chop with a sharp knife. Transfer to a bowl.
Stir in mayonnaise, lemon juice, curry powder and parsley. Mix well and season to taste with salt and pepper. Refrigerate until cold.
Serve on fresh white bread topped with watercress.
Tips & Hints:
Alternatively, use the traditional method for making hard boiled eggs:
Half fill a saucepan with cold water and gently lower the eggs into pan.
Heat over medium heat. Once the water reaches a simmer, start the timer for 8 minutes.
Use a slotted spoon to remove the eggs from the water.
Cool eggs by running them under cold water for 30-60 seconds or placing them in a bowl of iced water.
Egg salad can be made in advance. Store in a sealed container in the refrigerator for up to 2 days.