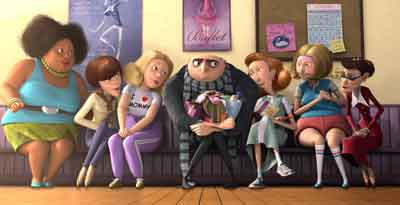 Despicable Me
Cast
: Steve Carrell, Jason Segel, Russell Brand, Will Arnett, Kristen Wiig, Danny McBride, Miranda Cosgrove.
Director
: Chris Renaud and Pierre Coffin
Genre
: Animated, Comedy, Family
Rated
: G
Running Time
: 95 minutes
Synopsis
: In a happy suburban neighbourhood surrounded by white picket fences with flowering rose bushes, sits a black house with a dead lawn. Unbeknownst to the neighbours, hidden beneath this home is a vast secret hideout. Surrounded by a small army of minions, we discover Gru (voiced by Steve Carrell), planning the biggest heist in the history of the world. He is going to steal the moon.
Release Date
: September 9th, 2010
Website
:
www.despicableme.com.au