Yeah The Girls!
The 65th Sydney Film Festival program was officially launched today by the NSW Minister for the Arts Don Harwin.

"The NSW Government is delighted to support the 2018 Sydney Film Festival, Sydney's strength as a centre for filmmaking, and our passion for film culture is what drives our city's status as one of only 13 UNESCO Cities of Film in the world," Mr Harwin said.

"I encourage you to immerse yourself in the festival and enjoy these creative and thought provoking films with your friends and family, right here in Sydney – your city of film."

"Since 1954, the Sydney Film Festival has brought over 9,000 of the best films from around the globe to Australian audiences; a canon we are proud to expand on 65 years later," said Sydney Film Festival Director Nashen Moodley.

"Over the years, much has changed in cinema, and indeed the world. What remains constant is the need for understanding. In an increasingly fragmented society, the Festival continues to unite friends and strangers, creating new experiences and ways to interpret the wider world."

"In a year that has highlighted the inequalities facing women across society and in the film industry, the Festival is also pleased to announce that six out of 12 Official Competition films this year are directed by women filmmakers."

Sydney Film Festival has gone from strength to strength in recent years: since 2011 attendance has increased by 72% to 185,000 filmgoers. In 2018 the Festival will present 326 films from 65 countries including 21 World Premieres, bringing together hundreds of international and local stories.

The full Sydney Film Festival 2018 program can be found online at sff.org.au

Sydney Film Festival runs 6 – 17 June 2018. Tickets for Sydney Film Festival 2018 are on sale now. Please call 1300 733 733 or visit sff.org.au for more information
Interview with Nashen Moodley, Sydney Film Festival Director
Question: Can you tell us a little about the Sydney Film Festival 2018 highlights?

Nashen Moodley: One of the biggest highlights for me every year are Opening and Closing Night at the State Theatre. You can quite literally feel the venue buzzing with excitement, as it transforms into this vibrant hub with international filmmakers, industry stars, and local film fanatics all coming together to celebrate great cinema and storytelling.


Question: How long have you been working on the event?

Nashen Moodley: This year will be my seventh year as Festival Director.


Question: This year half of the films competing in the Official Competition are made by talented women filmmakers; how excited are you about this?

Nashen Moodley: We're very excited that six out of 12 Official Competition films this year are directed by women filmmakers and they are really incredible films which we can't wait to share with the audience. The films are Laura Bispuri's Daughter of Mine, Debra Granik's Leave No Trace, Desiree Akhavan's The Miseducation of Cameron Post, Zsófia Szilágyi's One Day, Kamila Andini's The Seen And Unseen, and Annemarie Jacir's Wajib. We're very confident that each of these films will leave a lasting impression on those who see them.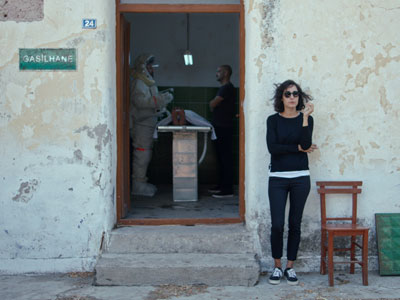 Question: What are you most looking forward to seeing at the Sydney Film Festival?

Nashen Moodley: It's quite difficult to pick just a few! Personally, my favourite films tend to be ones that broaden our understanding of the world around us. And there are so many films in the program this year that do exactly that.


Question: Can you talk us through the partnership with European Film Promotion and Screen International?

Nashen Moodley: 2018 is the third year of the Festival's partnership with European Film Promotion, and our second with Screen International, resulting in our Europe! Voices of Women in Film program - a program of 10 new films from vital European women filmmakers. With emerging talents and trailblazers alike, from Germany to Finland, and Kosovo to Georgia, the program shines a spotlight on the unique perspectives of women filmmakers representing the film industry's future.


Question: Which of the films is a documentary about women in film? Can you tell us about it?

Nashen Moodley: That would be Half the Picture, an excellent documentary featuring prominent US women directors, including Ava DuVernay, Penelope Spheeris, and Lena Dunham, dissecting why there are so few female filmmakers. The stats speak for themselves: the Academy of Motion Picture Arts and Sciences has nominated just five women filmmakers for an Oscar in its history, out of 442 total directors, with just one winner. The film will also be followed by a free public Talk in the Treasury Room at the Festival Hub, further discussing the issue.


Interview by Brooke Hunter