24 Facts About the Cast of 24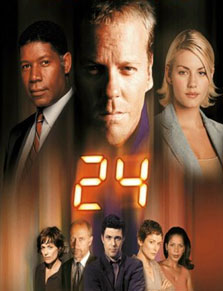 Kiefer Sutherland played an FBI agent in Twin Peaks - Fire Walk With Me, the prequel to David Lynch's ground-breaking TV series. In it, he investigated the events leading up to the murder of a girl named Palmer.


Penny Johnson Jerald, who plays Senator Palmer's wife, Sherry, was a regular on ER and Deep Space Nine, and also played Larry Sanders' long-suffering assistant, Beverly, on The Larry Sanders Show.


Kiefer Sutherland (Jack Bauer) and Dennis Hopper (Victor Drazen) previously appeared together in the film Flashback.


Lou Diamond Phillips (Captain Mark DeSalvo) and Kiefer Sutherland (Jack Bauer) both made appearances in the films Renegades, Young Guns and Young Guns II.


Actor Michael Massee, who plays Ira Gaines - one of the co-conspirators behind the plot to kill Senator Palmer - accidentally shot and killed actor Brandon Lee during the making of the film The Crow.


Prior to 24, Sarah Clarke (C.T.U. agent Nina Myers), was best known as the face in the award-winning Volkswagen Jetta commercial, Synchronicity.


Nova Scotia-born Leslie Hope, who plays Jack Bauer's wife, Teri, is a former Knots Landing regular who also appeared in Oliver Stone's Talk Radio, Dragonfly, and The Spreading Ground - which co-starred 24's Dennis Hopper.


Canada-born Elisha Cuthbert was just eighteen years old when she won the role of Kimberly Bauer. She began modeling at the early age of seven, and was presenter of the TV show Popular Mechanics for Kids by fifteen. Cuthbert most recently appeared in this year's Old School and The Girl Next Door.


Rudolf Martin, who plays photographer Martin Belkin and the assassin who poses as him, played Count Dracula in an episode of Fox's Buffy the Vampire Slayer.


Kiefer Sutherland was once famously engaged to Julia Roberts, whom he had met on the set of their film Flatliners. Four days before their planned wedding on 14th June 1991, Roberts ran away to Ireland with Sutherland's friend (andThe Lost Boys co-star) Jason Patric.


Dennis Haysbert, who plays Senator David Palmer, previously appeared in Navy SEALS, Heat, and all three Major League movies. In late 2002, he won critical acclaim opposite Julianne Moore in Todd Haynes' Far from Heaven.


Dennis Haysbert (Senator David Palmer) and Penny Johnson Jerald (Sherry Palmer) appeared together in Clint Eastwood's Absolute Power, which involved the cover-up of a murder by a senior US politician.


Sarah Clarke (Nina Myers) became engaged to her 24 co-star Xander Berkeley during the transmission of the first series; they married on 7th of September 2002. They appear together in the film The Third Date (2003).


Leslie Hope (Teri Bauer) and Carlos Bernard (Tony Almeida) both have their own websites: www.lesliehope.com and www.carlosbernard.com


Eric Balfour, who plays C.T.U. hacker Milo Pressman, a regular on Six Feet Under, once played in a band with 8 Mile actress Brittany Murphy. He is currently frontman for L.A.-based group Fredalba.


In 1993, Kiefer Sutherland made his directorial debut in the acclaimed low-budget film Last Light, in which he plays a convicted killer sentenced to death.


Colombia-born Karina Arroyave (C.T.U. agent Jamey Farrell) has appeared in three films about teachers trying to educate inner city kids: Lean on Me, Dangerous Minds and 187.


Zeljko Ivanek, who plays Serbian Andre Drazen, was born in a different region of the former Yugoslavia: Ljubljana, Slovenia. The 'Z' in his first name is pronounced like the 'J' in the French name 'Jean.'


Misha Collins, who plays Serbian assassin Alexis Drazen in several mid-season episodes, was also born in the former Yugoslavia - his birth name is Misa (pronounced Misha) Krusnic (pronounced Krushnich).


Tamara Tunie (Alberta Green), Richard Burgi (Kevin Carroll), Karina Arroyave (Jamey Farrell) all previously appeared in the long-running US soap opera As the World Turns, which has been running since 1956.


Kiefer Sutherland was born in London, England to seasoned actor Donald Sutherland. They both appeared in Joel Shumacher's A Time to Kill, but had no scenes together.


At the 2002 Golden Globe Awards, Kiefer Sutherland won the award for Best Performance by an Actor in a Television Series (Drama).


At the 9th Screen Actors Guild Awards, the entire cast shared a nomination for Outstanding Performance by an Ensemble in a Television Series (Drama).


Kiefer Sutherland has said that making 24 is less like shooting a TV show than filming a 24-hour feature film. "Someone asked me what's it like doing TV, and I went, 'I don't know - I haven't felt that yet!' "

Related Links