Diary of a Wimpy Kid: The Long Haul
Starring: Jason Ian Drucker, Charlie Wright, Owen Asztalos, Tom Everett Scott, Alicia Silverstone
Director: David Bowers
Running time: 91 mins
In DIARY OF A WIMPY KID: THE LONG HAUL, based on the record-breaking book series, a family road trip to attend Meemaw's 90th birthday party goes hilariously off course, thanks to Greg's newest scheme to (finally!) become famous.
DIARY OF A WIMPY KID: THE LONG HAUL – IN CINEMAS JUNE SCHOOL HOLIDAYS
DIARY OF A WIMPY KID: THE LONG HAUL
Opens in Australian cinemas nationally:
June 22, 2017 (QLD/NT)
June 29, 2017 (All other states)
DIARY OF A WIMPY KID: THE LONG HAUL more...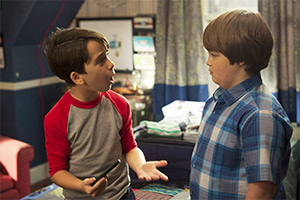 Five years ago, Dog Days, and now we reintroduce the Diary of a Wimpy Kid franchise to a new generation of kids and parents looking to see these beloved books come to life again.

Beginning as a series of online cartoons, Diary of a Wimpy Kid was an instant sensation when Jeff Kinney's first novel was released in 2007. The novel spent almost three years on the New York Times children's best seller list, and sold millions of copies around the world. Some numbers:
225 million in global box office
518 weeks and counting on the New York Times bestseller list
180 million copies sold worldwide
Printed in 53 languages with the first copy in Latin given to the Pope.

And growing.......

A legion of loyal fans continue to anticipate the release of every new novel. Kinney had originally targeted adults through the book's nostalgic look at middle school life as told through a narrator with fantasies of greatness, but kids immediately connected to his blending of the subversive and edgy with the fun and wholesome.

Diary of a Wimpy Kid brought us the adventures of Greg Heffley, a wise cracking preteen who must survive the treacherous jungles of middle school. The second film, Diary of a Wimpy Kid: Rodrick Rules focused on Greg's family and his relationship with his older brother Rodrick. The third film, Diary of a Wimpy Kid: Dog Days focused on Greg's family and his relationship with his father and best friend Rowley.

The ninth installment in Kinney's book series, Diary of a Wimpy Kid: The Long Haul takes us on a Heffley family road trip to Meemaw's 90th birthday that goes off course when Greg Heffley (Jason Drucker) schemes to go to a gaming convention. The Long Haul has Kinney returning as screenwriter and executive producer, along with screenwriter/director David Bowers, producers Nina Jacobson and Brad Simpson. 'It's great having David back behind the camera. He is an essential part of the Wimpy family having directed Rodrick Rules and Dog Days," says Simpson. 'We asked him to come back and join the Wimpy adventure again because he really gets the family, these characters and knows how to push a joke at the same time."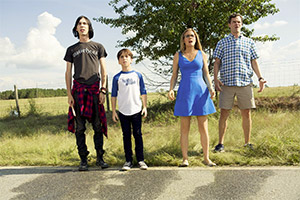 In The Long Haul, Greg hatches his latest plan to avoid being infamous and finally get the fame he believes he deserves. Suffering a brutal blow to his ego when footage of an unfortunate diaper incident goes viral, Greg takes matters into his own hands to restore his 'rep." Of course, the obvious way is to make an even cooler viral video with the help of YouTube sensation Mac Digby whose auto reply email message inviting Greg to meet him at the Player's Expo hurls Greg's imagination into overdrive and takes him on yet another venture of pandemonium featuring brilliantly animated illustrations.

Ready for a nice, long summer, Greg is looking forward to just hanging out, but his mother, Susan (Alicia Silverstone), wanting to focus more on family and not gadgets decides the family needs to take a road trip to their great-grandmother's birthday celebration. At first, Greg wants no part of this, but soon realizes this is his ticket to the Player's Expo. His father Frank (Tom Everett Scott) is slammed at work and uncertain driving there is a good idea. His brother and still the chief tormentor. Rodrick (Charlie Wright) is only focused on his band and just wants money from his parents to repair his damaged van which isn't happening. Despite everyone except little Manny (Dylan and Wyatt Walters) disapproving, Susan makes the family pack up their minivan with Frank's old boat attached and they hit the road for the long haul.

Diary of a Wimpy Kid: The Long Haul is the fourth Wimpy book to hit the big screen and Kinney went about it a little differently this time. 'When I wrote The Long Haul, I was actually thinking of it as a movie. I saw the movie making process and thought -I am going write a book specifically meant to become a movie'," explains Kinney. 'We get the Heffleys out of their house, their neighborhood and on the road. I think that's gonna be a lot of fun for audiences."

Shortly into their journey, the Heffleys are already hungry, sleepy and annoyed with each other after a revealing game of I MUST CONFESS which left Rodrick calling the neighbors to apologize for a little incident involving toilet paper and their house. Ready to take a load off, they find what they think is the perfect spot to refresh for the pilgrimage still ahead, but find it's the first stop on a collision course of madness and mayhem.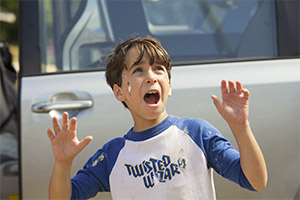 Simpson remembers the many road trips he took in his family's Oldsmobile and the games he and his sister would play in the back of the station wagon. 'There was the most deadly game you would play called punch buggy, where you would have to punch somebody in the arm if they saw a Volkswagen Bug, It would usually result in my sister and me crying or in a fight."
The escapades begins when Greg and Rodrick encounter a family of five at the hotel pool that will haunt them throughout the trip. 'The Beardo's," as Greg calls them due to the father's scraggly beard and they're just plain weirdos, won't share the hot tub and immediately clash with the Heffley boys so the battle begins. 'Mr. Beardo is a guy that Greg meets on their first stop and accidentally has a run-in with," explains Bowers. 'His van gets dinged, Greg gets blamed for it and then the whole road trip, Mr. Beardo seems to be just two steps behind them hunting down Greg."

Frustrated, Greg retrieves his cell phone Susan confiscated to Facetime with Rowley, who is with his family in Hawaii and appears to be having all the fun Greg isn't. During the conversation, Rodrick overhears Greg's plans to get to Player's Expo and threatens to spill the beans. To silence Rodrick, Greg tells him about a video game drumming competition held there and its $1,000 grand prize which is more than enough to cover the cost of fixing Rodrick's van. A pact is formed.

After winning a baby pig at a county fair, multiple encounters with 'The Beardos" and every imaginable car-related difficulty, Greg and Rodrick make their escape to the convention while the rest of the family is sleeping. 'The Georgia International Convention Center is a fantastic epically scaled convention center that when we first saw it, we knew it was perfect for our Player Expo," says Jacobson. 'Aaron Osborne, our Production Designer, did an incredible job of both inventing video games, the designs and the artwork. But then also getting great stuff from Xbox and Razor Scooters and all sorts of real stuff to combine with what we made up."

In THE LONG HAUL, you get to see the Heffley's go on an ambitious, hilarious and heartwarming adventure that sometimes has disastrous consequences. Even though they get into trouble at almost every turn, the Heffley's found they truly have an unbreakable family bond and sprit that can help them overcome any hurdle including embarrassing viral videos and meme's. Rodrick also discovered he has a love of county fair deep fried butter sticks. 'I think everything people have loved about the first three films is ratcheted up in this crazy adventure," explains Jacobson. 'It's a much bigger movie and crazy things happen on the road with seagulls, piglets, and Mr. Beardo. It's just a big fun romp."

THE NEW HEFFLEYS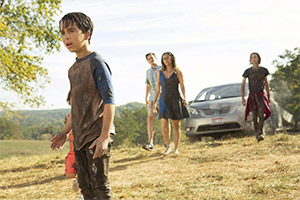 While we hold dear in our hearts the cast that brought the first three Wimpys to life, those wonderful kids are now in college. It was time to make other talented kid's dreams come true. 'Diary of a Wimpy Kid has a new life on screen in these films and what's been rewarding is I've gotten to know the actors who play these roles," says Kinney. 'Zach Gordon and Robert Capron in the first movies, and now Jason Drucker in the new movie. It's really fun to see new kids play these characters." Simpson adds 'It was very bizarre for me because Nina and I wrote Robert Capron's college recommendation. We met a smiling, innocent 10 year old and now he's in college."

The search was on to finding a new Greg Heffley. 'We knew it was going to be a hard task to find Greg," explains Nina Jacobson. 'Even if we had a great script, we were not going to be able to make a great movie without a great Greg Heffley." The filmmakers saw many talented young actors, but kept going back to this one kid from Miami who completely embodied the whimsicality of Greg. After a long, multi-national search, a new Greg Heffley was cast, Jason Drucker. 'Greg Heffley is always getting in trouble. What he thinks is a good plan always goes downhill," Drucker explains. 'It is so much fun to play him. I like playing different characters and getting to go through what they go through. And, Greg goes through a lot."

'We have been in love with Jason's performance and his interpretation," says the film's director David Bowers. 'He really is for the most part Greg. Although, he might be a little kinder in real life".

In addition to Greg, the filmmakers had to cast new actors to play Susan, Frank, Rodrick, Rowley and Manny. Drucker is joined by Alicia Silverstone (Clueless) and Tom Everett Scott (That Thing You Do) as his parents. Charlie Wright is Rodrick, Dylan and Wyatt Walters are Manny with Owen Asztalos joining as Rowley.

Jacobson knew from the start that Alicia Silverstone was perfect for the role given her own parenting style and values that align with her character Susan which are focused on human connection and not technology. Silverstone, who now loves the book series was unfamiliar with the franchise when she signed on for the role. 'I was at a friend's house whose son was watching the movie and that was the first time I heard about them because my son is younger so Wimpy hadn't reached my awareness yet, says Silverstone. Ever since I signed on to do the movie, I see the books everywhere. Everyone gets really excited when I tell them I'm doing Diary of a Wimpy Kid."

On the flip side, the Wimpy books were a regular read at bedtime for Tom Everett Scott and his family. Not only did he love the books, he has a special connection to the original cast of the films. 'My son is 12 and one of the most frequently checked out books from the library were the Wimpy Kid books. I read all of them to him at night before bed," says Scott. 'When these movies first came out Steve Zahn played the dad. Steve and I were in a movie together called That Thing You Do and we became best friends. He was my best man. He was excited that I was going to be the new dad."

Charlie Wright is taking on the role of Greg's antagonistic older brother Rodrick who is still harassing Greg every chance he gets. With his dry sense of humor and amazing comedic timing, Wright won the filmmakers over instantly. 'Charlie is a really promising young actor. He is very fun and grounded," says Jacobson. 'The way Charlie is playing Rodrick is a little less bright and a little bit more sweetness. Charlie is very close to his own brother and I think it comes through".

Being stuck in a minivan with their family creates a tension and then a bond as both boys want to get to the video convention. Even though Rodrick still tortures Greg, their relationship has grown closer in this movie. They team up to become partners in crime. 'I think Rodrick and Greg have a great relationship," says Wright 'There are times when they don't agree, but when they work together as a team, that's when they have a brotherly relationship."

To ensure the authenticity of sibling rivalry, Bowers had Drucker and Wright spend time together before filming going to escape rooms, having dinner and just hanging out. 'It was important that Jason and Charlie have chemistry on screen because they were playing brothers, says Bowers. 'By the time we started shooting everyone got over any awkwardness, everyone knew each other and the relationships were in place. It worked really well."

Filmmakers met Owen Asztalos in New York and from his first reading they knew they had their Rowley. Asztalos was cast and was ecstatic to be a part of the franchise he loved so much. "When I was a kid I had three phases Elvis, Harry Potter and Wimpy Kid," explains Asztalos. 'With Wimpy Kid I thought to myself, wow it must be so cool to be in that movie. I just adored it and saw myself in the Wimpy world. When I got the call to audition for the movie I was thinking no way".

'Owen is a hoot. He is funny. He has that sort of innocent, wide eyed quality of Rowley but he is also just a goofball," laughs Jacobson. 'He has the innocence and that sweetness that Rowley has to have and he was willing to have a bowl-shaped haircut".

For the youngest member of the cast, Manny, filmmakers found 4-year-olds Dylan and Wyatt who are part of a set of triplets with their sister Alli. Wimpy being their first movie, their mom Julie didn't know what to expect or if they would even sit still. The handsome duo were incredible professional bringing a lot of energy and fun to the set especially when they would disagree over who should participate in a scene. Dylan and Wyatt puts smiles on everyone's face and won the hearts of all the cast and crew, especially Drucker who they affectionately called 'Bubby."

With the family in place the Heffley's were ready to hit the road.

THE LONG HAUL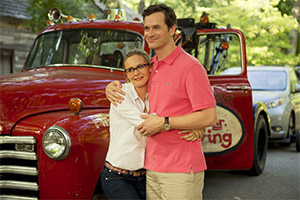 There is a universality to the family road trip. You're trapped in a vehicle with the people you love the most, who also aggravate you the most with no escape. Things inevitably go wrong and you're cornered with everyone thinking 'are we there yet?" Even with the negative connotation that inevitably comes with the dreaded 'family road trip," families around the globe continue this tradition in droves.

Given this custom, filmmakers knew DIARY OF A WIMPY KID: THE LONG HAUL would be compelling given everyone can share in the phenomenon of a bad travel experience. 'We have all had to suffer through complicated road trips," says Simpson. 'But what is also great about a road trip is it gets you a chance to shake it up a little bit. To enter different worlds, to meet different types of people." The Heffley family's trip is no different. They experience almost every travel and car related travel difficulty you can imagine.

Filmed in and around Atlanta, Georgia, THE LONG HAUL has the Heffley's encountering a VW van obsessed, luggage stealing family nicknamed 'The Beardos," a pacifier sucking carnie pig, a few Cheez Curl lovin' seagulls and an 'Alien Abduction." Cast were covered in mud, fake seagull poop and feathers plus Greg and Charlie turn a familiar color of orange - some of them actually seemed to enjoy it.. 'The list is endless. Mud, bird poo, shampoo, exploding cinnamon," explains Drucker. 'I have never been covered in mud or exploding cinnamon and I loved it." Bowers adds, 'In many ways this was a rough movie for our actors. We subjected them to a lot of ordeals and covered them in a bunch of stuff."

For the 'Alien Abduction" scene, filmmakers initially planned to build a replica of the popular carnival attraction given the demands that would be placed on Drucker, but being very athletic, he proved how physical and mentally strong he can be. 'Jason was doing very unHeffely like things between takes like throwing a football," says Jacobson. 'He climbed to the top of the spinning ride, jumped out of a slow moving car, chased after a fast moving van and boat. He was always game." Drucker viewed it a little differently, 'I didn't imagine I could do it. When I saw the stunt people do it just looked so hard. But once
they told me a few tricks, I moved myself up the ride. Once I got down I wanted to go back up again."

Originally having studied to become a veterinary, Jacobson immediately developed a great affection for the films smallest stars making their feature film debut. 'I really love our pigs. Our animal trainers brought in these little piglets and they were really adorable," explains Jacobson. 'From the moment I saw them, I had a soft spot for them especially our hero pig. who was named Pinky Toe. In between takes I would hold her like a baby." Drucker loved to play with the little piglets and also developed a special relationship with them. 'They are so cute and funny and tiny," Drucker laughs. 'I would never have imagined that I would get the chance to work with two little piglets."