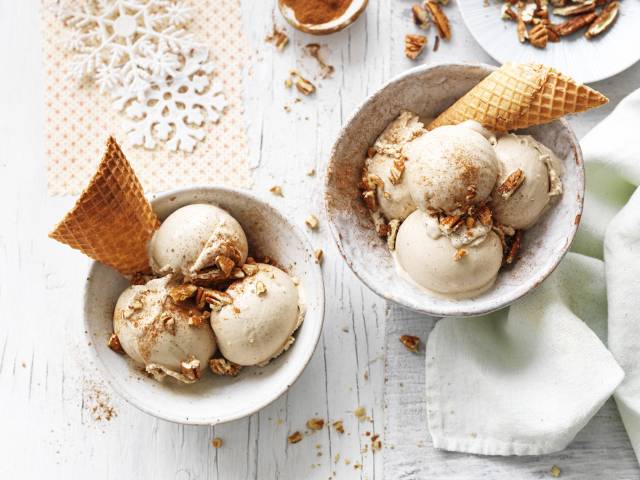 Eggnog Ice Cream
Australian Eggs have your Christmas Day menu sorted with recipes for any time of day you're entertaining. Recipes include Cheese & Chive Egg Bread, Meringue-amisu, Classic Meringues, Rosewater meringues, Eggnog Ice Cream, Green veggie tarts and a collection of curds.

Prep time: 15 minutes, plus churning and chilling time
Cook time: 10 minutes
Makes: 1 litre

Ingredients:
• 600ml thickened cream
• 1 cup (250ml) full cream milk
• 2 tbsp bourbon, rum, or brandy (optional)
• 1 cinnamon quill
• ¼ tsp ground nutmeg
• ¼ tsp ground cloves
• 6 large egg yolks
• 1 cup (220g) caster sugar
• 2 tsp vanilla extract
• Chopped pecan, waffle cone shards and ground cinnamon to serve

Method:
1. Heat cream, milk, bourbon and spices together in a medium saucepan over medium-low heat until mixture just comes to the boil, stirring occasionally. Set aside for 10 minutes to infuse the flavours. Remove and discard cinnamon quill.
2. Meanwhile, beat egg yolks, sugar and vanilla together in a large bowl with electric beaters until pale in colour and thickened. Mixture should fall in thick ribbons when lifted with the beaters. Slowly whisk in 1 cup of the warmed cream mixture.
3. Pour egg yolk mixture into the saucepan containing the warmed cream and heat over medium-low heat. Cook, stirring constantly, for 10-12 minutes or until mixture thickens enough to coat the back of a spoon. Ensure that it doesn't boil.
1. Remove pan from the heat and strain through a fine mesh sieve into a heatproof bowl. Cover the surface of the custard with plastic wrap. Refrigerate for 2-3 hours or overnight until very cold.
5. Churn cold custard in an ice cream machine according to manufacturers' instructions. Spoon into a clean container and cover the surface with cling film. Freeze 3-4 hours or for best results overnight.
6. Remove ice cream from freezer 5-10 minutes before serving. Scoop with a heated spoon or ice cream scoop and serve topped with chopped pecans and ground cinnamon. Arrange cone shards into bowls and serve immediately.

TIPS:
• Homemade ice cream freezes harder than commercial ice cream. Remove from freezer 5 minutes before scooping to allow it to soften slightly.
• Homemade ice cream is best eaten within 4-5 days and must be stored at minus 18°C or in the coldest section of the freezer.
• To chill down warm custard quickly, place bowl containing warm custard into a larger bowl filled with ice. Stir occasionally until mixture is cold.
• For best results, only churn very cold custard.