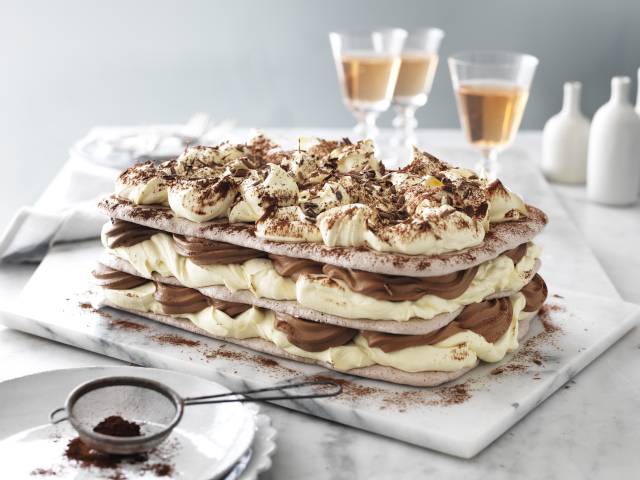 Meringue-amisu
Australian Eggs have your Christmas Day menu sorted with recipes for any time of day you're entertaining. Recipes include Cheese & Chive Egg Bread, Meringue-amisu, Classic Meringues, Rosewater meringues, Eggnog Ice Cream, Green veggie tarts and a collection of curds.

Prep time: 1 hour (plus refrigeration time)
Cook time: 2 hours (plus cooling time)
Serves: approx. 12-15

Ingredients
Hazelnut Meringue Stack
• 6 egg whites
• ½ tsp cream of tartar
• 1 ½ cups (330g) caster sugar
• ¼ cup (25g) Dutch cocoa powder
• 1 ½ cups (150g) hazelnut meal
• Extra cocoa powder and grated dark chocolate, to decorate

Frangelico Coffee Ganache
• 900ml thickened cream
• 3 tbsp instant coffee granules
• 300g dark chocolate, finely chopped
• ⅓ cup (80ml) Frangelico liqueur

Mascarpone Cream
• 900ml thickened cream
• ½ cup (110g) caster sugar
• 2 tsp vanilla bean paste
• 3 x 250ml tubs mascarpone cheese

Method:
Hazelnut Meringue Stack
1. Preheat oven to 100°C (fan-forced). Line three large baking trays with baking paper. Draw a 30cm x 20cm rectangle on each. Turn paper over.
2. Using a stand mixer fitted with a whisk attachment, beat the egg whites and cream of tartar on medium-high speed until foamy. Continue beating, adding the sugar 1 tbsp at a time, until mixture holds stiff peaks. This should take 8-10 minutes. Continue beating for a further 1-2 minutes or until sugar has completely dissolved.
3. Sift in cocoa powder and add hazelnut meal. Fold in carefully until just mixed through. Divide evenly amongst prepared rectangles. Smooth tops.
4. Bake for 2 hours, or until crisp. Turn off oven. Cool meringues completely in oven, with door ajar.

Frangelico Coffee Ganache
1. Bring cream and coffee to the boil in a small saucepan over medium heat. Remove from heat.
2. Place chocolate in a large bowl and pour over hot cream. Stir until chocolate has melted. Refrigerate, covered, for 2 hours, or until cold.
3. Using a stand mixer fitted with a whisk attachment, mix in liqueur and beat the ganache on medium speed until firm and a piping consistency. Spoon mixture into a large piping bag with a 1 ½ - 2cm star nozzle.

Mascarpone Cream
1. Beat cream, sugar and vanilla to soft peaks. Gently beat in mascarpone until a dollop consistency.

To assemble
1. Place one meringue onto a serving platter. Spoon over ⅓ of the mascarpone filling. Pipe with ½ of the ganache. Repeat these layers with remaining meringues, cream and ganache, finishing with a layer of meringue and mascarpone cream.
2. Dust with cocoa and decorate with grated chocolate. Refrigerate until serving.

NOTE:
• This recipe is best made at least 3-4 hours before serving. Meringue will soften slightly, and ganache and mascarpone cream will set firmly. This will make it easier to cut.