First Ever Female Competitors in the T86 Series
The T86RS is an affordable, grassroots race series designed for drivers with the passion and talent to compete at a national level and is run alongside select rounds of the Supercars Championship.


Interview with Emily Duggan
When Emily Duggan, Australian Racing Car Driver was preparing for her first race in 2014, to compete against an all-male field, she called the Confederation of Australian Motor Sport (CAMS) to check with officials whether it was within the rules to allow a woman to compete. Fortunately, they confirmed there was no rule to exclude her, so her starting race with secured. In an incredible story of following her dream, and doing everything in her power to accomplish it, Emily is now a winning race car driver. With no previous background in Motorsport racing, she has achieved her aspiration to race V8 Supercars based on hard work, determination and a healthy dose of self-belief. As well as being a brave and fearless racer, she's a savvy businesswoman who's secured a number of sponsorship deals to support her in pursuing her racing ambitions.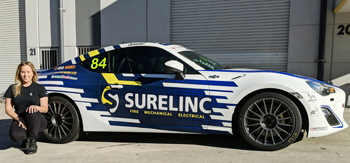 Question: How does it feel to be one of Toyota's first ever female competitors in the T86 Series?

Emily Duggan: It's good, it's the perfect category for up-and-coming drivers to race in before moving onto a more powerful and challenging car.

Being the first female is nice, but it's not my goal. It will feel a lot more special when I become the first female to win a Toyota 86 Series race. I'd love to be recognised as having beaten some of Australia's best aspiring race-car drivers.


Question: What inspired your passion for racing car driving?

Emily Duggan: There was always something inside me that said I could do it. I watched Supercar races when I was younger, and always wanted to be a driver and not a spectator. At first, I didn't realise women were able to compete, because there were none racing at the time – it wasn't until I did some research that I found out that women could race, and I went and bought my first race car in 2014.

I fell in love with the sport as soon as I competed in my first event, and the passion has grown deeper over time – it's something that now consumes my entire life, because I'm determined to succeed in the sport and I know it's something that requires absolute dedication and total focus.


Question: How do you train for an event like the T86 Series?

Emily Duggan: There are two aspects of my training program: physical and mental.

For the physical side of my training, I have a personal trainer and I do strength training with him twice a week. He has devised an exercise program targeted at optimising my strength to suit the specific requirements of driving a race car, because it's a lot of strain on my body.

Although we're sitting down, driving involves a lot of physical activity, especially with braking and steering wheel work. My body is subjected to high g-forces, especially when taking corners at high speeds or braking hard. The temperature inside the car can also be very high, so it's important for me to be extremely fit so I can maintain concentration without feeling fatigued.

I also work with a sports psychologist, who ensures I'm mentally prepared for each race, and in the best-possible frame of mind. If I'm stressed or not having a good week, I don't want to take that into a race weekend. Especially being a team owner and manager, I have to cope with a lot of responsibility on a race weekend, so my mental fitness is just as important as my physical fitness.

In a race, I'm constantly making decisions and reacting to what's happening around me on the race track – it's critical to be in the right mental zone so my reflexes are as sharp as possible.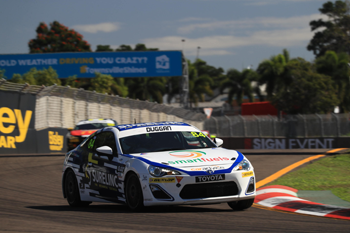 Question: What's involved in an event like the T86 Series?

Emily Duggan: The Toyota 86 Series is a six-round championship that travels to some of the most famous circuits and events in Australia, including Mount Panorama where we'll be a support category for the iconic Bathurst 1000.

On a typical race weekend, we have a couple of practice sessions where I learn the track and we adjust the car setup, and then we have a qualifying session where I set the fastest lap-time I can.

Then there are three races – these are the most enjoyable part of the weekend. I'm racing door-to-door with other cars, trying to overtake the car in front (or not, if I'm leading the pack haha) while not being overtaken by the car behind.


Question: How do you overcome the challenges associated with being a female in a male-dominated sport?

Emily Duggan: I'm not a person that looks at people's genders when it comes to motorsport.

Personally, I haven't had to overcome any challenges specific to being a female in a male-dominated sport. All the challenges I've had to overcome are the same as any other driver, male or female. We all have obstacles we have to overcome, such as finding sponsorship, finding the right car or purchasing race tyres and not having enough money left in the bank account to do the grocery shopping.

The biggest challenge for me has been creating my own motorsport career without any family support. Most professional drivers started racing go-karts when they were teenagers; I didn't have the opportunity to get involved until I could afford to buy my own race car, so my learning curve has been a lot steeper than many other competitors.


Question: Can you tell us about the car you drive in the T86 Series?

Emily Duggan: My race car is a Toyota 86 GTS – it has a 2.0L four-cylinder engine producing 147kW of power and 205Nm of torque. It's so much fun to drive – it's rear-wheel-drive, which means the rear end can slide out easily if you get on the accelerator too hard, too early. Trying to be the fastest around the circuit, without making any mistakes, is what the competition is all about, and because everyone is in the same car it all comes down to the driver. I love the competitiveness of the series.


Question: What's a typical day like, for you?

Emily Duggan: I wake up at 5:45 and either have a personal training session, or go for a morning walk (I'd like to say a run, but who am I kidding?!).

I then head to work which is likely to be at Sydney Motorsport Park where I assist in launching a new vehicle, or conducting corporate driver training for car manufacturers.

When I get home, the work continues – there's always something to do. In the evening, I might be emailing, fine-tuning my driving skills on the simulator, or practising my on-camera performance. And for dinner, well I'm not a good cook so it's something simple, or if I had to buy tyres that week, then I'm restricted to preheated rice, corn and chilli sauce for flavour (don't knock it, it tastes pretty good!).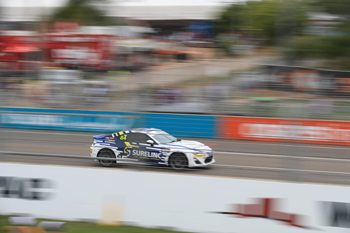 Question: What message do you have for aspiring female racing car drivers?

Emily Duggan: I'm going to quote Nike on this – just do it!

This is not just for aspiring female racing drivers or athletes, this is for anyone with goals and ambitions in life. If you have a passion to do something, and that little voice inside you is saying 'you can do this', then do everything in your power to succeed, and don't let anyone tell you otherwise.

People will tell you, you can't do it simply because they haven't figured out or can't see a way for you to achieve it. But they don't know what you know, they can't see what you can see. If you have the plan to achieve your goal and you can see it working, then you're already a step closer to achieving more than they ever will.

So just get out there and go for it.


Question: What's next, for you in terms of racing car driving?

Emily Duggan: My next Toyota 86 Series race is in August, at Tailem Bend Motorsport Park. That track is one that I won't be able to test at beforehand, so I'm looking forward to learning the circuit.

In terms of my career ambitions, the ultimate goal is to make it to racing full-time in the Supercars Championship here in Australia. I want to be working as a paid, professional racing driver and take the tag 'female' off 'racing driver', so females in the sport are considered normal.

For a bit of fun, I'd also love to do some dirt racing, maybe some short course off-road racing in America. I love driving and want to see my skills put to the test in all forms.

Plus could you imagine how fun off road racing would be? :)


Interview by Brooke Hunter