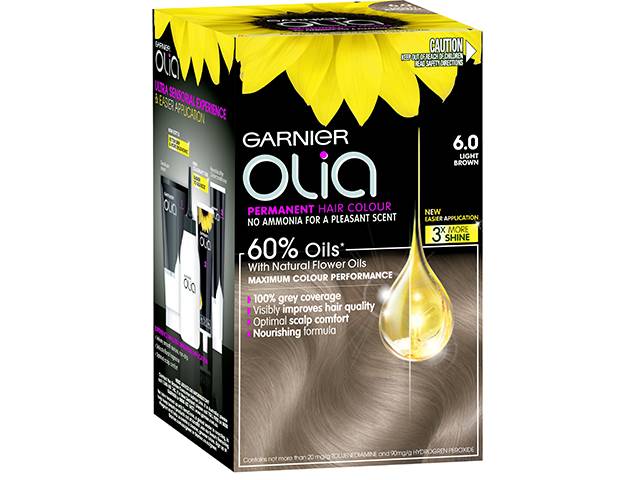 Olia Hair Colour is the #1* permanent home hair colour powered by oil, not ammonia. Offered in 17 shades.
*IRI MarketEdge, AU Grocery & Pharmacy Scan, Unit & Value Sales, Ammonia-Free Hair Colourants, MAT To 17/05/2020
Colour is propelled deep into the hair to give you maximum colour performance and visible improvement of hair quality.
With no ammonia, the unpleasant fragrance that usually comes with hair colour is gone. Instead, you smell a floral fragrance. This combined with Olia's non-drip, easy to apply formula transforms the hair colouring process into a beauty treatment, not a beauty battle.
A BREAKTHROUGH IN TECHNOLOGY:
Garnier laboratories have found a way to obtain permanent colouration without ammonia using the Oil Delivery System (ODS).

The high oil content in the colourant (60%)* allows for the replacement of ammonia.

ODS technology uses oils to propel the colour deep into the hair fibre. This process allows colour to achieve rich, vibrant results while respecting the integrity of the hair.
*In the colourant cream
Garnier Oila Box Dye 6
Buy now from your Chemist
Review:
Looks like a colour, apply's like a colour, but doesn't smell like one, that's refreshing! We love the results of The Garnier Oila Box Dye, it's radiant and true to the box image, which can often be misleading. Hair still feels nourished after 2 washes which is also rare, so it's a thumbs up from us.