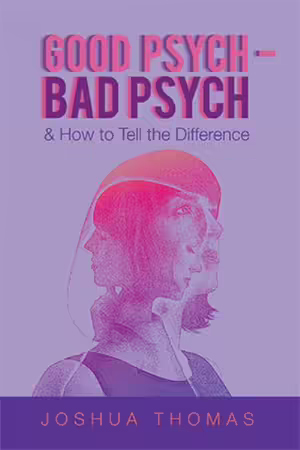 With the prevalence of depression, anxiety and other mental health disorders, the need for mental health services continues to grow. However, as author and clinical psychologist Joshua Thomas points out in his new book "Good Psych - Bad Psych & How to Tell the Difference", many people who seek out care will encounter the dark side of the mental health system, one perpetuated by poor regulation, a lack of qualified providers and a wide circulation of misinformation.
"Good Psych - Bad Psych" serves as a comprehensive,easy-to-read guide to navigating the complex mental health system and the dangers that lurk beneath. Bringing to light the commonplace practice of "bad psych" that has been perpetuated by the current system, Thomas cites current mental helth statistics and detailed case studies from his own practice to emphasize the importance of discerning between good practitioners and bad practitioners.
Divided into two parts, th book begins by debunking dangerous myths surrounding psychology, including all referrals to psychological therapy are trustworthy, targeted treatment is effective and medication is more helpful than harmful. In part two, Thomas delves deeper into what it means to be a good psychologist and identifies key competencies and personal attributes that one should possess. Readers will also find a helpful psychologist rating scale that they can utilize when assessing an existing or potential provider.
In writing "Good Psych - Bad Psych". Thomas hopes to reduce the pain and damage inflicted on unsuspecting clients by bad psychologists and empower readers to find the right psychologist for themselves or their loved ones. Additionally, the book challeges others in the profession to reflect on the quality of the service they are providing clients and strive to embody the practice of good psychology.
Good Psych Bad Psych
& how to tell the difference.
by Joshua Thomas
Available at Amazon