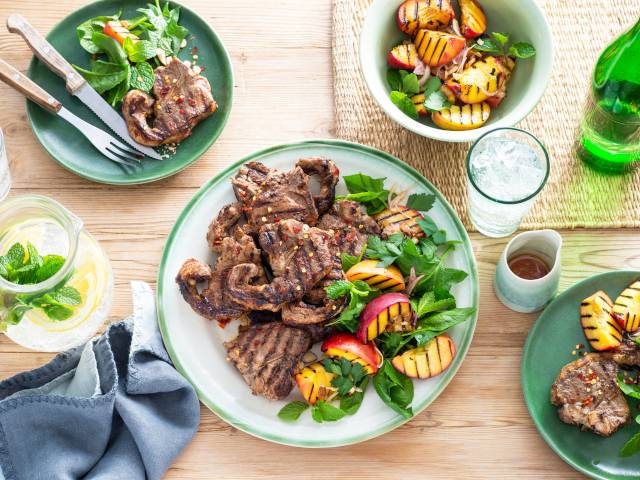 Mitch Orr's Grilled Lamb Loin Chops with Peach Salad
Serves: 4
Preparation: 20 mins
Cooking: 6 mins

Lamb & Marinade
8 lamb loin chops
4 cloves peeled garlic
2 peeled shallots
Juice of 2 lemons
Pinch dried chilli flakes
1 tsp fennel seeds
Extra virgin olive oil
Salt

Salad
4 ripe peaches
1 tbsp brown sugar
2 bunches English spinach
1 bunch mint
1 bunch flat parsley
1 peeled shallot, finely sliced
2 tbsp apple cider vinegar
Extra virgin olive oil
Sea salt
2 tbsp toasted & chopped almonds

Method
Marinade
1. In a small food processor blitz the garlic and shallots. Add in the lemon juice and dried chilli flakes.
2. Lightly toast the fennel seeds in a pan over a medium heat. Once toasted crush them a little in a pestle and mortar, or you can just use the bottom of a pot. Add to the garlic mix.
3. Season the garlic mix with a pinch or two of salt and add a generous drizzle of extra virgin olive oil.
4. Lay the lamb in a tray and pour the marinade over them. Give them a good mix around to ensure all the lamb is coated. Cover and put in the fridge for around an hour.

Salad
1. Preheat your BBQ or grill plate.
2. Remove the pit from the peaches and cut them in quarters. Brush them with a little olive oil.
3. Once the BBQ is nice and hot lay the peach down, flesh side. Cook them until they're starting to blacken. Repeat on the other flesh side.
4. Once they're all charred, place them in a bowl and add the brown sugar, apple cider vinegar and finely sliced shallots. Add a good pinch of salt. Mix thoroughly together and leave to marinate for 30 mins. Pick the spinach and herbs, give them a good wash and spin dry.

To Serve
1. Shake off the marinade from the lamb. The grill should be nice and hot from charring your peaches. Place the lamb on the grill. They should take around 2 to 3 minutes on each side for a medium cook (depending on the thickness of the chops). Once they're cooked, place them in a clean tray and keep to the side of the BBQ to rest while you assemble the salad (2 minutes is perfect). Season with a little more flake salt.
2. To finish the salad, mix the peaches through the spinach and herbs. Use the juices from macerating the peaches to dress the salad along with some extra virgin olive oil. Check the seasoning and add a pinch of salt if needed.


With the new year on the horizon, Australian Lamb is ending 2020 on a high, sharing inspiring community stories with their Lamb Legends content series, where iconic Aussie chefs cook delicious holiday lamb dishes for local legends.

The content, housed on the Australian Lamb website, celebrates everyday heroes who have made a big, feelgood dent in 2020. To jump start the festive season, MasterChef star Elena Duggan and Head Chef and Insta' legend, Mitch Orr, have both created tasty lamb dishes to thank their 2020 Lamb Legend.

First up, Elena treats sustainable farmer and climate activist, Anika Molesworth, to a Moroccan Spiced Roasted Lamb Leg. Co-founder of Farmers for Climate Action, a movement that puts farmers at the centre of climate solutions, Anika is a passionate advocate for sustainable farming and environmental conservation. Hailing from her family's sheep station near Broken Hill, Anika was named the 2015 Young Farmer of the Year and was a Young Australian of the Year Finalist in 2017.

As a chef and champion of fresh ingredients, Elena appreciates the challenges Anika faces in supporting Australia's farming communities and the work it takes to preserve the areas providing fresh produce: "She could have downed tools and done something different, but instead she's trying to figure out how to make this industry and this country richer, with sustainability her main focus".

For Elena, Lamb has always been a dish for celebrating special people and moments, 'My nan's roast lamb is the hero centrepiece every Christmas, so I always associate lamb with bringing loved ones together."

Next in the series, Mitch Orr cooks delicious Grilled Lamb Loin Chops with a peach salad for undisputed legend and Find A Bed Co-founder, Erin Riley. Find A Bed, came to life during the height of the 2019/20 bushfire crisis, after Erin spotted evacuees sleeping in cars and realised she could match home owners with those who needed a place to stay.

"I started a very simple website in under an hour, with just two buttons 'I have a place' and 'I need a place'... it was all very low tech, but within a day we had over 100 people registered to host people and requests for places to stay began flowing in… we've now helped almost 1,000 people find accommodation over the course of the bushfire season and COVID-19 pandemic" said Erin Riley.

"People like Erin, who put others first and spring into action to solve a problem that needs to be fixed... that's pretty legendary to me," said Mitch.

Get inspired and watch Elena and Mitch's videos at www.australianlamb.com.au/lamblegends.