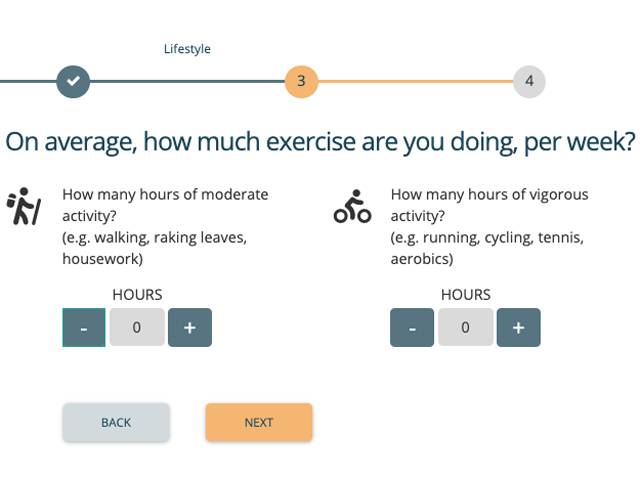 What's your risk of getting a killer disease in the next 5 years?
It may be higher than you think
• Half of Australians have a preventable chronic condition
• New online test can predict your risk of heart and kidney disease and diabetes
• Shows lifestyle changes you can make for a longer, healthier life
• Funded by the Australian governments to avoid preventable deaths

Half of Australians are living with a chronic illness. A new research-based online test can predict your chances of developing some of the biggest killers: heart disease, kidney disease and diabetes – all of which are largely preventable.

Developed by George Health Technologies and Healthdirect Australia, the healthdirect Risk Checker is a quick, free way to understand your risk of getting one, two or all three of these diseases in the next five years.

CEO of Healthdirect Australia, Karen Borg, says, "Overall Australians have good health, but being overweight, a poor diet and lack of exercise are key contributors to people dying from preventable diseases – and these are all things we have the power to change.

"This free test is an easy first step to help you work out if you're at risk, but it's not designed to just scare you into better health. It goes beyond most risk calculators by then providing useful and supportive information so you can take the next step towards better health.

"You'll receive a personalised report that shows important lifestyle changes that will increase your likelihood of living a longer, healthier life, which may include a prompt to make an appointment with your GP," says Ms Borg.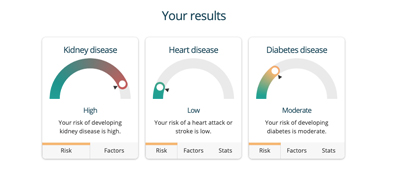 Three top health concerns are largely preventable
With half of us living with at least one chronic condition, the healthdirect Risk Checker focuses on heart disease, kidney disease and diabetes – three often interrelated diseases which are largely preventable.

• Heart disease is the top single-cause killer of Australians - 13 million Australians have three or more preventable risk factors for heart disease
• Kidney disease affects 1.7 million Australians. It is also linked to increased risk of heart attack but less than 10% know they have the disease
• Diabetes is the fastest growing chronic disease in Australia – it is closely linked to a range of preventable health issues such as amputations, blindness and increased risk of heart attack

Dr Ruth Webster, Global Head of Medicine, George Health Technologies, said, "Many people don't know if they are at high risk of developing heart disease, diabetes and kidney disease. In fact, people may already have one of these conditions without knowing.

"We know that better management of risk factors reduces the risk of a serious health event. This new test will help people identify their risk so they can take the next step," she says.

How to check your risk
To get a risk report, you will answer a range of questions such as body measurements, dietary and lifestyle habits and any medical history you have to hand.

You will then receive a low, medium or high risk score for all three diseases, along with a percentage indicator of the probability that you will develop each disease over the next five years. You'll also be able to see how your result compares to prevalence of risk in the wider Australian population.

There are various ways you can reduce your risk and the healthdirect Risk Checker makes sure you have supportive resources for these activities to help get you on the right path to better health.

The healthdirect Risk Checker test and results follow an algorithm developed by George Health Technologies and uses current Australian guidelines for each health area. It adheres to Healthdirect Australia's strict Clinical Governance Framework for health and safety.

No contact details or identifiable data is collected during the test. Data is provided to George Health Technologies for research purposes only.

The test is available via the front page of the healthdirect website and contextually via health pages relating to heart, kidney and diabetes. Take the test here.