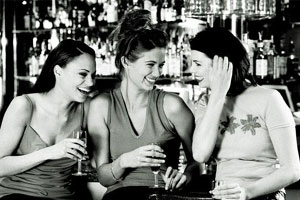 So you've been appointed Chief Bridesmaid or as I like to call my best friend who's married and doesn't like the term Matron of Honour, my Chief Bridal Liaison, you now have a few very important duties to perform. The first is to tag along to any and all appointments or fittings, to help keep the bride calm when her mother in law has just handed her a list of must-invite-never-heard-of-before-family-members and keep light hearted when the bride chooses the bridesmaid dress from hell. But the most important duty will be organising the hens night. This is your chance to show your best friend the night of her life. To allow her to let her hair down and forget all about her wedding woes.

So where do you begin? The first port of call is the bride. Find out exactly what she would like or more importantly what she doesn't want. Some women find naked men prancing around quite embarrassing. Others hate nightclubs. So ask a few probing questions and figure out exactly what type of party will suit your bride to be. The following are a few suggestions from a low-key luncheon to a wild booze and boys party.

Low Key Hens Night Ideas:
So you have your self an easy going bride, that doesn't mean there can't be a good time had by all.

Bridal Brunch: Organise an outdoor brunch with all the trimmings, champagne, exotic coffees, eggs benedict, savoury muffins, smoked salmon, scrambled eggs. If you don't think you can cook or would just prefer to enjoy the party organize a caterer. Play all of your favourite girly tunes, Jewel, Madonna, the When Harry Met Sally soundtrack!
Play a few games like monopoly, marjong or your favourite card game. Maybe organise for a fortune teller or tarot reader to come over, who knows what the future may hold! Another fun idea is to hire a projector, grab your favourite romantic comedy, point it at a blank wall, pop some popcorn and enjoy your own home movie theatre. Some of these ideas could become a tradition for girly get togethers to come.

Dinner Parties: Want to host a simple but fun dinner party? Try a 70's fondue night. Gather a few scatter cushions and sit around a funky coffee table. Everyone taking turns to dip breads, veges or meat into the cheesy mixture. This can be closely followed by chocolate fondue for dessert! Don't forget to break out your Abba CDs and have your own mini disco with strobe lighting and dry ice effect.

Another fun but simple idea is a Mexican fiesta with nachos, tacos, burritos and lots of tequila! Grab some salsa music and hire a latin dance instructor (the sexier the better!). Make your bride to be a piñata and all take turns bashing the swinging bag of goodies. Fill it with novelty gifts such as penis shaped lollypops or French ticklers. Your local adult shop should have a wide selection for you to choose from.

Mild to Wild Hens Night Ideas:
She doesn't mind a little fun but doesn't want to wake the next morning covered in honey and wondering how she got that way.

Simply Sexy: Want to have a raunchy night but don't feel like sharing the occasion with every other bride on her hens night? Have a sexy night in. Dim the lights, light some candles, put on some racy music and let the fun begin! You could try a sex toy party. Many adult stores can cater for this type of evening or try the party plan section of your yellow pages. Alternatively you could stock up on a few saucy items and present them to your bride to be as a honeymoon hamper. She'll have a wild time trying out her new toys! Don't forget to run with the sexy theme and throw in a few genital shaped foods, cocktail wieners, sausage rolls, cheese balls, you get the idea! Once the food and honeymoon hamper have been taken care of be sure to arrange a little adult entertainment. This being the 21st century whatever is good for the goose is good for the gander! Nothing gets a party started like an oiled up boy taking his gear off. Just be sure to keep the guest list small and only invite those you know won't be offended. If anyone does choose to walk out have some alternative entertainment set up in a quiet room. Keep the music in party mode, serve a few cock sucking cowboys and party on into the night.

Hens night how to's: Don't know how to prepare a night out but definitely want to go all the way? Try a Booze Cruise, they're really not as nasty as they seem. They feature all a hens party requires in one location, male strippers, scantily clad waiter, alcohol, food and a DJ. And all you have to do is pay the ferryman! There are many companies around Australia who offer an all inclusive package. Very little planning or preparation is involved; just book in advance as this is a popular option for hens nights parties Australia wide.

Hens nights should be about pampering, sharing some good laughs and the strengthening of friendships. And lastly a few tips to keep in mind: Remember to check out your plans with the bride before planning anything too wild. She may have an agreement with her husband to be that you may not know about. Try to organize the event at least two weeks prior to the wedding to give everyone some recovery time in case things get a little too crazy. And no matter how big or small the event the outcome should always be the same, a happy relaxed bride!