Multi-faceted, Chinese-American actress, voice artist, immersive director and educator, Fiona Rene will star in her first series regular role in the highly-anticipated Amazon Original series "I Know What You Did Last Summer" which will stream exclusively to 240 countries and territories worldwide on Amazon Prime Video on Friday, October 15th. The Sony Pictures produced series will premiere with the first four episodes premiering at once on October 15th and the remaining four will come out weekly, with the finale episode Friday, November 12th. Written by Sara Goodman ("Gossip Girl") and executive produced by James Wan (SAW, THE CONJURING), the gory yet sexy series, based on the 1973 novel by Lois Duncan, is a YA mystery thriller series with elements of horror, comedy and drama and is a modern take of the 1998 movie adaptation. In a town full of secrets, a group of teenagers are stalked by a mysterious killer a year after a fatal accident on their graduation night. Rene plays the role of "Lyla", the police chief of the small town who works to piece together clues to find the killer.
Rene is best known for her role as Kara Lee on ABC's "Stumptown," her first recurring role in which she played Michael Ealy's love interest. Her other credits include ABC's "Grey's Anatomy," FOX's "LA's Finest," and The CW's "Jane the Virgin," in which she played the role of 'Celeste,' a lesbian mother who goes on a playdate with Jane (Rodriguez) and her son. Rene is also a successful voiceover actor in animation, radio, promo, narrative and commercial. She has voiced for the Freeform network's "The Bold Type" and "Good Trouble" along with several other animation projects. She is also best known for being one of the hosts in LATV's "Get it Girl" where she dives into fun, culturally relevant, provocative and attention-grabbing conversation. Alongside acting, Rene has worked extensively in theater and animation in addition to voiceover work and has worked as an interactive performance director, creative consultant, and performance manager.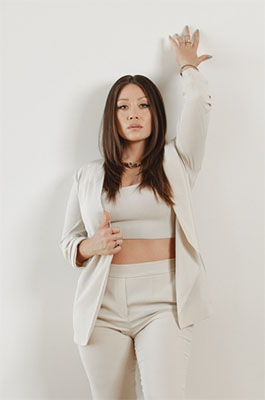 Born in Montana, Rene and her family moved often and lived in many different places growing up. At the age of 13, Rene and her family moved from Michigan to Texas where she eventually graduated from high school at the age of sixteen and attended Austin Community College and then Oklahoma Baptist University. Moving from school to school, she struggled making friends but soon found her calling as an actor through augmented and virtual reality storytelling. She started working at a haunted house and learning prosthetics while teaching acting at the same time. Rene made her directorial debut alongside writing and casting her first immersive show with 13
th
Floor Entertainment in 2008. After relocating to London, Rene worked as an actor, acting coach and director, directing and casting for Le Manoir de Paris, France for 5 years until she moved to Los Angeles. Since then, she has worked nonstop as an actor and director and has much experience working on long tours as well as abroad. Through the Disney Talent Mentorship program, she became an artist residence at Technicolor where she creates interactive content for their augmentative and virtual reality department.
Rene created several immersive haunted house experiences and also directed and co-wrote an immersive interactive theatre experience called THE WILLOWS, a 2-hour experience that takes guests through a sprawling 10,000 square foot mansion in Los Angeles. This allowed her to create her own concept and began teaching workshops on "Method for Being: Acting in Immersive Environments," an interactive masterclass for actors and storytellers designed to explore the commonalities of character building and world building, between the mediums of stage, film, television, voiceover, motion capture, live immersive/interactive, VR and AR. The workshops also explore the critical similarities and differences between creative processes like Audience POV, special awareness, motivation-based movement, linear/multi-liner/multiverse and open world storylines. Her clientele includes ABC/Disney, private and public schools, universities, theatre companies, design summits, conference, and also teaches one-on-one personal sessions to enhance the actor's and storyteller's creative process and confidence in their craft. Rene was also on the Board of Directors for The Game Academy in San Rafael, a company empowering learners to achieve social, emotion, cognitive, and academic success through engaging, interactive role-playing games for kids and students who are on and off the spectrum, helping them interact socially and emotionally.
In her free time, Rene lives a healthy and fit lifestyle weight training and practicing spiritual meditation. Having struggled with mental illness, she has found stability through art and acting and works to help others dealing with mental health. She also loves to spend time with her adorable cats Lily & Denver.