Kobie Shaw bstreetsmart Interview
More than 100,000 high school students over the past nine years have attended one of Australia's leading road safety education programs, bstreetsmart – potentially saving thousands of lives on NSW and ACT roads. The confrontational program commenced in 2006 and has received numerous awards for its effective approach to saving young lives. bstreetsmart will celebrate its tenth year from Tuesday 25 –Thursday 27 August when a further 20,000 students will converge on Sydney's Allphones Arena where they will witness a dramatic car crash re-enactment.

Now funded by the NSW state government, the program is the brainchild of two trauma coordinators at Sydney's Westmead Hospital – Stephanie Wilson and Julie Seggie.

-We were simply tired of seeing an over-representation of drivers aged 18-25 come through our trauma ward as a result of horrific motor vehicle crashes,' said Ms Seggie. -We started the program as a means of educating this demographic and found that through our confrontational approach, the message started getting through and the program grew in popularity over the years.'

34 year old Paul Sheppard of Castle Hill understands first-hand the importance of road safety awareness programs like bstreetsmart. Paul was the victim of a hit and run incident in 1999 leaving him in a coma for three months after sustaining a severe brain injury and other physical injuries. As part of his rehabilitation process, Paul has been a keynote speaker at bstreetsmart since its inception in 2006.

-Last year, I attended bstreetsmart and, by chance, met the nurse who took care of me all those years ago when I was in the High Dependency Unit,' said Paul. -It was quite a shock for both of us but particularly for me seeing the look on his face and hearing what a horrific state I was in. He told me that my chances of survival at that time were very slim.'

Paul is very passionate about sharing his story in the hope of saving young lives.

-If I can get my message through to even just one person in the crowd and potentially save their lives, then I feel a great sense of achievement,' adds Paul.

Paul will present his story at this year's tenth anniversary of bstreetsmart along with six other car crash survivors (over three days) including Tristan Kennedy who appeared on the contentious SBS documentary -Struggle Street' earlier this year.

For further information visit www.bstreetsmart.org.



Interview with Kobie Shaw
25 year old Kobie Shaw of Balmain has had her fair share of confronting dangerous incidents. The part-time fire fighter with Fire Rescue and current Ambulance Service Control Centre Officer lives and breathes emergency situations. Yet, despite this, Kobie experienced a life-changing experience when she came off a pushbike without wearing a helmet.

In February of 2014, just 200 metres from her mother's house and after a long day at work, Kobie decided to take her bike out for a ride.

-I'd had a fantastic day doing my nursing placement at Blue Mountains Hospital,' said Kobie. -I had done my first actual ECG on a patient by myself and loved how much I was learning. I walked home, cooked up meals for the rest of the week and thought to myself how I should get stuck into an assignment that I had coming up but couldn't resist going for a quick cruise on my low rider bike. -It will never be a good excuse or reason to say I was just going for a little ride so didn't wear my helmet but that's what happened.

-I don't remember what happened really,' said Kobie. -I can only assume I was going too fast. The bystander who witnessed the crash told me that I went all wobbly on the bike but I lost control and went straight over the handlebars. I hit my head and was very dazed. I kept trying to get up and grab my bike. A neighbour I've known for many years came out to assist and I didn't even recognise him. My condition deteriorated very quickly from there.'

Kobie suffered a major bleed in her head which caused a bleed in her brain. She also broke her femur condyle in her leg and fractured three ribs.

-I did quite a big job on myself!' says Kobie.

-That day it was a very fine and sunny afternoon in the mountains however just after my accident the weather took a turn and became your typical Katoomba foggy weather which made it difficult for Careflight to land safely at Katoomba. They still made it happen though for which I am so very grateful- beyond words'.

Kobie was transported in a Careflight helicopter to Westmead Hospital where she spent a few days in Intensive Care followed by time in the High Dependency Unit and then a couple of weeks in the Neurology ward. The stint in hospital was followed by seven months of intensive physiotherapy to strengthen the broken leg.

-The time in hospital was all a complete blur to me,' adds Kobie. -At that time I did not understand the severity of my injuries due to the head injury and drugs I had been put on. Other than that my leg was constantly in pain and my head was shaved!

-The six week lead up to my follow-up appointment with the neurosurgery department is when it all clicked to me as how lucky I was to have survived such a serious traumatic brain injury. The follow up appointment was all full of very positive points. The neurosurgeon said I fit into a very small percentage bracket of Traumatic Brain Injury patients that come out with such a fantastic recovery. The only thing I noticed that was different with me was my tastebuds. The surgeon said that may last throughout my life time however it seemed to resolve itself a couple of weeks on.'

-It's been a tough year for our family,' adds Kobie. -My younger sister Casey (22) was also involved in a road crash last year as well. She was hit by a car on New South Head Road in Sydney and sustained a fractured neck and sternum. I feel sorry for my poor parents to have to go through this twice in one year!'

-The hardest thing about my injuries at the time was the way friends and family kept asking how I was doing months after,' says Kobie. -In respect to them though, they had heard about the slim chances of me actually surviving and the story was out about the injuries I had sustained along with the fact that I had a been in a coma at the scene of the accident.

-Obviously they were wondering that - although I was alive, was my mind working? Would I still be the same? That's what I picked up from everyone asking me. I would reply and tell them how I was doing well and keeping up with physiotherapy in my leg recovery but they couldn't help but ask 'How are you actually doing though Kobie, you know, your head?"

-It would upset me and it made me feel pretty silly. I felt they didn't believe what I was saying to them. I just had to realise that they were in shock just as much as I was and reassure myself that I am as lucky as I am for such an amazing recovery back to my normal self.'

-I now understand, accept and have dealt with my injuries and the incident itself,' says Kobie. -I am thankful every day that I survived but I am certainly not proud to admit that I wasn't wearing helmet.' Kobie now shares her story with primary school children to educate them on the importance of wearing a properly fitted helmet.

-Even if you think it's just a little/quick ride you should never, never, never get on a bike without a helmet! Hoping they learn from my very silly mistake. My message to pushbike riders is: no helmet, no bike!'

Kobie will also present her story to nearly 20,000 high school students at this year's bstreetsmart event at Allphones Arena from Tuesday 25th August through to Thursday 27th August 2015.


Question: Can you share your story about being involved in a pushbike accident?

Kobie Shaw: On the 18th February 2014 I was involved in a pushbike accident. That day I remember very clearly because I had a fantastic day doing my nursing placement at Blue

Mountains Hospital. I walked home, made lunches for the rest of the week ahead and thought to myself I wouldn't mind going for a quick cruise on my low-rider pushbike, so off I went! Everything after that for about 2 weeks - I do not remember.

I went down a steep hill from my family home, lost control of the bike & fell off. I am not proud to admit this at all but I was not wearing a helmet. A taxi driver named Charlie who was coming up the hill & witnessed the entire event. He pulled over to help me & I was pushing him away saying 'I'm fine, I'm fine, I just want to go home & sleep'. Charlie called Ambulance as he could see something was not right & I was losing a lot of blood from the side of my head. A single on call Paramedic arrived & assessed me, he then asked for urgent back up as I was not in a good way. The second Ambulance crew arrived & loaded me into Ambulance. By this stage I had become aggressive and combative. Trying to rip my neck collar off that was put into place for spinal precautions. The Paramedics had planned to take me to Nepean Hospital urgently however I deteriorated with very quickly to a GCS of 3. The crew then asked for helicopter backup. Careflight was tasked to my case & I was packaged & loaded up at Blue Mountains Hospital - just where I had spent my day working! It gave everyone there a big shock obviously as I had just spent the day working alongside these nurses & next minute I had returned as a critical patient. The careflight crew transported me to Westmead Hospital Emergency Department.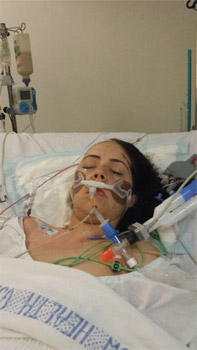 Question: Can you talk about your injuries from when you came off your pushbike?

Kobie Shaw: I sustained an extradural haematoma, three fractured ribs and a fractured femur condyle. The Neurosurgeons had to do a craniotomy on me to relive the pressure. I was in ICU for the next couple of days. It was on the 4th or 5th day I woke up by myself very confused & again trying to rip out everything attached to me like the central line and cannulas etc. I also kept trying to hop out of bed & walk around - I kept falling over and then the Doctors/Nurses realised the fracture in my femur condyle. I was then put under again for further surgery on my knee where they inserted two pins to put it back together!


Question: How would have wearing a helmet prevented these injuries?

Kobie Shaw: Ever since a young age I have always worn a helmet. My parents taught me this from the very beginning; it was engrained in me so much that I would never take it off. My Mum has told me that she would call me in from riding my bike for dinner and I would not take it off, I would eat my dinner with it on ha! I am disappointed in myself that I thought for one quick ride I would be okay and normally most people would be but my story has shown just how easily a traumatic brain injury can occur.


Question: Can you talk about how the accident still affects you now?

Kobie Shaw: I actually am so, so, very lucky that I have no neurological deficits from my accident. I had many questions to my Neurosurgeon on my post follow up appointment such as; could I potentially be someone who has seizures regular? Do I have to come back for regular checks ups? Will I get constant headaches? Can I participate in sports again? Will I be able to drink alcoholic beverages again? My Neurosurgeon was very surprised herself in my recovery and said I am in the small percentile bracket of TBI patients that make a full recovery.

My knee still gives me pain abd I will never have full range of motion in it but the lengthy physio enabled me to be back walking, running etc. and I am so grateful for that.


Question: What advice do you have for other bike riders?

Kobie Shaw: No helmet - no bike! Always, always, always wear your helmet. Even when you think you're just going for a 'quick cruise' there is no excuse or valid reason not to wear one!


Question: Why did you decide to participate in the bstreetsmart event?

Kobie Shaw: I want to get my story about to as many people as I can to learn from my silly mistake of thinking it was okay to not bother with a helmet for that brief, quick ride of my bike!


Interview by Brooke Hunter