Light up your Wedding with Neon
Saying it artistically in neon is a great way to enhance your wedding theme and express your personality. An artwork can be custom-made to your very own design and in the colour of your wedding palette to share your feelings with those who are close to you.

Recently, bridal couple Katherine and Greg Croydon approached Sydney's Custom Neon to make a beautiful soft pink neon simply stating -Tu sei l'unico per me' (You are the only one for me). This was displayed prominently on the bridal table adding an Italian ambience to their reception attended by family and friends.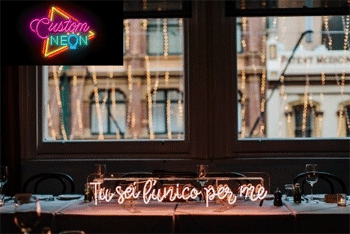 Katherine said, 'In looking for inspiration for our Italian themed wedding we wanted something out of the box and unique which brought about having a custom neon sign of an Italian love quote. We were thrilled with how it turned out and all of our guests loved the idea. Not only did a neon sign create something unique it's also something we have been able to keep as a memento of the wedding which takes also looks great in our lounge room. I would definitely recommend having a custom sign made for a wedding as it's a unique reflection of you as a couple and it last forever (unlike flowers)."

A neon artwork is also a wonderful keepsake for the bride and groom which they can use as a stunning decorative display in their home to celebrate the memories of their wedding day long past their special day.

Creative neon can be very personal and unique. It can range from a simple personal statement in words to an artistic design which has a special meaning to the bride and groom. It can truly represent the feelings they want to share on their special day.