Lisa Bourne Can't Pronounce It, Don't Eat It Interview
Lisa Bourne, co-founder of one of Australia's fastest growing health food snack companies, Funch, says that consumers need to be more aware of what is in the foods we're eating and how labelling laws can limit our capacity to decipher what exactly is inside the package.

From diglycerides and disaccharides to fructooligosaccharides and maltodextrin – sugar goes under many titles and can have a significant impact on our health.

'Countless studies have shown that sugar is addictive," Ms Bourne said.

'It lacks any nutrients and offers only a short-term, temporary boost to your energy level, followed by an energy slump.

"Currently in Australia there is no requirement for the amount of sugar added to foods to be included on the food label and even if you try to work it out by looking at the product ingredients, sugar can be disguised under 40 plus different names.

'Eating foods high in sugar replaces eating more nutritious foods which in turn is giving us a nation of under-nourished people. Ultimately this is leading to the rise in a range of serious, life-threatening health issues including diabetes, obesity, heart disease, liver disease and even cancer.

"Despite countless health warnings and improvements to food labelling, for many people sugar still makes up a huge part of our daily food intake."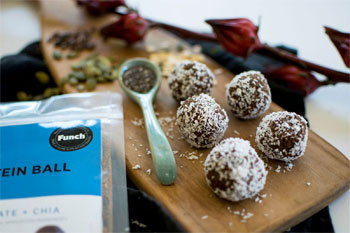 So how can we stop eating sugar? Particularly sugar that we don't even realise is there. Ms Bourne describes how the key is to understand why we crave sugar and what is the best way to avoid sugar.

'We tend to consume sugar in highly processed foods. This type of added sugar tricks your body into feeling satisfied. You get the sugar high, but then are left empty and searching for the next sweet treat to satisfy your body as it craves for the nutrients needed to function.

"Some common reasons we get sugar cravings include:

Being over tired: Our bodies need glucose (sugar) and sodium (salt) to function. When we are tired and our cells get sluggish, we experience a sugar craving, which is our body searching for energy.
Hunger pains: Our bodies demand fuel. Without the right nutrient dense food, regularly consumed, our body cries out for energy in the form of a sugar craving.
Stress: When we are stressed we have a high level of the hormone cortisol, we then crave sugar as it produces another hormone called serotonin, which is calming. It's kind of like our body searching for a chill pill.
Filling up on empty calories: When we don't eat nutritious food that is a balance of all the right food groups including carbohydrates and good fats, our bodies crave the quick fix of sugar for fuel."

Ms Bourne and her company Funch believe that the key to cutting sugar cravings is combatting all of the above common causes of cravings – and snacking. Health food snack company Funch does just this, provides easy to make healthy mixes that clearly label all of the nutritious ingredients they contain.

'Crowding out the cravings by feeding our body with real food, that offers real fuel is an important step towards managing your sugar cravings," says Ms Bourne.

"This is one of the reasons why Tanya Duncan and myself co-founded Funch. We wanted to create snack food mixes that were made using only natural wholesome ingredients. You will recognise every ingredient on the packet and there is no added sugar, but they still make sweet tasting, deliciously healthy snacks such as protein balls, slices and bliss balls.

'Funch allows people to eat well and enjoy their snacks without consuming high levels of processed sugar. Our mixes are incredibly easy to make up and only require the addition of two ingredients such as water and honey - which most people have in their kitchen. One packet mix of Funch Chocolate Bliss Balls will make up to 15 bliss balls in a matter of minutes and they will keep in the fridge for a couple of weeks.

Funch health food mixes are available online or in health food stores, grocers and supermarkets.

www.funch.com.au



Interview with Lisa Bourne
Question: What is Funch?

Lisa Bourne: Funch is an Australian owned business that offers a range of Premixes for Healthy Snacks. Funch's range includes DIY Mixes for Protein Balls, Bliss Balls, No Bake Slice, Muesli Slice and Cookies.


Question: Can you tell us about the Funch range?

Lisa Bourne: There are 11 different products in Funch's range of DIY Mixes. All made from premium organic and natural whole food ingredients, and are quick and easy to make. Each recipe only requires the addition of two ingredients – such as water and honey. You can throw the blender away, as all the blending has already been done.

With no added sugar, preservatives or additives, Funch snacks give our bodies the optimum opportunity to absorb nutrition the best way, through quality natural whole foods.


Question: What inspired the creation of Funch?

Lisa Bourne: Founded by Tanya Duncan and Lisa Bourne, Funch was established out of necessity and frustration – and a passion to create and share healthy food with families and busy people.

Tanya and Lisa met when their children were at kindergarten together. Both interested in health and fitness, they observed a genuine lack of choice at the supermarket for healthy snacks to put into their kids' lunch-boxes. They were seeking snacks without preservatives, additives or colouring and with limited sugar.

Identifying a gap in the market for affordable, easy and convenient healthy snacks that were suitable and appealing for the whole family, Tanya and Lisa started Funch. The duo decided there were great possibilities for reaching more people with their convenient, healthy snacks if they developed their popular recipes as premixes that could be sold on retail shelves to people across the country.


Question: How can we beat our sugar addiction?

Lisa Bourne: Crowding out your sugar cravings by feeding your body with real food is a really important step to managing your sugar cravings.

It really helps to understand why you crave sugar and with that understanding what is the best way to avoid sugar.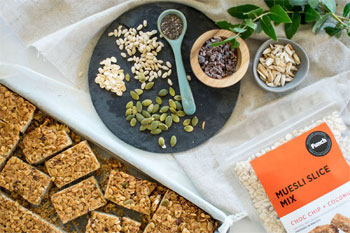 Some common reasons we get sugar cravings include:
Being over tired: Our bodies need glucose (sugar) and sodium (salt) to function. When we are tired and our cells get sluggish, we experience a sugar craving, which is our body searching for energy.

Hunger pains: Our bodies demand fuel. Without the right nutrient dense food, regularly consumed, our body cries out for energy in the form of a sugar craving.

Stress: When we are stressed we have a high level of the hormone cortisol, we then crave sugar as it produces another hormone called serotonin, which is calming. It's kind of like our body searching for a chill pill; and

Filling up on empty calories: When we don't eat nutritious food that is a balance of all the right food groups including carbohydrates and good fats, our bodies crave the quick fix of sugar for fuel."


Question: Can you share examples of these ingredients that cannot be pronounced?

Lisa Bourne: Sugar is a classic ingredient that can sneak its way into all sorts of products under unrecognised and hard to pronounce names. -Added sugar' is added sugar no matter what you call it. By developing highly processed sweeteners, with names we do not easily recognise, some food companies will sneak several of them in to a single product. As ingredients are listed by quantity on a product, by spreading the sugars across several different sugar substitutes they are essentially giving the perception that there is little in the product, as the names start to move down the list.

Just some of these names include, fructooligosaccharides, Isomaltooligosaccharide, Neohesperidin, dihydrochalcone and maltodextrin.


Question: What advice do you have for someone who's attempting to make their lifestyle a healthier one?

Lisa Bourne: A great first step in improving your health is by being honest about what your challenges and downfalls are when it comes to making improvements to a healthy lifestyle. Time and self-control are the two most common constraints.

Next we need to set realistic goals. Many people suffer from over committing in their ambition and quickly becoming disillusioned when they don't make the progress they hoped for.

Then it is time to enlist help wherever you can get it. Some suggestions here include:

Find a sport or exercise that you actually enjoy – this will keep your enthusiasm and motivation high
Start exercising with a friend – they will help keep you accountable to your goals
Invest some time in food preparation on the weekend – a couple of hours on the weekend pre-preparing healthy meals will help you stick to your eating plan even when the week gets busy
Find food products that you trust – food that you know is good for you but also quick, convenient and easy to prepare will be your best friend when improving your lifestyle choices
Snack well – snacks are a massive trap for busy people. If you don't have healthy snacks readily available, when you are rushing, tired or desperate for an energy hit it all too often happens that temptation wins and you grab an unhealthy snack that will blow your sugar and calorie intake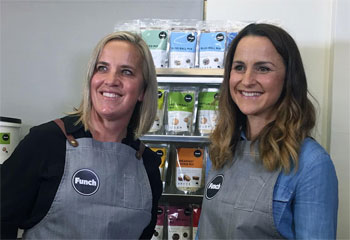 Question: What are 'empty calories"?

Lisa Bourne: Empty calories are a massive contributor to a nation of people that are increasingly over-fed and under-nourished.

Food that offers empty calories means that it is food that is giving you a calorie intake but offers you no nutritional benefit in return. Highly processed foods that are generally high in sugar are the most common foods offering -empty calories'. The real problem occurs because eating these foods replaces eating more nutritious foods.


Question: How can we stop filling up on 'empty calories"?

Lisa Bourne: If you cut down or cut out sweet food and highly processed food from your diet and replace it with natural wholefoods you will notice immediate benefits. Your body will start getting genuine, vital nutrients that it needs not only to survive but also to thrive.

Look at swapping some our your less healthy foods for healthier alternatives. You could also start preparing more of your food at home, so you become more aware of exactly what food you are eating.


Question: What are examples of healthy snacks?

Lisa Bourne: Snack food can be a trap for loading up on sugar and empty calories. You need to look at the label and make sure you recognise and can pronounce the ingredients. If sugar appears in the top 3 ingredients we suggest putting it back on the shelf!

Some good options for wholefood snacks includes:

Home-Made Snacks:
Raw Vegetable Sticks
Fruit
Trail Mixes (combinations of Nuts, Seeds and Dried Fruit)
Yoghurt (check sugar)
Protein and Bliss Balls
Vegetable juices
Protein Smoothie (easy on the fruit)
Slices made using wholefoods and natural sweetners

Store-bought Snacks:
make sure to check the label to ensure they really are -healthy'
Protein Balls
Muesli Bars and Raw Bars (always check the sugar content)
Hummus Dip with vege sticks or rice crackers
Vegetable Juices
Yoghurt
Chia Pods
Fruit / Vegetable based Smoothies, but beware of the sugar content


Interview by Brooke Hunter